Studio: Hot House Entertainment
Directed by: Christian Owen
Year of Production / Release: 2014
Country of Production: U.S.A.

CAST:
Luke Adams
Sean Duran
Dylan Knight
Owen Michaels
Jimmy Roman
James Ryder
INFORMATION FROM HOT HOUSE:
These horny guys are here to FIGHT, and the goal is to Get Him Down! Whoever hits the floor first gets fucked, and when the pounding starts, these big-dicked fuck studs don't pull any punches! Owen Michaels is victorious over Luke Adams and celebrates by drenching him in cum. Jimmy Roman and Dylan Knight get their kicks with a spit-lubed fuck session where nut sacks swing like wrecking balls. Luke Adams and Sean Duran have a pulverizing fuck session that will have your dick jumping. Boxing coach Sean Duran offers some muscle relief to James Ryder, and then some! You'll be on the edge watching these dudes duke it out for topping rights. Get Him Down is guaranteed to get you up.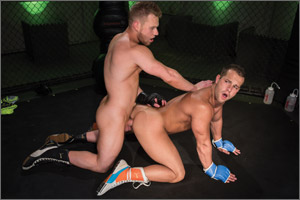 SCENE 1: Owen Michaels fucks Luke Adams
Owen Michaels and Luke Adams are in a full-on, winner-take-ass cage match: the looser of this battle gets fucked! Luke loses the match, and once he hits the floor he must submit to the whim of champion, Owen. Savoring his victory, Owen samples the taste of Luke's smooth hole. Standing victorious over Luke, Owen unleashes his cock for a sweaty, sticky deep throating. No time for the hefty boxing gloves to come off, but that doesn't stop Luke from jerking his hard cock! Owen advances hard and fast to collect his ultimate prize: Luke's puckered, hungry hole! The fucking is in-your-face and full contact just like the match. Luke's ass glows red when Owen delivers a hefty slap. Lifting himself up on his shoulders, Luke takes a pile driving pounding from Owen and his champion cock. When Owen shoots, he sprays all over Luke's cock, balls, and torso, and Luke's load fires off in ecstatic release.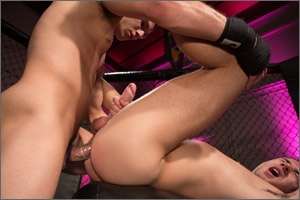 SCENE 2: Jimmy Roman fucks Dylan Knight
Dylan Knight, in fluorescent green, and Jimmy Roman are getting their kicks – on each other! A spirited kickboxing session ends with Dylan pinned on the ground and his ass spread open by Jimmy, who wastes no time getting what he wants! Thick, frothy spit drips from Jimmy's lips into Dylan's open hole, and Jimmy's fingers follow. Dylan's lifts his ass to give Jimmy better access, and his huge, low hanging balls dangle in the air. His blue shorts unable to contain his boner, Jimmy whips it out and starts jerking himself while sucking Dylan's big dick at the same time. Getting on all fours, Dylan returns the oral favor to Jimmy, which quickly escalates to full-force face fucking. Now it's Jimmy's huge nuts that hang heavy and slap against Dylan's chin, and it gets him revved up for fucking! They do it doggy style, and Dylan's eyes roll back into his head with the pleasure of Jimmy's big-dicked onslaught! Their pent-up loads finally get set free when they release together onto Dylan's rock hard abs.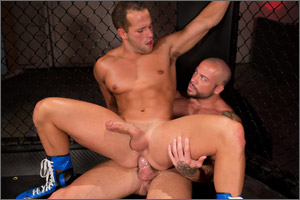 SCENE 3: Sean Duran fucks Luke Adams
A playful round of punches in the cage between Sean Duran and Luke Adams turns into a battle for topping rights! Luke is no match for Sean's powerful, muscled body, and he submits to Sean's sexual desires. Kneeling in defeat, Luke gets to servicing Sean's hefty cock. Sean pulls off Luke's boxing shorts and overwhelms Luke with oral pleasure. Sean can't keep his hands off Luke's asshole either, using spit from the blowjob as lube. Spreading his ass wide, Luke submits to an incredible anal drilling. They stand up and lean against the chain link cage for support as Sean continues to pound his huge cock deep into Luke's tight hole. Judging by his huge boner, Luke loves the feeling of Sean dominating him, and Luke jerks himself to orgasm while Sean is still fucking him. Sean shoots his load just after Luke; it's an epic cum-filled finish for this hot match!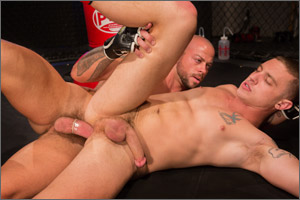 SCENE 4: Sean Duran fucks James Ryder
With his thick beard and skull tattoo, Sean Durano is a fearsome boxing coach for James Ryder, who is taking out his aggression on a bright red punching bag. When a muscle cramp sidelines James, Sean steps in to offer some relief—and then some. James' boxing shorts come off and Sean's sinks his tongue deep into James' asshole, which becomes slick with spit. Displaying complete dominance, Sean stands and whips his rock hard cock out of his shorts for James to service. It's a massive boner, but James manages to swallow the whole thing, and his efforts make Sean even more amped up. With James on all fours, Sean mounts James from behind and slams his huge cock into James' hole. An up-close look at the intense penetration shows how wide James' ass has to stretch to accommodate Sean's huge girth! They reposition themselves on their sides, lying next to one another and locking eyes in total erotic connection. James shoots his wad as Sean's cock plunges deep into his hole. With gloves still on, Sean jerks out his load and sprays it on James' ass cheeks in a furious cum explosion!

WATCH IT NOW / MORE INFO AT:
HOT HOUSE & HOT HOUSE BACKROOM
Hot House Backroom Members can see this film anytime online.
With extensive additional photography from every scene.