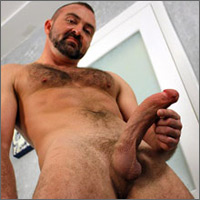 Studio: Pride Studios / Extra Big Dicks
Directed by: Pride Studios
Year of Production / Release: 2010
Country of Production: U.S.A.

CAST:
Josh West
ADDITIONAL COMMENTS:
On-Line Only Presentation.
Extensive Photo Galleries of each presentation.
INFORMATION FROM EXTRA BIG DICKS:
Josh West's Stats: 34, 5'8", 165, 9"
After much anticipation we finally have Josh West on set with us here on ExtraBigDicks. Josh is well known for compact frame, sexy furry chest—but mostly his 9″ extra thick cock. He is self assured and unlike many with his penal qualifications he doesn't suffer from "Bigdikitis" (big-dick-EYE-tuss). He knows he has a large cock but he is a complete package and doesn't use his "gift" as his validation. Early on, knowing he had a bigger dick than average, it kept him from coming out worried that people would see him differently because of his "situation". Little did he know the mixed reaction his large member and he would receive. Josh is a horny guy and he's always been in tune with his meat. He started masturbating since he was 5 years old because when it's bigger it's just more fun to play with. Well we appreciate that. Josh does admit that even though many guys will do all sorts of craziness to get at his dick; having a big dick does have its downside. On several occasion Josh has actually had situations where he gets turned down flat because a guy just isn't willing to try putting his rather thick dick anywhere. Ugh—Amateurs!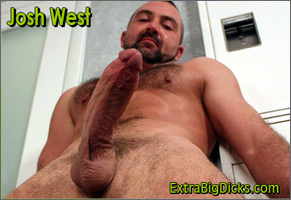 WATCH IT NOW AT: EXTRA BIG DICKS