Studio: Raging Stallion / NakedSword online
Directed by: Tony DiMarco
Year of Production / Release: 2011
Country of Production: U.S.A.

CAST:
Tony Buff
Sage Daniels
Tommy Defendi
Colby Keller
Jake Lyons
Marcus Mojo / Landon Mycles
Chris Porter
Riley Price
Ashley Ryder
Jesse Santana
ADDITIONAL COMMENTS:
Members at NAKEDSWORD can watch these scenes and download Photo Content from this production. As well as a host of other releases.
INFORMATION FROM RAGING STALLION: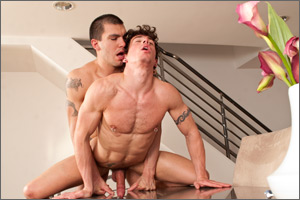 EPISODE 1: "UNREAL ESTATE" – Jesse Santana & Sage Daniels
There's only one thing in San Francisco that's as in demand as ass, and that's real estate. In this city, it's all about the view. And Gene (Jesse Santana), one of the hottest brokers town, has made a mint at it because he knows how to read people. But sometimes, looks can be deceiving. Take Tim (Sage Daniels): his company was just valued at over 100 million, but you couldn't tell by looking at him. Will this be the one deal that Gene isn't capable of closing?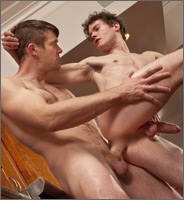 EPISODE 2: "BIKER'S LIBERTY" – Ashley Ryder & Colby Keller
Alec has flown a long way from London to visit his friend Cory, whom he met in a chat room years ago and is finally meeting in person. Although visiting San Francisco has always been on his list, he's wanted to get with Cory from the first time they swapped pics. On his first day in the city, Alec's got one thing in mind: shagging Cory. But Cory, an avid biker and outdoors enthusiast, has another agenda: showing his British pal San Francisco's unparalleled natural beauty by bike. In the end, Alec gets to see the sights and enjoy the hardest pounding he's ever had on this side of the pond.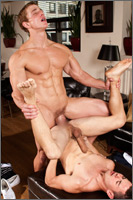 EPISODE 3: "RICH TWINK, POOR TWINK" – Marcus Mojo & Jake Lyons
In San Francisco, class and wealth have never kept anyone apart. Take boyfriends Blake and Jake. Blake was born with a silver spoon in his mouth, while Jake's more accustomed to washing spoons at his job in a restaurant. And when Blake gets the big inheritance that he's been waiting for, he decides it's time to show Jake some of the finer things in life.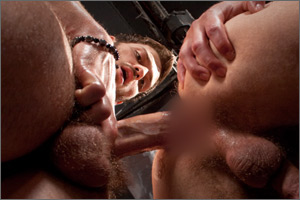 EPISODE 4: "PUNK ROCKS" – Tommy Defendi & Chris Porter
Tyler was quiet in college or maybe he was keeping quiet so he could watch while his sexy-as-hell cocky roommate Jimmy banged girl after girl in their one-room double. The angst — and whatever else — that Jimmy had all bottled up in college started pouring out once he came to the city's gritty South of Market district on vacation. Like a moth to a flame, Jimmy found his way to Tyler's show… and Tyler, who's gained a bit of confidence himself since they last saw each other, can't wait to give Jimmy the show of his life.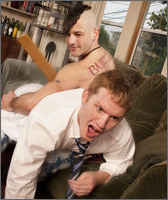 EPISODE 5: "BIBLE BANGING" – Tony Buff & Riley Price
Elder Jensen, a wet-behind-the-ears Mormon missionary who's going door-to-door to spread the gospel. But he has no idea what's in store for him when he knocks on Tony Buff's door. Once Elder Jensen bravely enters Tony's home, he's in for the most unmerciful fuck of his life.

WATCH THE SCENES NOW AT: NAKEDSWORD
GO TO: RAGING STALLION
GO TO: RAGING STALLION'S FILM PAGE FOR THIS RELEASE