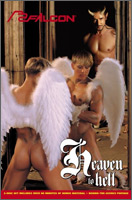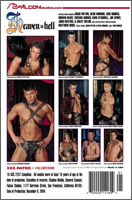 Studio: Falcon Studios
Directed by: Chi Chi LaRue
Year of Release / Production: 2005
Country of Production: U.S.A.

CAST:
Tristan Adonis
Roman Heart
Dean Monroe
Kane O'Farrell
Brad Patton
Erik Rhodes
Matthew Rush
Joe Sport
Colby Taylor
Josh Weston
ADDITIONAL COMMENTS:
Falcon Members can watch scenes from this Release anytime online.
FROM THE FALCON WEB SITE:
Heaven to Hell is the epic story of good versus evil; of paradise lost and pleasure found. Dean Monroe stars at The Devil, who, along with help from his Instigator and minions of Soldiers and Dog Boys, tempts The Angel, played by Brad Patton. It's the first-ever movie in Falcon history featuring a cast comprised completely of Falcon Exclusives. Heaven to Hell also features Brad Patton's first-ever on-screen experience as a bottom.
SCENE 1:
An arrow pierces Brad Patton's shimmering vision of purity. Brought to the Underworld by Soldier Josh Weston, the devil sits in judgment, his Dogboys at his feet: Tristan Adonis, Colby Taylor and Roman Heart. When Dean announces "Prepare him!" the White Angel's transformation begins. The legendary big-dicked top, Brad Patton, finally bottoms for the first time for both Josh and Joe Sport. "Fuck the good right out of him!" Josh scowls…
SCENE 2:
The Devil, Dean Monroe, takes on his Dogboys – Colby Taylor, Roman Heart & Tristan Adonis – deep-throating them all, then submitting to a brutal ass-pounding from each.
SCENE 3:
Deep in the catacombs of the Underworld, two of the Devil's most powerful soldiers, Erik Rhodes and Matthew Rush, face each other for the first time. These two muscled studs go at each other with explosive force.
SCENE 4:
All previous underworld lust is merely a prelude to the unbelievable spectacle of the last scene, which features the full cast in a record-breaking one-hour long orgy that is so hot it is featured separately on its own DVD disc.

WATCH IT NOW AT: FALCON STUDIOS