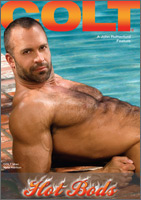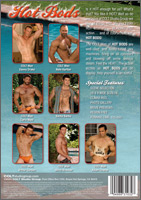 Studio: John Rutherford
Directed by: COLT Studio
Year of Production / Release: 2009
Country of Production: U.S.A.

CAST:
Berke Banks
Mitch Branson
Adam Champ
Danny Drake / Devin Draz / Spencer
Arthur Gordon
Nate Karlton
Carlo Masi
SCENE 1: Carlo Masi fucks Arthur Gordon
SCENE 2: Berke Banks fucks Danny Drake
SCENE 3: Adam Champ fucks Arthur Gordon
SCENE 4: Nate Karlton fucks Mitch Branson
ADDITIONAL COMMENTS:
COLT Studio members can watch this presentation online.
INFORMATION FROM COLT STUDIO:
Is it HOT enough for ya? What's that? You like it HOT? Well, so do we! Here at COLT Studio Group we like all things HOT. We like FIERY HOT intensity… BLAZING HOT action… and of course, smokin' HOT BODS!
   The COLT Men of HOT BODS are well oiled and finely tuned sex machines, firing on all cylinders and blowing off some serious steam. Feel the HEAT! The action sizzles as these HOT BODS are on display. Help yourself to an eyeful.
Award winning director John Rutherford has an eye for HOT BODS and he knows how to show them off. In this collection of four eye-searing scenes the HOT BODS come together for some explosive Man-On-Man combustion.
   With a title like "HOT BODS" you know what to expect. One part genetics and two parts hard work, these guys have perfected their bodies into works of art that deserve to be admired. Smooth or hairy, these men ooze testosterone out of every masculine pore. Get them together and things get HOT.
   COLT Man Emeritus Carlo Masi and COLT Man Arthur Gordon couldn't even get all the way undressed before going at it. These guys rip into each other like a starving man rips into a bag of chips. Delicious! New to the COLT Man Stable, Danny Drake shows off his COLT Man credentials and his big juicy dick, in a backyard suck-and-fuck-fest with the hung and hairy Berke Banks. And for a change of pace, COLT Man Adam Champ lets the fur fly… literally, as he takes the barber chair for a body shave at the hands of COLT Man Arthur Gordon. When the shave is over, Adam gives Arthur a very generous tip indeed. And who wouldn't want to start their day like this. COLT Man Nate Karlton and COLT Man Mitch Branson spend the morning doing what comes naturally. Sucking and fucking like there is no tomorrow.
   COLT Studio does it again. It's an eye popping, mouth watering collection of HOT SEX, HOT MUSCLE, HOT COCKS and of course…. HOT BODS!!!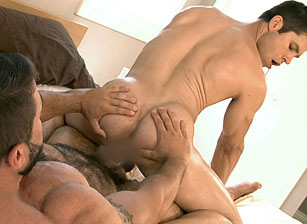 SCENE 1: Carlo Masi fucks Arthur Gordon
The action starts off strong with Carlo and Arthur on the bed. Stripped down to their briefs, kissing, grabbing and groping, stroking and sucking, these guys couldn't wait to get their hands on each other. With boners popping out of their briefs, they take turns feeding off each other, indulging in greedy, gulping mouthfuls of cock. Arthur strips off his briefs and plants his ass squarely on Carlo's face, feeding him a mouthful of ass and tasty balls. Feeling that tongue up his hot butt makes Arthur crazy for cock. He wants some of hot man meat deep inside him. He positions himself over that hot rod and takes a seat, skewering his ass on Carlo's thick pole. Carlo let's Arthur take a good long ride before he takes control. Getting in the drivers seat, Carlo pounds that ass, slamming his hot swollen dick in that hole, giving all he's got until both men are drained and spent.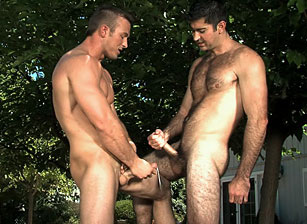 SCENE 2: Berke Banks fucks Danny Drake
Get ready for a heaping helping of fresh man-meat as COLT Man Danny Drake debuts in a mid-Summer backyard romp with the hung and hirsute Berke Banks. The action begins with ample amounts of mutual man-handling and cock grinding. With his thick muscles and a big meaty dick swinging between his legs, Danny shows off his HOT BOD as Berke gets down on his knees to worship at the altar of cock, and Danny's cock just loves all the attention. But its not just Danny's cock that likes all the attention… after a generous amount of oral reciprocation, Danny mounts up on a nearby garden bench and offers his hot muscled butt for the taking. Berke delivers a deep and satisfying fuck, pounding his thick swollen dick in that hot muscled ass. Face to face, these guys pound and jackhammer their cocks to completion, hosing each other down in thick flowing pools of cum.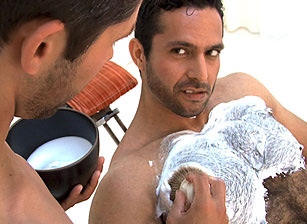 SCENE 3: Adam Champ fucks Arthur Gordon
Got Fur? How about a shave? Get ready to a see a whole new side of Adam Champ. Sure, we all love his dense pelt of hair accentuating that thick muscled chest. But under all that sexy man-fur lays a chiseled torso that deserves to be appreciated in more ways than one. COLT Man Arthur Gordon does the honors as he applies an upper-body shave with great care and precision. The intense eye contact, the feel of the lather, the close, intimate attention to detail… Adam submits to the full-service treatment as his hands explore Arthur's growing bulge. With the last strokes of the razor Arthur moves in for a deep and passionate lip lock, and the full-service treatment is only just beginning. His lips explore the newly shorn canvas of Adam's smooth muscled chest as he works his way down. Cocks are sprung and a dedicated suck-session is underway. Adam knows that when the service is this good, always give your barber a generous tip. He shows Arthur his gratitude by bending him over the chair and fucking the daylights out of that sweet ass. And for a finishing touch, a warm and soothing batch of creamy cum-lather. The sensual shave, the dedicated cock service, and the generous ass pounding… makes a guy want to run right out and visit his barber.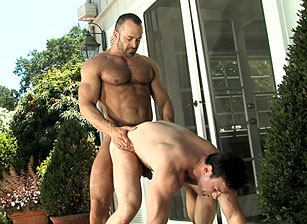 SCENE 4: Nate Karlton fucks Mitch Branson
A beautiful summer morning and Nate Karlton is enjoying the new day on the back patio. He is soon joined by a shirtless Mitch Branson, and when two HOT BODS like these get this close…well there's nothing to stop the immediate passion that ignites between them. Slow and sensuous kissing and close body contact gets these guys steaming hot for each other. Stroking, licking and sucking, Nate and Mitch explore every inch of each other's body, from top to bottom, spending extra time and to worship and adore each other raging hard and swollen cocks. Together they take the passion to a higher level as Mitch turns; bends over and takes the full length of Nate's searing hot cock. Enjoying their private and peaceful surroundings, they settle in for a long and passionate fuck. Mitch rides Nate's big dick as the intensity mounts and juicy loads of cum explode. Fury muscle, rock-hard bodies, cum-swollen cocks… these guys know how to start the day off right.

MORE INFORMATION / WATCH IT / BUY IT (if available) : COLT STUDIO