Studio: Hot House
Directed by: Robert Drake
Year of Production / Release: 2010
Country of Production: U.S.A.

CAST:
James Aaron
Andre Barclay
Andreas Cavalli
Sage Daniels
Peter Dutch
Jackson Lawless
Evan Matthews
Tyler Saint
Trey Walker
ADDITIONAL COMMENTS:
Debuting online prior to DVD release.
Backroom Exclusive Content, On-Line Only Presentation.
Hot House Backroom Members can see this film anytime online.
INFORMATION FROM HOT HOUSE: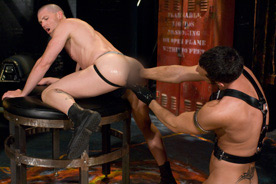 SCENE 1: James Aaron and Andreas Cavalli
When James Aaron finds muscular giant Andreas Cavalli stroking his hardon through his leather jockstrap he gets down on his knees and sucks Cavalli's huge cock. Minutes later Cavalli throws Aaron on his back and turns his full attention to his pliable hole. After a hot rim job Cavalli throws on the gloves and begins an intense anal assault. Even an experienced fisting bottom like Aaron can't quit remarking on the size of Cavalli's hands – and he pushes out one of the most impressive rosebuds in Club Inferno history to prove it!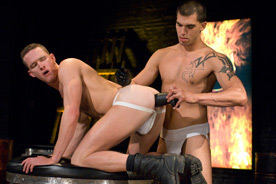 SCENE 2: Jackson Lawless and Sage Daniels
Tattooed Latino newcomer Sage Daniels discovers Jackson Lawless on his knees with his hole up in the air. The ever ready Lawless orders Daniels to eat his ass in preparation for a huge dildo. Daniels switches between his own gloved meathook and the dildo until he fists a load out of Lawless.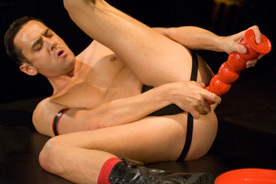 SCENE 3: Evan Matthews
Get an answer to the age old question "Where does it go?" when Evan Matthews shoves a foot-long dildo up his ass and massages the outline of the toy in his lower abdomen – and that's in the first two minutes of this unbelievable scene. A series of anal weapons, each one bigger than the one before goes up his ass until he reaches around and shoves his own fist deep in his hungry hole. All of the assplay results in the largest protruding rosebud we've ever seen. True handball fetish fans will stare in amazement at our most agile and extreme Club Inferno Exclusive!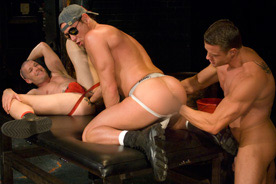 SCENE 4: James Aaron, Tyler Saint and Peter Dutch
On all fours with his ring of fire tattoo up in the air, James Aaron gets his fill of Tyler Saint's huge cock. Meanwhile, fellow asspig Peter Dutch rides a sawhorse, working his hungry hole with a huge dildo. Saint gets both men on their backs so he can fist them at the same time. Aaron pops his legendary rosebud, urging Dutch to get in on the fisting top action. The men form a train until Saint showers his handball buddies with cum.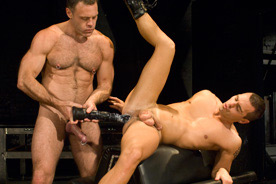 SCENE 5: Andre Barclay and Trey Walker
Daddy fisting top Trey Walker makes young pig-bottom Andre Barclay his new favorite sex toy. He starts by eating the Barclay's fresh hole, getting it good and wet for a series of toys. Two giant dildos only cause Barclay to beg for more, leaving Walker no choice but to shove his fists deep in the boy's ass. Walker's hefty meathooks literally fist the piss right out of Barclay, then both men jack off and cum on Barclay's chest.

WATCH IT NOW / MORE INFO AT:
HOT HOUSE CLUB INFERNO DUNGEON
Hot House Club Inferno Dungeon Members can see this film anytime online.
With extensive additional photography from every scene.