Studio: Hot House
Directed by: Steven Scarborough and Christian Owen
Year of Production / Release: 2012
Country of Production: U.S.A.

CAST:
Brian Bonds
JR Bronson
Jackson Lawless
Derek Parker
James Ryder
Jordano Santoro
Josh West
INFORMATION FROM HOT HOUSE:
The handball all-stars from the Club Inferno Dungeon show you how real men play with toys. Grab your favorite butt-plug and get off with the Hole Busters!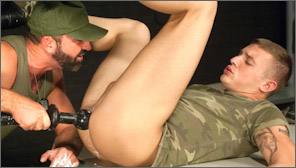 SCENE 1: Josh West dildo-fucks and fucks James Ryder
Drill Sergeant Josh West finds private James Ryder alone in the barracks relaxing on his bunk. After forcing him to perform rigorous jumping jacks and pushups, the twisted Sergeant puts the young studs ass to the test. He throws Ryder over a table and yanks down his military briefs to reveal his smooth virgin butt. West pulls out his weapon of choice; a fat latex fake cock. He works it into Ryder's hole and fucks him then flips him over on his back for the next assault with the anal beads. He pushes three beads into the kids ass and strokes Ryder's big cock until he blows. Yes sir!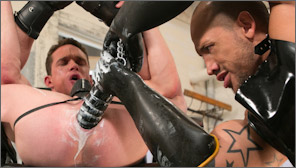 SCENE 2: Jordano Santoro probes Jackson Lawless
Jackson Lawless sits in a barber chair with his hole thrust in the air, waiting for a serious hole busting session with Jordano Santoro. Santoro whips out a giant turkey baster full of lube and fills Lawless' gaping hole, preparing it for his barrage of butt toys. Santoro grabs a foot-long schlong with a tiny tip that gets bigger toward the base. In no time Lawless has proven he can take the whole thing so Santoro upgrades to a heavier, fatter fake cock that really puts Lawless to the test. He slams the giant weapon deeper and deeper then forces Lawless to take over so Santoro can pull out his fat Latin dick and jack off.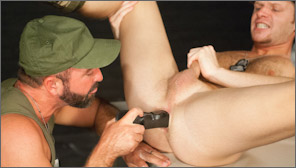 SCENE 3: Josh West dildo-fucks Brian Bonds
Captain Josh West catches Private Brian Bonds hiding in his locker jacking off to gay porn. Captain West explains that since the repeal of 'Don't Ask, Don't Tell' there's no need to hide; he grabs Bonds' cock and drags him out into the barracks. West pulls apart the young Private's ass cheeks and coats his hole with thick white lube from his canteen. He shoves an inflatable dildo up Bonds' ass to stretch out his tight hole. He then orders Bonds to lie on his back on the table so he can 'wreck his ass' with a huge fake latex cock from his personal arsenal. All of the hardcore assplay makes Bonds' dick rock hard. West smacks the horny bottom's worn out hole while Bonds jacks off and shoots his load.

THIS PREVIEW CONTAINS ADULT SEXUAL CONTENT



SCENE 4: Derek Parker dildo-fucks JR Bronson
JR Bronson gets on all fours in a sex club and fingers his ass, begging for someone to come out of the shadows to work his hole. Derek Parker hears JR's plea and shows up with a bucket of lube and sex toys. He instantly shoves a foot-long fake cock in JR's perfect round bubble butt, nearly to the base. It's clear that JR loves to have his hole plowed. The muscular bottom screams for more so Derek power-fucks his ass with the fat dildo then selects an even fatter weapon to stretch his manhole. Derek pounds JR's ass relentlessly until he's satiated, for now.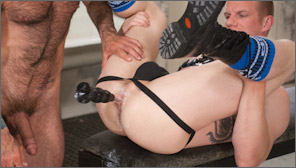 SCENE 5: Nick Moretti dildo-fucks Blake Daniels
Blake Daniels, a tall, smooth pig-bottom, needs his ass worked over the a hairy, masculine top so he calls his fuck-buddy Nick Moretti. Blake shows up with a bucket of his favorite toys and the game is on! Nick takes a bullet-shaped buttplug and pushes it in Blake's hole who pushes it out with such force it flies across the room. Nick's amused but he wants to punish Blake's tight hole so he grabs the inflatable and works it in his ass. The more Blake objects the more Nick inflates the insidious toy until Blake's hole is stretched wide open. Nick strokes his own thick long cock while massaging Blake's prostate with the huge dildo until Nick blows a juicy white load.

WATCH IT NOW / MORE INFO AT:
HOT HOUSE CLUB INFERNO DUNGEON
Hot House Club Inferno Dungeon Members can see this film anytime online.
With extensive additional photography from every scene.