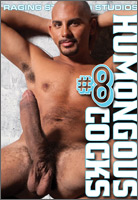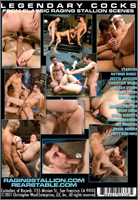 Studio: Raging Stallion Compilation
Directed by: Various: Ben Leon, Chris Ward, JD Slater, Michael Brandon
Year of Production / Release: 2011
Country of Production: U.S.A.

CAST:
Antonio Biaggi
Bruno Bordas / Martin Soto
Michael Brandon
Jason Crew
Sky Donovan
Erik Grant
Alan Grau / Alan Efron
Gunner
Justin Jameson
Dominic Pacifico
Ethan Roberts
Matt Sizemore
Ethan Storm
Christian Wilde
INFORMATION FROM RAGING STALLION:
Classic Raging Stallion Scenes from Roll in the Hay, Unloaded, Caliente, Gunner World, Diamond Auto, and Resort to Anything!
SCENE 1: ROLL IN THE HAY – Antonio Biaggi and Justin Jameson
The barn is a great place for napping and this time it's Antonio Biaggi who is hiding away to get a few winks in. Doesn't anyone one around this ranch actually work? Justin Jameson comes upon Biaggi, who must be having a nice dream with his thick horse cock pressing against his jeans. Jameson doesn't wait and he reaches over and begins to rub Biaggi's hardening cock though his pants then unleashes to take it into his wanting mouth. Biaggi stirs, waking to a sloppy wet blowjob from Jameson. As Jameson works over his man tool, Biaggi reaches around to get at Jameson beefy ass. He fingers eagerly before his has Jameson straddle his face so he could get at his sweet hole. Jameson sucks Baggi's horsemeat as Biaggi primes Jameson asshole, getting it ready for horse cock. Biaggi then fucks Jameson's hole, pounding his oversize man cock in Jameson's gapping hole. Biaggi fucks him in several positions before Jameson shoots a huge load, soaking his chest and face with his own juice. Biaggi shoots all over Jameson's body then laps it up of Jameson's body before giving him a salty wet kiss.
SCENE 2: UNLOADED – Christian Wilde and Ethan Storm
Now late at night, ruggedly handsome Christian Wilde arrives holding a note telling him to come to the yard. He is about to leave when suddenly the bag starts to rustle. Christian unzips the bag to find a cold naked Ethan Storm who exclaims "Not again!" Christian warms Ethan up as the two have romantic and passionate sex ending with Ethan being fucked on a pile of tires and Christian shooting his trademark gusher of a load on and over Ethan's head.
SCENE 3: CALIENTE – Antonio Biaggi and Alan Efron
Alan is checking out something on his computer when he calls Antonio Biaggi in for some distraction. Antonio obliges offering his huge long dick and Alan jumps at the chance to taste it. As Alan sucks, Bruno Bordas comes in to join them and the action hits new heights. These three studs can't get enough dick, they suck each other in every combination possible with all three dicks getting equal attention. Antonio goes for Alan's asshole as Bruno continues to suck his cock. But Bruno's ass is available too and Antonio dives in for that treat as well. Alan is first to get pounded as Antonio sits back Alan rides the huge cock as it stretches his hole. Bruno wants some dick too so Antonio switches and fucks him as all three men writhe in ecstasy. Alan shoots first covering Bruno in cum while Antonio pounds away. The sight of cum pushes Bruno over the edge and he explodes causing Antonio to take his turn.
SCENE 4: GUNNER WORLD – Erik Grant, Gunner, Dominic Pacifico
Erik Grant's cock is almost the same size as Gunner's. So when Dominic Pacifico is looking for cock, he goes straight to the two biggest dicks for a pounding. Erik Grant is a stunning fellow and his cock is no different. Between Gunner and Erik, there are 25 inches of dick for Dominic to play with and stuff up his hole. On his knees, Dominic takes a turn sucking each huge cock, looking up at the two men as he pleasures them. Both big dicks fill his mouth at once before he goes back for more, trying to swallow Erik's whole cock and struggling to get Gunner's dick down his throat at the same time. Erik pushes Dominic onto Gunner's dick while he goes for a taste of Dominic's ass. With a tongue in his ass and a dick down his throat, Dominic is in heaven. But it gets better once they all start to fuck. Dominic takes both massive dicks at once!! A big dick DP is followed by multiple rounds of ass-fucking and dick-sucking, with Dominic always on the bottom. As he is pounded, Dominic releases his cum all over his well defined abs. Erik and Gunner follow, covering Dominic with cum.
SCENE 5: DIAMOND AUTO – Jason Crew and Ethan Roberts
Ethan is somewhat of a new comer, a young stud with a nice cock who likes to get fucked in difficult (but revealing) positions. Jason Crew, on the other hand, has been around the proverbial porn block many times. The thing about Jason, however, is that he is now in his late 20s and every time we shoot him, he looks better and better. He is a sure-fire bet to be Colin Farrell's body double–he is that good looking. It's his face, his eyes, his lightly hairy chest, and his giant, six foot long cock (ok, a slight exaggeration–but its a very big cock!). Ethan takes a classic pounding worthy of the best Monster Bang scenes of the past. How do these guys take this much meat up their ass holes? Obviously the lube budget at Diamond Auto is pretty big! The scene ends with an excellent facial cum shot, but only after many over-the-top fuck positions!
SCENE 6: RESORT TO ANYTHING – Michael Brandon, Sky Donovan, Matt Sizemore
"One thing porn starts always do within 15 feet of a pool is splash each other like children. That's just what Michael Vista, Matt Sizemore and Sky Donovan do until Michael Brandon swims over. There's a little argument because it turns out they are the workers making all the noise, but Michael offers to fuck them all as payback. Naturally, that's an agreed to plan. But, the next scene is just a two-way for Michael Vista and Matt Sizemore. If Matt Sizemore attacks everything in life with as much intensity as he attacks sex, he must be awfully formidable fellow. Handsome as hell, ripped even more so, he just peers out from his grizzled eyes and throws in everything he has. Michael Vista is a grand partner, looking thinner and tighter than usual. After some kissing, the oral action starts with Matt rimming Michael's ass. This is beautifully shot because Michael has one of those deep asses that a camera can catch even with a tongue playing around in it. Matt and his curving dick get in some of that teasing I mentioned earlier while he lets his tongue calm down, but the early part of this scene is all about rimming. Matt's preparing this ass for something big, it seems. Michael takes over for a while, blowing the king-sized cock on Matt all the way to the pubes in a suck so easy it seems as if he could eat a chicken leg without having to chew it. Finally, with Michael on a wall in the pool, Matt goes charging into the amply prepared ass. He starts smooth and gentle, but soon enough he sparks into action, the water rippling with such force that it splashes from the point of contact all the way up Michael's back. Michael takes the dick in his ass even better than he did in his mouth, barely flinching when it goes hammering into him, swooping in a gallon of water at the same time. But, the better part of the fuck is when Michael sits on Matt. His leg muscles working overtime, he slides up and down the whole cock. Not just a few inches of it like we're used to seeing, but stem to stern, the whole thing. The camera comes panning in from the other side of the pool and you can see just how eager Michael is to conquer this cock. Michael cums in the middle of his earnest ride and then Matt sprays white on his chest in return."
   — Brent Blue, Mannet.com

WATCH THE SCENES NOW AT: RAGING STALLION'S REAR STABLE
GO TO: RAGING STALLION
GO TO: RAGING STALLION'S FILM PAGE FOR THIS RELEASE