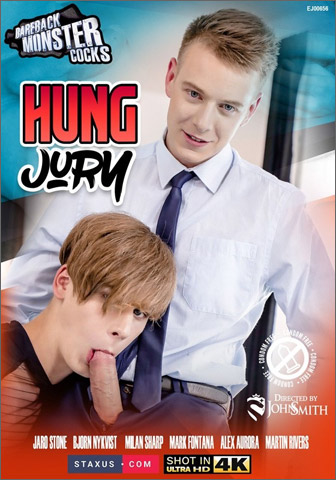 Studio: Staxus
Directed by: John Smith
Year of Production / Release: 2017
Country of Production: Czech Republic

CAST:
Alex Aurora
Mark Fontana
Bjorn Nykvist
Martin Rivers
Milan Sharp
Jaro Stone
INFORMATION FROM STAXUS PRODUCTIONS:
When you're in a bit of trouble with the law and you're looking for the best defence in town, then maybe you should consider the STAXUS legal team. Not that you're any less likely to avoid a stiff fine or a stay in gaol. But it might mean that you get the service of one of our gorgeous cock-hungry twinks – as the horned-up likes of Jaro Stone and Martin Rivers happily discover. With a bevy of hard dick and a deluge of hot spunk, this is one day in court that leaves all parties to the case thoroughly drained and totally satisfied!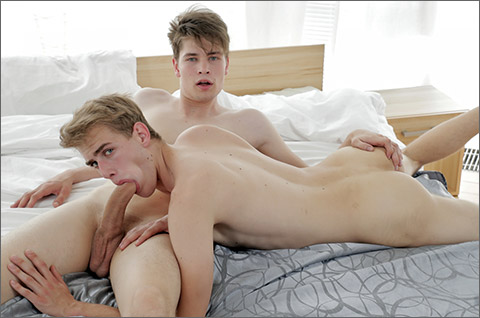 HUNG JURY: Legal Newbie Awards Bad Boy With A First Class Ride Of Hot Ass
Whoever said that lawyers don't have a heart? Or that the only thing that they truly appreciate and understand is hard cash? Well whoever it was, the image of legal minds being solely obsessed with mercenary reward is definitely in for a bit of a bashing here; as fresh-faced solicitor, Bjorn Nykvist, displays his distinctly compassionate side when Jaro Stone enters his office looking for representation in court. All the same, there's still no such thing as a free lunch; and whilst our legal eagle might not be thinking of the bucks, he almost certainly thinking of the fucks! Indeed, it's a definitely a deal of a carnal kind that's quickly getting brokered between these handsome youngsters; with the two buddies heading straight for bed in order to run through a few points of order.
Needless to say, it isn't long before both their dicks are the centrepiece of negotiations; with a fine display of cock-sucking quickly developing into an ambitious session of energetic 69-ing. Ultimately, however, the urge to get Stone's infamous butt-picker deep inside his guts simply proves too much for the blond-headed Nykvist; who then proceeds to get his innards bashed to a legal high in a succession of positions, most notably reverse-cowboy. It's enough to send even the most dullened of fans into a spunk-fevered frenzy; and it certainly isn't long before Nykvist's cock is squirting out a generous wad, which Stone eagerly laps up to full effect. Not that Stone's ensuing eruption is any less intense; as both lads underline their rank as top-notch performers by exchanging a final devilishly jizz-laden smooch!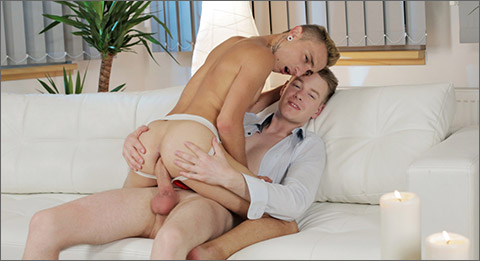 HUNG JURY: Legal Divide Wins Street-Boy A Big Dick & A Face-Load Of Spunk
Just because you're a lawyer and you wear a shirt and tie all day doesn't mean that you can't be attracted to guys of a lower standing order. Cocky young lads with tattoos, like Mark Fontana for example. Nor does it necessarily follow that chaps who have the cerebral ability to aspire to study the rule of law aren't duly blessed in other – more physical – areas! Monster-hung buds like Milan Sharp being a perfect example.
So it is that this arguably mismatched duo pitch up together to celebrate their differences; with Fontana immediately heading for the contents of Sharp's rather kinky-looking leather pants, which he admirably tries to deep-throat to mixed effect.Every effort for trying, however; and suffice it to report that his reward is Sharp's keen attention on his sweet, hairless butt, which the legal expert meticulously rims in anticipation of some eye-watering action to come.
Don't be fooled into thinking that Sharp's intellectual prowess is going to secure his position as lead role throughout, however. They might look like chalk and cheese – Sharp in his shirt, Fontana in his baseball cap – but the fact remains that when it comes to cock they're more than equals. So much so, in fact, that Fontana is soon returning Sharp's interest hip-thrust for hip-thrust; banging away at the donkey-hung maestro and bringing him towards the sticky point of no return. Which neatly brings us to arguably the talking point of the escapade – namely Sharp's almost obscene (and furious) rupture, which leaves Fontana shell-shocked and dripping in equal measure! In a word, fan-tas-tique!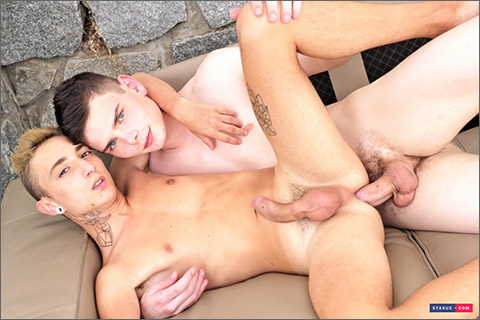 HUNG JURY: Tattooed Twink & Suited Solicitor Face A Flip-Flopping Jizz-Fest
Legal assistance comes in all shapes and sizes, and sometimes – when you're a bit of a jack-the-lad and accustomed to living on the edge – you have to grab a lifeline as and where you find it. Which in tattooed beauty Mark Fontana's case means accepting the advances of the fresh-faced suited-and-booted legal new boy, Alex Aurora. To be fair, given the fact that Aurora is hardly unattractive and clearly scrubs up very nicely in a shirt and tie, it's not exactly a burdensome endeavour; and before you know it Fontana is beavering away inside his mate's trousers, feasting on the deliciously impressive equipment that's hiding away inside.
It's an advance that Aurora clearly appreciates; taking the first chance to return the favour by gobbling on the chav boy's todger, then making a beeline for that sweet little slit that you just know is crying out for attention. Seconds on, and having rimmed the pucker for all it's worth, the charming newbie has managed to bury the head of his dick deep inside; and before you know it is quite literally balls-deep in Fontana's guts, banging away to his heart's content! Whether the boy from the wrong side of town quite anticipated such a prompt invasion is anyone's guess; but given the spirit with which he subsequently sits on Aurora's lap and rides the fellow's schlong like a common tart, we can only conclude a favourable response. So much so, in fact, that he's soon replying to the onslaught with a sleek codicil of his own – a late-on return fuck that steals Aurora's on-screen cherry, leaving the lad's ass-hole oozing with fresh spunk!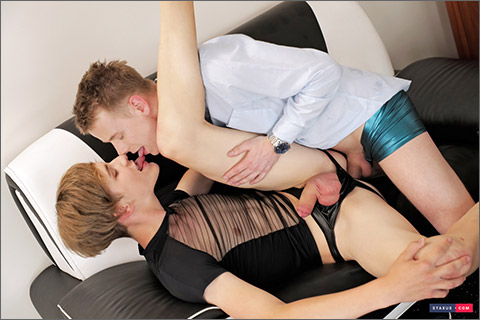 HUNG JURY: Mega-Hung Brief Makes A Spunky Proposal To His Indecent Pup
Floppy-haired beauty, Martin Rivers, is in trouble with the authorities for public indecency; but whilst the powers-that-be might not appreciate his very skimpy shorts and flesh-revealing shirt, Milan Sharp is clearly all in favour. And not just because the young lad's regular court appearances are clearly boosting his bank balance! No, Sharp evidently appreciates every inch of his client's flawless body – a fact that he makes plain by means of a knowing twinkle in his eye, whilst at the same time admonishing the twink for his feckless ways. After all, even a dusty-eyed lawyer can appreciate a pretty boy when they he sees one; and the donkey-dicked attorney certainly makes no effort to rebuke the lad further when Rivers buries his face into his crotch!
Then again, what fucking right-minded guy ever would? Nor does he show the slightest reticence when it comes to going over the finer points of the case with his horned-up client; feasting off the lad's badly swollen dick, before feverishly rimming and then fucking Rivers' arse and revealing quite a snazzy taste in underwear in the process! Unless you've got a particular fetish for pants, however, it's the table-top fornication between these lads that's gonna grab you most by the balls; with Sharp ramming every inch of his oversized knob into his bud's derriere, before bundling the winsome puppy over to a nearby sofa to complete his violation. No doubt about it, this is one pumped-up brief who's determined to work every ounce of cum out of his client; before blasting what can only be called a tsunami of goo all over Rivers' face!

WATCH IT / DOWNLOAD IT AT:
STAXUS.COM
Members at STAXUS.COM can watch or download the scenes at anytime.
Download extensive High Quality photo sets from each scene.

AVAILABLE FROM: RAD VIDEO
WATCH IT NOW AT: AEBN / SMUTJUNKIES THEATER