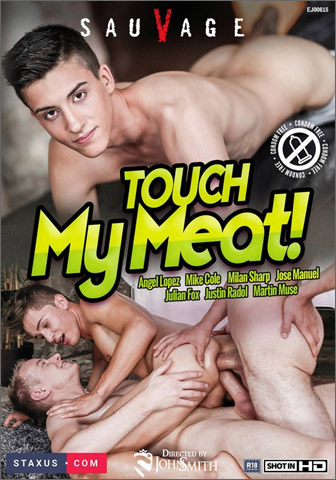 Studio: Staxus / Sauvage
Directed by: John Smith
Year of Production / Release: 2016
Country of Production: Czech Republic

CAST:
Mike Cole
Julian Fox
Angel Lopez
Jose Manuel
Martin Muse
Justin Radol
Milan Sharp
INFORMATION FROM STAXUS PRODUCTIONS:
This DVD includes the hottest DP scene of the year! It's hardly noticed most of the time – but when someone touches and massages the most intimate parts of our body, that's when we realise just how acute our sense of touch can be. Especially when the contact comes from some handsome stranger! Little wonder, then, that the likes of Milan Sharp and Martin Muse get all hot and flustered when lads like Angel Lopez and Mike Cole make contact – signalling the start of some stunning sensual encounters that aren't ever over until every inch of meat has been well and truly rubbed to squirting point!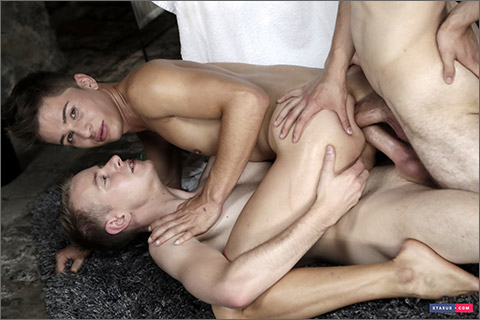 SCENE 1: Angel Lopez, Julian Fox, Milan Sharp
ANGEL LOPEZ GETS TWO COCKS SHOVED UP HIS OVER-MASSAGED HOLE
Most guys only get one fellow to give them a rigorous rubdown; but, as we all know by now, Angel Lopez isn't just your ordinary, run-of-the-mill fellow. Fact is, he's the kind of young man who could very easily have a queue of would-be massagers – and on this occasion it's the all-too-lucky Milan Sharp and Julian Fox who get the honour. What horny gay man wouldn't give their hind teeth to exchange places with them? As it is, however, the rest of us mere mortals must simply marvel at their good fortune; as they oil his sweet, Latino flesh and very slowly make a move on that gorgeous, uncut cock that they know is nestling in his crotch.
   Of course, it isn't too long before any pretence of a normal massage is abandoned; with Sharp producing a big black dildo, which he unmercifully prods into the youngster's all-too-eager ass-hole. That's just a prelude for what it to come, however, given that by this point both Sharp and Fox are quite literally gagging to thrust their own dicks into Lopez's hole; and indeed there's almost a gasp of relief when Sharp finally buries his oversized schlong into its natural resting place.
   Anyone expecting this to be just your average threesome is in for a mighty big surprise, however. For Lopez is a slut extraordinaire; and having enjoyed every inch that Sharp can muster, he's encouraging Fox to join the fun. Cue a truly amazing double-penetration, which will no doubt seriously risk a premature climax from the entire viewing population; before all three lads cream like fury, most notably Sharp into Lopez's now over-worked boy-cunt!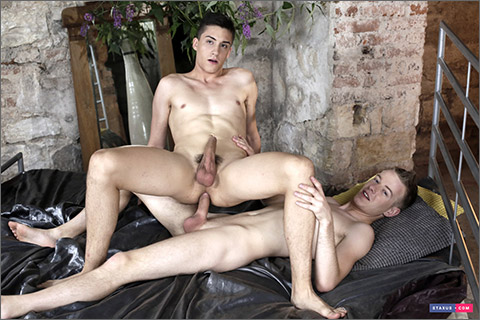 SCENE 2: Mike Cole, Milan Sharp
HORNY FLIP-FLOPPERS GORGE ON HARD COCK & ALMOST DROWN IN JIZZ
Given what he surely knows is stuffed inside Milan Sharp's pants, it's probably no real wonder that young Mike Cole can't resist tugging at them when he's given the opportunity to massage and caress his buddy's back. Indeed, let's be perfectly honest, failure on his part to make a beeline for Sharp's most private quarters would almost certainly rank as some kind of gross negligence! After all, the reputation of Sharp's cock almost certainly precedes it; and it will certainly come as no surprise to anyone that the schlong is badly engorged and clearly looking for action when Cole finally pulls it from its sweaty home and begins to feast on the hard, delicious flesh.
   Of course, it'll come as no surprise to anyone that the young Spaniard is soon slurping away like the complete whore that he is, taking almost every inch down his throat as he does so; whilst Sharp then replicates the move so that the two fellows are soon 69-ing each other side-by-side.
   And it's with this shamelessly egalitarian spirit that the action continues, when the boys finally give in to their ultimate desires and proceed to take it in turns to pound each other's arses into oblivion. First Cole, who hammers away at his pal's butt like a demon possessed; then Sharp, who allows his horned-up buddy to ride his dick reverse-cowboy style, before lunging his oversized ramrod into the youngster's pucker from behind. No fucking wonder that Cole is quickly erupting like a geyser in response; leaving Sharp to wrap things up very nicely by squirting a terrific wad of pent-up boy-batter all over his pal's sore little arse!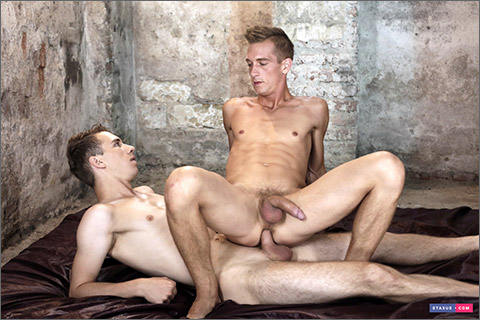 SCENE 3: Jose Manuel, Julian Fox
COCK-FIGHTING FUCKERS RIM THEIR HOLES, THEN FUCK LIKE WHORES
Cock-fighting takes on a whole new meaning at the start of this playful meeting between STAXUS stalwart, Jose Manuel, and new kid on the block, Julian Fox; as director, John Smith, oversees a somewhat arty rendezvous, that sees both boys jostling together in a very modern swordfight! Indeed, we defy anyone who watches these two handsome dicks as they slip and slide against each other in the opening moments not to be left feeling as horny as fuck; a perilous predicament that will only get worse when the music finally stops and Fox gets down to the serious business of feasting on his buddy's grossly swollen shaft.
   It's most definitely a very sensuous and nerve-tingling display, that's for sure; and matters only intensify still further when Fox repositions himself over Manuel so that they can both suck cock simultaneously. The display of 69-ing that then ensues from these two gorgeous buddies is surely more than enough to get many a viewer to the brink of ecstasy; and the sight of Fox finally claiming the prize of Manuel's fuck-hole will almost certainly push any doubters in a similar direction.
   All the same, it's the heady display of fornication between these lads that follows that is surely the pinnacle of the entire performance; with Manuel manfully taking every inch that his pal can thrust in his direction in a variety of positions. Culminating in the fellow riding Fox cowboy-style and producing a no-hands cumshot that surely has to be seen to be believed. Nicely rounded off by Fox yanking off a gooey, pent-up load, whilst Manuel slurps on his cockhead!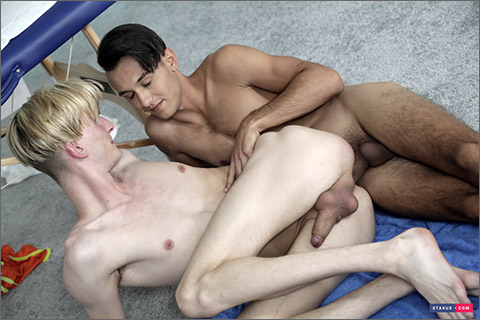 SCENE 4: Justin Radol, Martin Muse
FRESHLY-SHOWERED STUD GIVES HIS MASSEUR A CREAMED-UP ARSE
One of the great secrets of a good massage is time – as Martin Muse quickly discovers when he encounters the talented hands of new boy, Justin Radol. Indeed, there's nothing rushed at the start of this particularly horny rendezvous. Muse heads for the shower-room, where he genteelly soaps himself down; and Radol delicately prepares the massage-table, lighting candles to add to the mood of the occasion. If you're thinking that this relaxed atmosphere holds out for the rest of the scene, however, then prepare for disappointment.
   The return of Muse – now squeaky clean and clearly as excited as fuck! – turns up the dial considerably; and before you know it, Radol is making a beeline for the fellow's crotch. Little wonder, of course, given the very handsome shaft that's straining for attention. Indeed, the rest of Muse's body hardly gets a look-in; and soon Radol is nicely working his client's cock, not only with his hands but with his lips also!
   Given the fact that Muse is already clearly feeling the horn big time, it's no surprise that he's soon determined to take full advantage of his mate's services; bundling Radol over the table, fingering and rimming the fellow for all that he's worth, and then finally squeezing every inch of his now badly-swollen ramrod into the blond boy's arse. Indeed, any sense of procrastination is now long since abandoned; as Muse proceeds to slam the newbie for all he's worth, ultimately pushing the fellow to a deserved crescendo. That leaves our stalwart to eagerly wrap things up by creaming Radol's well-worked hole with a very generous wad!

WATCH IT / DOWNLOAD IT AT:
STAXUS.COM
Members at STAXUS.COM can watch or download the scenes at anytime.
Download extensive High Quality photo sets from each scene.

AVAILABLE FROM: RAD VIDEO