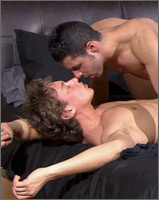 Studio: Blake Mason
Directed by: Jason Blake and Adam Mason
Year of Production / Release: 2009
Country of Production: Great Britain

CAST:
Jack
Philippe [Philippe Delvaux]
ADDITIONAL COMMENTS:
On-Line Presentation. Members can Download.
INFORMATION FROM BLAKE MASON:
Filmed, edited and encoded in HD!!! Film duration: 23 minutes, high res file size: 335 MB
Yum yum, the super sexy and ever horny Philippe returns to your screens for a lustful romp in a total cracker of a film. Well, you didn't think we'd go to all that trouble of getting him over here just for a solo, did you? Of course not… in fact he was emphatic that he would only pay us a visit if he could get fucked by Jack! And me being me, well, I was only too happy to play cupid but I've got to confess that Jack didn't take any persuading – would you?
   So, with everything set and with two randy energetic guys sprawled on the bed, the only thing left to do was switch on the cameras and film the action. The guys started off having a very heated kissing session before Jack's mighty uncut cock was tugged out of his pants by Philippe, who soon ensured his lips and throat were firmly wrapped around it – he sure was sucking for Belgium! Not to be outdone, Jack went to town on giving Philippe's impressive meat an excellent oral workout too, right before rimming his sweet tight hole.
   But hey, that's what great sex is all about… sensing each other's needs and desires… and Jack was under no illusion what-so-ever that Philippe desperately needed fucking! And so our Spanish stallion slowly sank his rock hard cock all the way in to Philippe's willing arse and began pounding away in a very determined rhythm. I don't think I've ever seen a guy get so lost in the moment as Jack… but he certainly knows how to keep the momentum going and Philippe was soon emptying his big balls all over the place. Lovely!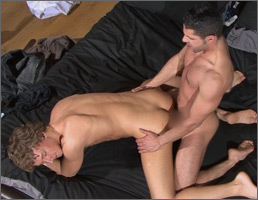 WATCH IT NOW AT: BLAKE MASON