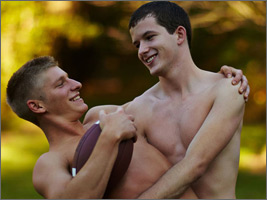 Studio: AmateurCollegeMen.com
Directed by: Corbin Fisher
Year of Production / Release: 2009
Country of Production: U.S.A.

CAST:
Jamie [Devin Moss]
Josh
ADDITIONAL COMMENTS:
On-Line Only Presentation with Full Photography Galleries.
Members Can Download the Film Presentation.
INFORMATION FROM CORBIN FISHER:
When I decided to bring Jamie out to shoot with us, I was already thinking a few steps ahead as far as filming him! Sure, we had to get him filmed in a solo video so that he could introduce himself and we could see him stroke that huge cock of his. But I was already thinking of who we might be able to get him to fuck before I'd even met him in person!
   There were some clear candidates to do the honors, and many of you e-mailed in with your own suggestions once you saw Jamie's introductory solo. These things aren't as simple as you might hope, though! You can't just grab any straight guy and say, "Hey! Want to bottom for Jamie's 10 inch dick?". Given the fact that word had quickly gotten around to the other guys around the studio that Jamie was packing some serious size, the guys were practically already preempting such a question with clear statements they simply would not, or could not, take on such a big cock!
   Thank goodness for timing, though! Josh had just recently made the Dean's List, "The Upstart" being his title. He arrived at CF and quickly became incredibly popular, and in the process realized members had high expectations for him. He wanted to not just meet, but exceed those expectations and had that in mind when I suggested he bottom for Jamie and his 10", thick dick. It wasn't all just work ethic, though! Truth be told, I think he was even intrigued by the idea!
   This vid isn't just about watching Josh experience the amazing sensations of having a big, thick, 10-inch dick drilling his hole, though! Jamie has mentioned that he has a hard time finding guys that are not only willing, but able, to take on that huge cock of his. He doesn't get to top as much as he'd like because he's just too big for most! Oh the irony in that he had to land amidst a bunch of straight studs to finally find an eager and willing hole! Even Jamie can't help but moan in surprise early in the action here, as Josh gets a whole lot of his dick down his throat. Josh really goes to work on Jamie's dick, sucking it hard and deep and getting it to swell to its full glory.
   Soon, Jamie's cock is pointing toward the sky and Josh straddles him to lower himself on to it.
   "Your ass is tight!", Jamie says, as his cock begins to slide in to Josh's hole.
   "That is one big fucking dick!", Josh exclaims, once the entire thing has sunk in to him balls-deep!
   Josh's own cock his hard and sticking straight out as Jamie begins to thrust up in to him, driving that cock in to Josh's hot ass.
   At this point, I think Jamie realized he not only had his huge cock buried in a tight ass, but that Josh was liking it! It's not long before he's really pumping in to Josh, taking full advantage of the fact that he's finally found a hole that can handle him!
   As Josh gets bend over the sofa and Jamie starts to fuck him from behind, Jamie starts to pull that huge cock all the way out before plunging it back in, really working over Josh's hole and getting quite the response out of him. All Josh can do is brace himself against the sofa and take every thick inch of Jamie's dick!
   At one point, Jamie reaches around to grip and stroke Josh's cock while he's fucking his hole, and you can see in Josh's face that he's totally loving that. What really gets both guys going, though, is when Jamie starts to fuck harder and faster, really pumping Josh's hole good!
   "Harder!", we hear Josh mouth.
   Jamie responds, quickening his pace as he's using every inch of that dick to drill Josh's ass. Josh could have just been talking about his own cock, though! It gets harder and harder the more Jamie fucks him, and his moans get louder and louder!
   Soon, Josh is blasting off a load hands free! Indeed, as Josh gave Travis CF's first ever hands-free cumshot, we now see Josh get a hands-free load fucked out of him by Jamie's huge cock! I guess those 10, thick inches were just hitting all the right spots! He's moaning and gasping as much in surprise as ecstasy as the cum starts to spurt out of his dick with every thrust from Jamie! So turned on by it all, Jamie gets his dick as deep in to Josh's hole as possible as the cum continues to leak out of Josh's cock. He then pulls that huge dick out and shoot his load right in to Josh's mouth as Josh eagerly sucks it all down, licking the head of Jamie's cock to get as much of that cum on to his tongue as possible!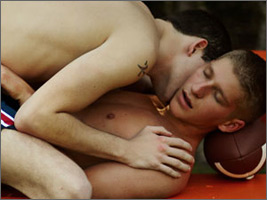 TO VIEW THIS NOW… GO TO: CORBIN FISHER