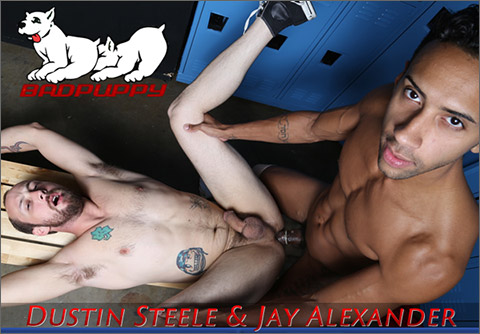 Studio: Badpuppy
Directed by: Gio Caruso
Year of Production / Release: 2016
Country of Production: U.S.A.

CAST:
Jay Alexander
Dustin Steele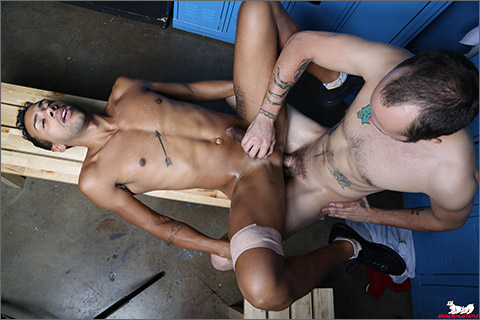 INFORMATION FROM BADPUPPY:
Dustin Steele had just completed his workout when he ran into Jay Alexander in the locker room. The attraction was immediate and it was only moments after these two started kissing when Dustin's shirt goes flying off and Jay is reaching for the contents of Dustin's shorts. Jay is immediately surprised to see the growing manhood that pops out of the top of Dustin's shorts and he swallows every inch of it. Dustin motions for Jay to lie back on the bench where he pulls off Jay's shorts and his mouth begins working Jay's thick, long cock. After some intense mutual blowjobs, Dustin is ready to get his ass filled. He stands against the lockers and Jay comes in from behind and buries his tongue deep in Dustin's hole where he goes to work loosening it up. Lying back on the bench, Dustin can't wait anymore and both of his feet go up in the air with his ass exposed just waiting on Jay to load it with his cock. Slowly at first, Jay pushes his thick cock deep inside Dustin; but, once Dustin is used to the size Jay begins pounding Dustin's hole with long, deep thrusts. After three different positions of Jay fucking Dustin's ass, Jay tells Dustin that it's time for Dustin to shove his cock up Jay's ass. Dustin goes slowly at first, letting Jay get used to his size. With a few ass slaps, Jay's ass loosens more and Dustin begins fucking faster and faster. Dustin continues to fuck the shit out of Jay and as the tension builds you can tell they are both close. Jay takes his cock in hand, begins jerking with the rhythm of Dustin's thrust and he shoots a thick load of his jizz all over his sculpted chest and stomach. Dustin keeps pumping and just before he cums, he pulls his cock out and sprays his cum all over Jay. With an exhausted and gentle kiss our two studs head off for the showers to clean up the mess.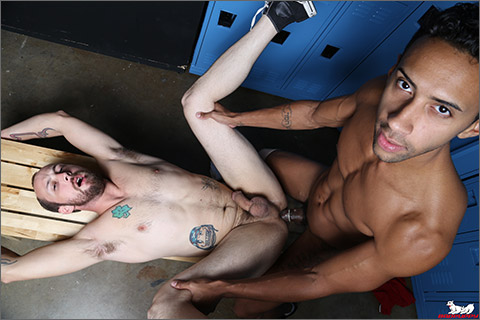 WATCH IT / DOWNLOAD IT NOW AT: BADPUPPY
Extensive Original High Quality Video Content for members.
Watch Streaming online or Download for later viewing.
Films are Downloadable and have extensive High Resolution Galleries.