Studio: Hot House / Club Inferno
Directed by: Michael Clift
Year of Production / Release: 2007
Country of Production: U.S.A.

CAST:
Josh Edwards
Adam Faust
Matthew Ford
Mason Garet
Kent North
Tim Rusty
Rocky Torrez
Til Wegman
ADDITIONAL COMMENTS:
Contains Kent North in his final performance.
Club Inferno releases, available for On-Line Viewing in the Hot House Dungeon
INFORMATION FROM HOT HOUSE:
Get in on all the knuckle-scraping action in Club Inferno's latest masterpiece Knuckle Sandwich. Lifetime Exclusive Kent North leads a cast of handball masters to bring you athletic feats of anal exercise not for the faint of heart. The hardcore superstars work up an appetite by probing their holes with enormous ass-stretching dildos then open wide for double-punch fucking action so intense it can only be called a Knuckle Sandwich.

SCENE 1: Josh Edwards and Mason Garet
Tattooed and pierced Josh Edwards walks into the Club Inferno Dungeon and grabs a giant red dildo. He wastes no time inserting the foot-long butt toy up his ass. Built Dungeon Master Mason Garet joins him and takes over, replacing the medium size toy with a major weapon – an enormous 14″ long x 7″ wide fake cock. All of the anal manipulation is just a warm up for the main event: Garet's fist deep inside Edwards' hole. The assplay continues with jumbo rubber anal beads. Garet expertly coaches Edwards, inserting one then two of the huge balls inside his ass. Garet decides it's his turn to get some assplay and orders Edwards to fuck his hole with an enormous rubber dong. The next tool, a mushroom-headed butt plug no less than 20″ in diameter, has Garet's eyes rolling back in his head in ecstasy. Next Edwards slips his whole hand in Garet's hole nearly to the middle of his forearm. Edwards jacks off while Garet rides his fist then both men lay side-by-side and blow their loads.

SCENE 2: Matthew Ford and Kent North
Dirty-talking Top Man Matthew Ford has Lifetime Exclusive Kent North where he wants him, ass-up, on all fours. North bends over to reveal a fat butt-plug already in place. Ford works his own meaty fingers up inside along the anal butt toy then pulls it out and punch fucks North's hole with the bullet-shaped weapon. Ford pulls his fat cock out and orders North to get it wet so he can fuck him. Ford punishes North with his ramrod and soon discovers that North can take a lot more up his hole. Ford retreats to the Dungeon tool chest and comes back with an enormous double-headed dildo. North rolls over on his back and opens his hole to take almost all of the 30-pound rubber cock. The anal invasion continues with a massive 24″ butt toy. Amazingly North takes the 2-foot dildo to the base while Ford sucks his fat uncut cock. Seeing the enormous capacity of North's anal cavity drives Ford wild so he decides to shove his fist in North's bottomless pit. Finally both men explode.

SCENE 3: Adam Faust and Til Wegman
There's no time for foreplay when fisting top Adam Faust leads expert handball bottom Til Wegman into the Club Inferno Dungeon for some hardcore fisting action. Faust orders Wegman to lube himself up and works his fist into his hungry hole. Wegman's full anal capacity is reached when Faust takes a bullet-shaped butt-plug with a chain on one end and shoves it into Wegman's hole. The 12″ in diameter plug goes in and gets ripped out by Faust repeatedly. Next Wegman is rendered speechless by Faust who pummel-fucks his hole with both fists. The relentless punch-fucking continues until Wegman's hole gets turned inside out. Faust pulls off his leather codpiece and blows his load.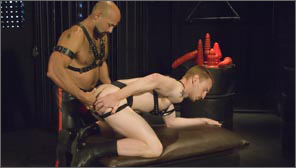 SCENE 4: Rocky Torrez and Tim Rusty
Muscled hunk Rocky Torrez talks good game while he warms up red-headed bottom feeder Tim Rusty. Rusty gets on all fours and listens to the coaching from Torrez as his hole gets pushed open by a huge foot-long dildo. Next Torrez takes out the infamous brown monster-cock and works all 11″x7″ of it in Rusty's hole. Convinced that Rusty is ready for more, Torrez props his muscular arm and fist up and orders Rusty to lower himself on his giant paws. Rusty squats down and swallows the giant limb almost to the base. Next Torrez flips the willing young Rusty over onto his back and shoves his fist in his hole. Working Rusty's hole has Torrez so horned up he whips out his fat, rock hard cock and shoots his load all over Rusty's ass.

GO TO: HOT HOUSE DUNGEON
GO TO: HOT HOUSE ENTERTAINMENT