Studio: Kristen Bjorn presents
Directed by:
Year of Production / Release: 2014
Country of Production: Spain

CAST:
William Bravo
Fernand Dutch
Tony Gys
Jalil Jafar
Valentino Medici
Manuel Olveyra
Rainer
John Rodriguez
Juanjo Rodriguez
Mateo Stanford
Denis Vega


INFORMATION FROM KRISTEN BJORN WEB SITE: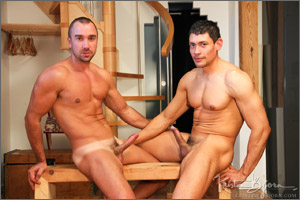 SCENE 1 – OLD FRIENDS: John Rodriguez & Manuel Olveira flip-fuck
John has flown into Madrid to visit with his old friend Manuel. The next morning after a good night's rest the guys meet up downstairs in their towels, which reminds them of some good old times. The guys flip back and forth sucking on each others' hard cocks. Then they 69 each others' ass and tongue fuck each other in unison. John then mounts Manuel's raw cock and goes for a hot ride, enjoying the sensation of skin on skin. John then flips Manuel and rams his raw cock into Manuel's hungry hole. Manuel loves the sensation of a raw cock fucking him and squeezes a hot load out of John's big cock. John covers Manuel's ass with his wet cum before dumping the rest of his load inside of Manuel's ass. Manuel's hole is still hungry for cock so he squats down on John's hard cock. John pounds away at Manuel's ass as Manuel shoots his thick load over John's head and onto his face and tongue before John sucks the remaining cum from his cock. Isn't there a good friend you haven't seen in a while you should call?

SCENE 2 – AN UNEXPECTED VISITOR 1: Denis Vega & Mateo Stanford flip-fuck
Mateo is so horny and is cruising on his mobile app and makes a connection. When Mateo opens the door there stands Denis, his lover that has been away on active duty and returns home on furlough, excited to see his lover. Neither Mateo or Denis have had sex in a long time and waste no time flip sucking each other's hot, hard cocks. Denis wraps his belt around Mateo's head to fuck his throat harder and swapping spit for added slicked up cocks. Mateo then wraps the belt around Denis' cock and balls as he eats away at his ass. Denis loves the restraint and the hot ass stimulation that his cock oozes a heavy load of pre-cum. Once Mateo senses that Denis is primed he forces his cock deep inside his ass. Mateo pounds Denis deep and hard before he unleashes his hot load all over Denis' muscular ass. Denis then flips Mateo and slams his ass with his raging hard cock. Both men's muscular bodies are glistening with sweat as the passion rises and the intensity of the hard ass pounding continues. Denis reaches his explosive climax that drenches Mateo's torso with a hot creamy load. Welcome home my love.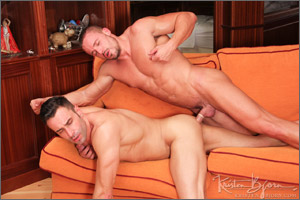 SCENE 3 – AN UNEXPECTED VISITOR 2: Tony Gys & Mateo Stanford flip-fuck
Mateo and his lover Denis have just finished a hot sex session after being apart for a long time. Denis heads off to take a bath. Mateo has forgotten that he has invited Tony over and when Tony arrives Mateo explains the situation and this only turns Tony on. Tony rips off Mateo's towel and they begin sucking each other's straining cocks. Mateo spreads Toni's legs open and eats his ass while stroking his cock. Tony spits on his cock and uses the excess spit to stimulate his nipples. With his cock fully engorged Tony flips Mateo and starts pounding his hot ass. Now Mateo takes control and flips Tony and plants his cock deep into Toni's hungry hole. Mateo pounds away at Toni's ass until he pulls out and showers his balls with his thick creamy load. With his balls drenched in cum Tony shoots his hot load all over his chest and face. Denis then enters the room and is surprised to see Tony in their home. Mateo is very confused at first until Denis explains that he too has been having an affair with Tony and wanted to propose that he join their relationship. The world is much smaller than you think.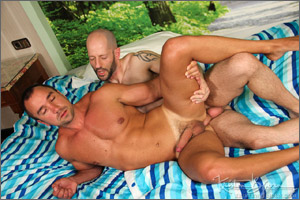 SCENE 4 – BETWEEN US: Rainer & Manuel Olveyra flip-fuck
Rainer and Manuel have enjoyed a great night together and as Manuel showers he can see that Rainer is remembering the wild night as well. Manuel steps out of the shower cleansed and with a raging hard on. He soon finds that Rainer has matched his thoughts exactly and with the same desires. The guys swap blow jobs, running their tongues up and down the others hard shaft and pleasuring the hidden treasure under their foreskin. Manuel has gotten a bit excited and feeds Rainer his creamy load. Rainer sucks Manuel's cock clean before probing his hot ass with his tongue. Manuel then flips Rainer and rams his raw cock deep inside of Rainer's juicy hole. Rainer then flips Manuel and shoves his unsheathed cock into Manuel's already moist ass. Rainer pumps away at Manuel's ass until he shoots his huge load all over Rainer's pucker hole, before slamming his cock back into Manuel and depositing the last of his load in his ass. Friends are a true gift.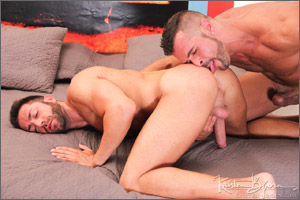 SCENE 5 – HOT ENCOUNTER: Denis Vega fucks Valentino Medici
What do you do when you spot a hot guy on the streets of Madrid, you cruise the hell out of him until he invites you in! Denis does just that after Valentino lets his wants be known. The shirts immediately come off to reveal two equally sculpted muscular bodies. The guys work over each other's sensitive nipples before engulfing their cocks in each other's throats. Valentino then positions himself over Denis to give him a face fucking that he won't forget anytime soon. Denis then begins licking on Valentino's toes as he works his way up to his perfect pucker hole. Denis teases it with his tongue, lips and fingers before ramming his hard cock long and deep inside the wet and waiting tight hole. Denis slams Valentino with such passion and savagery that his hole begs for more. Denis then flips Valentino and plunges deeper and deeper until Valentino spays his rock hard abs with his huge load. Denis continues pounding away at Valentino before he unleashes his thick, creamy globs of cum all over Valentino's face. Valentino revels in the sensation of all that cum coating his face. Book your trip to Madrid now!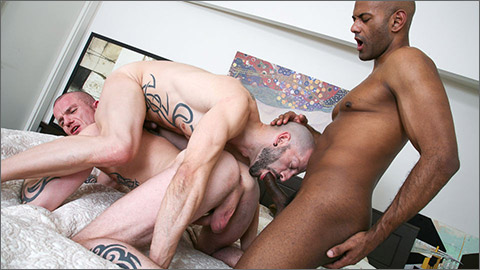 SCENE 6 – BLIND SEX: Rainer, William Bravo DP Fernand Dutch
Fernand is out cruising on the street when William passes by and catches his attention. Fernand invites William over, but before they get wild Fernand goes into the bedroom and tells his lover Rainer that he has a surprise for him. He covers Rainer's eyes and William steps up and shoves his massive black cock into Rainer's mouth. Rainer is pleased with this surprise and engulfs this huge cock with his lips and swallows hard. Fernand and Rainer lay head to head on the bed and William begins to face fuck both of the guys mouths. William flips Fernand over and presses his huge knob against his tight pink hole. Rainer generously spits on William's long shaft and Fernand's ass to keep him well lubed for the onslaught of the enormous shaft driving deep inside his ass. Rainer continues to keep both hot hole and mammoth shaft well lubed with William pulling out completely so that Rainer can suck on his cock and keep it fully lubed. Fernand then flips over and postures himself over William's throbbing cock while Rainer comes in from behind and rams his hard cock in Fernand's ass as well. William and Rainer thrust their raw cocks deep into Fernand and give him a chocolate and vanilla raw double penetration. William loves the feeling of Rainer's rock hard cock massaging his cock inside of Fernand. William blasts his milky load deep inside of Fernand and Rainer sprays his white ass with his thick globs of cum.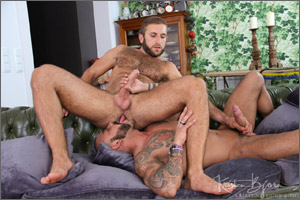 SCENE 7 – CONNECTION: Jalil Jafar & Juanjo Rodriguez flip-fuck
Jalil and Juanjo hook up for what will be an incredible connection that leaves everyone drenched. These two very hot, sexy, masculine, muscular men are looking for rough and wild sex. Juanjo begins by swallowing Jalil's huge cock down his throat without any hesitation. Jalil forces Juanjo onto his back and takes his enormous uncut cock down his throat as well. After some hot cock sucking Jalil sits down on Juanjo's furry face as Juanjo's tongue probes and penetrates his hot pink hole. Once satisfied that his hole is lubed up with sufficient spit, Juanjo plunges his throbbing cock deep into Jalil's hungry hole. Juanjo pounds away at Jalil's ass as his body glistens with the sweat that glazes over his inked, muscular body. Jalil then flips Juanjo and rams his huge cock into Juanjo's smooth, sweat drenched hole. Jalil pummels Juanjo's ass as both men's cocks engorge larger and larger until both cocks are steel rods. While Jalil pounds him deep and hard Juanjo blasts his thick creamy load all over his own ripped abs. Jalil pumps his world famous endless cum shots that blankets Juanjo's abs, chest and face with his luscious load of cum.

WATCH / DOWNLOAD THIS NOW AT:
KRISTEN BJORN
Kristen Bjorn Members can watch / download scenes from this Release anytime. Members get discounts on all DVD and other products.