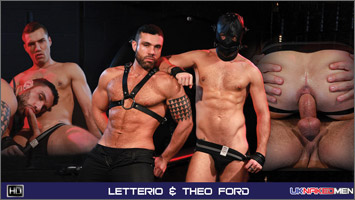 Studio: UK Naked Men / Jonno Films
Directed by: Jonno / James & James
Year of Production / Release: 2014
Country of Production: Great Britain



INFORMATION FROM UK NAKED MEN:
Letterio is looking stunning in leather for this scene, a tight harness and even tighter leather trousers, show off all his magnificent muscles and bulges, add to this the stunningly handsome Theo Ford as a very willing sub boy you know there are gonna be cummy fireworks. Theo submits completely to rough, hairy Letterio and can't wait to get onto his knees to suckle that heavy, uncut cock. Letterio likes a pretty boy, even when he's strapping six foot of ripped meat like Theo. Letterio gets his way – all the way here, opening up Theo's muscular bit with a hot, wet tongue and spit slick fingers before slamming his monster cock deep into Theo's hole even as the sub-lad tries to pull away but there's no escape from Letterio once he's started. Theo takes that raw cock forwards, backwards, on top and under neath, as we zoom in close for that skin-on-skin bareback action, Theo's hole opens and stretches as the cock withdrawers. Until Letterio is pumping and convulsing squirting hot globs of jizz on Theo's hole and plunging back into fill him with more spunk. But as a reward for taking his cock and cum Letterio lowers to his knees to suck Theo to spunky conclusion and takes the handsome lads load in his own eager mouth. Spunkalicious!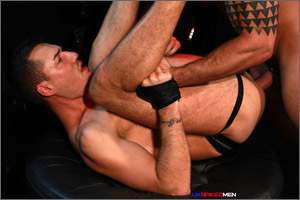 WATCH OR DOWNLOAD IT NOW AT:
UK NAKED MEN
On-Line Presentation, Members can Download.
Excellent and extensive photography of most scenes and models.
Huge Library of Films for members to download.