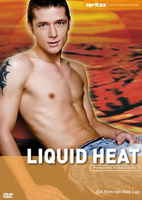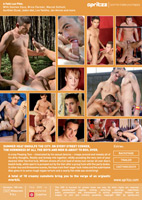 Studio: Spritzz
Directed by: Falk Lux + Christopher Lucas
Year of Production / Release: 2008
Country of Production: Germany

CAST:
Jan Amron
Nicos Andreou
William Berry
Aurelian Duval
Damien Esco
Brice Farmer
Jaden Idol
Leo Yankho
Alex Pain
Marcel Schlutt
Tom Stahlberg
Alex Toledo
Christopher Forny (the photographer)
SCENE 1: William Berry fucks Alex Pain
SCENE 2: Brice Farmer fucks Alex Toledo with some help from Tom Stahlberg
SCENE 3: Tom Stahlberg and Marcel Schlutt flip-fuck
SCENE 4: Leo Yankho fucks Alex Toledo
SCENE 5A: Damien Esco, Aurelien Duval, Jan Amron, Jaden Idol, & Nicos Andreou get all frisky and blow cum all over Aurelien Duval; later Damien Esco and Aurelien Duval fuck Jaden Idol
SCENE 6: Christoph Forny solo
BONUS SCENE – Casting Couch: Tom Stahlberg solo
INFORMATION FROM SPRITZZ / MARINA PACIFIC:
The streets of Berlin are melting in the summer sun. LIQUID HEAT, the new DVD from the German production company Spritzz, and being released by Marina Pacific, calls up all kinds of "heat" images: sweaty men, warm oil, candles dripping wax, and copious amount of hot jizz. This is a steamy sex film with five sizzling scenes and an equally hot story weaving around the individual sex scenes. It concerns a possible sexual predator who mysteriously stalks the streets dressed in long red pants tucked into black laced-up boots and wearing a grey hoodie under an unnecessary overcoat. Lumbering around with a large camera in his hand, he visually captures various groups of guys walking the streets, enjoying the day. He secretly snaps pictures of them and then imagines the sexual activities and excitement that the guys might get into. Three duos, a three-way, and a five-man orgy, go down before the mysterious stranger returns home to check out the photos.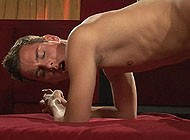 SCENE 1: ALEX PAIN & WILLIAN BERRY
As a stalker roams the streets, Alex and William's pictures are captured while they walk down the street. The picture freezes, but they quickly materialize in a red candle lit room lying in the middle of a big bed, naked to the waist. Alex is letting his tongue play over William's dark buff body. He nibbles his nipples and roams his tongue over William's six pack before settling on Williams big dick. They are both well-endowed, and after going back and forth giving each other great head, William fucks Alex with both of them shooting big loads.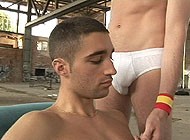 SCENE 2: BRICE FARMER, TOM STAHLBERG & ALEX TOLEDO
Next the stalker finds three guys on the street to shoot as they're eating ice cream cones and immediately projects them stripped to their jockeys in the middle of a deserted airline terminal. Brice (the cover boy from SPRITZZ DOT COM) and friends Tom and Alex go at it with each other on a strangely out-of-place chaise. They are three hot guys, all with super-sized dicks. Tom is obviously the newest to man-on-man sex and is in lustful, wide-eyed awe of his buddies, but totally into it. Brice goes for Alex's dick, and Tom sucks on Brice. They go back and forth sucking one another until Brice moves to fuck Alex, who is still getting head from Tom. Brice eventually shoots his load on Alex's face, then Alex lies back and jacks off to cum next to Alex's face. Brice has been working on Tom's dick again, and he shoots to end the scene.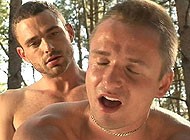 SCENE 3: TOM STAHLBERG & MARCEL SCHLUTT
Walking another street (that looks amazingly like one in any city in America) our sex shooter finds Tom again, but this time with Marcel. He quickly projects the two of them into the woods and on another out of place prop – a large lounging chair, stripped to their jockeys. Tom immediately pops a major erection in his shorts which Marcel grabs a hold of and goes down on it. The two go back and forth sucking each other until Tom goes for Marcel's ass to fuck him doggie style, kneeling in the chair. Eventually, Marcel turns the tables on him and gets his share of ass as well, taking Tom doggie style and then missionary. (One never is aware of their use of condoms. They are thin and make a dick look more like a lubed one rather then a sheathed one.) Marcel jacks off and cums on Tom. He then licks and sucks on Tom's balls who then stands up to shoot on Marcel's face and chest.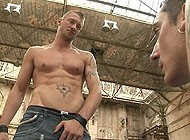 SCENE 4: ALEX TOLEDO & LEO YANKHO
The stalker finds Alex again but this time on the street with Leo. They provide him with an incredibly hot s&m sex scene, this time on a bed in the middle of a deserted factory. The scene is both exhaustive and exhausting. Leo is muscular, tattooed and well hung. He wears a black jock strap throughout the scene. Alex, from Scene 2, is wearing a grey jock. They're on a satin covered bed playing with one another. Leo tweaks Alex's nipples, swatting and eventually applying clothes pins to them. Leo inserts his little finger in the hole at the end of Alex's dick and then his tongue. Leo's hand goes in Alex's mouth and then his dick. Leo pulls the pins off Alex's nipples and then his shorts. All the action is on Leo's end with Alex taking whatever the stud has to offer. Leo holds him from using his hands and goes down on his enormous cock, deep throating him. He then eats his upturned ass, licking it with his pierced tongue. Eventually, he thrusts two fingers up Alex's ass, and then three, until Leo is almost fisting him. Leo finally fucks his ass with his cock as Alex jacks off. Leo sneaks the clothes pins back on Alex's nipples and plunges his dick repeatedly in and out of his ass at the same time. He alternates pounding Alex with his dick and his fingers until Alex finally shoots. Leo then jacks himself off and cums over his friend, collapsing on his body.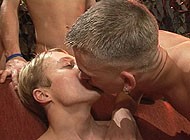 SCENE 5: DAMIEN ESCO, AURELIEN DUVAL, JAN AMRON, JADEN IDOL, & NICOS ANDREOU
The ever creepier man in the hood spots five "skaterboys" talking to one another on the street and takes their picture. It morphs into the five of them in an empty sex club, where platforms and pillows invite them to take their clothes off and their dicks out to play. All five are good looking with assorted piercings and tattoos. They all get into a sucking orgy mode and go back and forth giving head to each other, jumping in as the opportunity arises. They all cum a first time on one of the guys and move right on to fucking and generating plenty of "whipped cream" all over again.
SCENE 6: CHRISTOPH FORNY
Christoph, the stalker dude returns home to his candle lit apartment to study the day's finds. He takes his dick out and jacks off over the lot of them.
INFORMATION FROM SPRITZZ:
Summer heat engulfs the city. On every street corner, the horniness of all the boys and men is about to boil over. A crazy Peeping Tom – intoxicated by his sexual desires – creeps around and reveals all of his dirty thoughts. Reality and fantasy mix together, wildly accosting the very core of your desires! After the first fuck, William shoots off a full load of sticky lust-nectar all over Alex's boyish body, while sperm is pumped out by the liter after a group fuck with five party dudes. In other duo and threesome scenes, the boys train their eager fuck-holes and the submissive Alex gives in to some rough nipple torture and a nearly fist-wide ass-stretching! A total of 18 creamy cumshots bring our Peeping Tom to the verge of an orgiastic overkill.
Sex: kissing, sucking, fucking, nipple play, ass play, spitting, soft SM, duos, threesomes, group sex
Duration: 105 minutes
Extras: Backstage, Trailer, Castingcouch
Format : DVD Pal, 16:9 Widescreen

WATCH IT NOW AT: MALEFLIXXX
MANY OF SPRITZZ PRODUCTIONS CAN BE SEEN ON-LINE AT: BERLIN-MALE
GO TO: SPRITZZ FILM BERLIN