Studio: COLT Studio / Buckshot Productions
Directed by: Max Phillips
Year of Production / Release: 2013
Country of Production: U.S.A.

CAST:
Doug Acre
JR Bronson
Marc Dylan
Bobby Hart
Scott Hunter
Lucas Knight
Hunter Page
Connor Patricks
Angel Rock
ADDITIONAL COMMENTS:
COLT Studio members can watch this presentation online prior to and after DVD release.
INFORMATION FROM COLT STUDIO: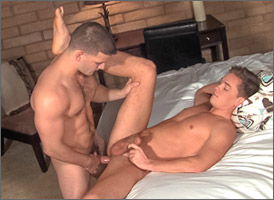 SCENE 1: Angel Rock fucks Lucas Knight
A slow day at the office leaves horny young lad Lucas Knight with too much unsupervised time on his hands. When his co-worker Hunter Page takes a bathroom break, Lucas cleverly hacks his way onto the internet to sneak a peek at his favorite jerk off clip of hairy muscle hunk Angel Rock. Losing himself in the moment, Lucas strokes his ample bulge, closes his eyes and imagines himself climbing naked into bed with Angel, ready and willing to service his huge uncut tool.
   As the fantasy unfolds Lucas dedicates his mouth to sucking and slurping on Angel's thick piece of meat. With lots of stroking, kissing and mutual sucking, the fantasy suck-fest gets hot and heavy in a hurry.
   Taking it to the next level Lucas imagines taking a hard ride on that big pole. With Angel fucking him deep Lucas strokes his thick monster cock, enjoying a hard ass pounding from a hot stud. Angel drills that boy-hole until his cock juices explode. Pulling out he drenches Lucas with his thick load. Hot cum lubricates Lucas' big dick as he strokes and shoots thick wads of white hot jizz from his cock.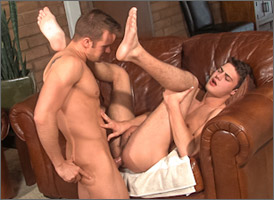 SCENE 2: Connor Patricks & Hunter Page flip-fuck
When Hunter Page comes back to his desk he catches his co-worker Lucas Knight in the act of stroking his meat to a hot online video. After an awkward moment, he asks Lucas how he got past the office filter. Lucas shows him his filter hacking trick and Hunter is quickly off on his own internet cock-search.
   Hunter quickly finds a smoking hot video of handsome stud Connor Patricks. Watching Connor slowly stroke his thick tool has Hunter fantasizing about being naked and down on his knees slurping on that big cock. Hunter is packing some major meat of his own, and Connor is not one to let a big cock go un-serviced.
   A long and indulgent suck-fest leads to plenty of ass play. Slurping and tonguing and exploring each other's smooth hot butts, Lucas has Connor's ass raised high and ready for his monster dick. Sliding and gliding his big cock in Connor's wet boy-hole, Hunter gives his buddy a searing hot fuck. And as horny young studs often do, Connor soon wants his turn in the driver's seat. Getting Hunter on his back Connor drills his thick dick up Hunter's tight ass. Hunter groans as he strokes his long bone, feeling his hole stretched with Connors big cock inside him. He shoots his hot load as Connor splits his ass in two. Seeing that cum fly makes Connor hot in a hurry. While pulling out he grabs his thick dick in hand and squeezes out a healthy jet stream of cum, He showers Hunter with his white hot load.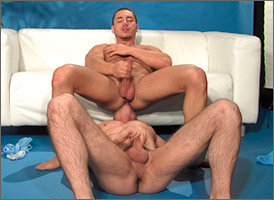 SCENE 3: Marc Dylan & Scott Hunter
The sexual tension in the office builds as co-workers Lucas Knight and Hunter Page blow off their workload to enjoy some very unsupervised guy watching on the internet. The action on their computer screens has them both rock hard as they continue to watch…
   Athletic super-stud Scott Hunter and muscle-pup Marc Dylan come together on the screen for a hot and heavy show of mutual attraction. Scott kicks back as Dylan eagerly feasts on his juicy uncut meat. Stroking and bobbing on each other's hard cocks, these guys really get their dick juices flowing. The suck-fest soon becomes a feeding frenzy as the taste of cock sends them into overdrive. Scott's frisky tongue goes south of Dylan's ample ball sack and then down below for a deep and probing rim job. Feeling that tongue lapping at his hot hole makes Dylan's cock twitch. Stroking himself to the boiling point Dylan lets loose a fiery, white hot load. With his face still buried in Dylan's muscled butt Scott follows Dylan's lead and shoots a white hot gusher, drenching himself in cum.
SCENE 4: Bobby Hart fucks Doug Acre
What better way to start the day than with a fun and frisky romp in the hay? Latin stud Bobby Hart is in a playful mood as he wakes his sexy young friend Doug Acre by wrapping his eager lips around his buddy's morning wood. Doug smiles as he looks down to watch Bobby suck and swallow his big-boy meat-stick. The morning passes slowly as these guys enjoy the taste of each other's cocks, with lots of hot kissing, stroking and slurping.
   Bobby turns his attention toward Doug's hot boy hole, using his tongue he makes Doug squirm and gets that beautiful butt hungry for his cock. Legs lifted in the air Doug is ready for an injection of Bobby's hot dick. Bobby slowly probes his thick piece deep into Doug's tight hole, opening him up for a deep and hard pounding. Once he is in, Bobby drills his tool hard, giving Doug a hot and searing fuck. Lying back on the bed Bobby invites Doug to ride his thick pole. Doug eagerly takes a seat on that monster dick and goes wild. Feeling that big dick up his hot ass Doug jerks and squirts a healthy boy-load of sweet cum. Still reeling from his big nut-busting load, Doug lays at Bobby's side as Bobby gives his own fireworks display, shooting off with a spray of hot dick juice that only cums from a hot morning fuck.
SCENE 5: Lucas Knight & Hunter Page
Meanwhile, back at the office co-workers Lucas Knight and Hunter Page have spent most of a slow afternoon at work checking out hot guys online and fantasizing about hot sex. Worked up and rock hard they turn their lustful attention on each other, stroking their bulges and licking their lips with hungry eye contact. Sitting across from each they lower their pants, showing off and stroking their monster cocks for each other. Lucas breaks the tension and hits to his knees, slurping and sucking Hunter's big piece of boy-meat. Stripping off the last of their clothes they daringly indulge in a mutual suck-fest right in the middle of the office. Hunter's deep throated servicing has Lucas moaning with pleasure.
   The excitement of sucking cock in the office has both guys so turned on that their boy-loads cum gushing. Hunter leans back in his office chair and spills a thick load high on his chest. Lucas is right there with him as he fires off a drenching shot of steamy hot cum… and then another… and then another, spraying several impressive shots of dick juice as the sexual tension washes away in a river of nut-busting cum.
SCENE 6: Hugo Alexander fucks JR Bronson

MORE INFORMATION / WATCH IT / BUY IT (if available) : COLT STUDIO