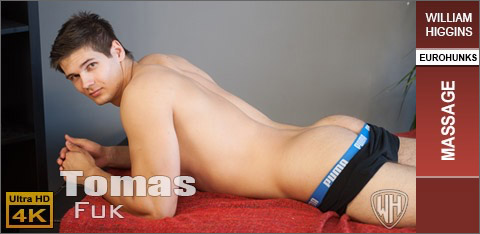 Studio: William Higgins Productions
Directed by: William Higgins & staff
Year of Production / Release: 2016
Country of Production: Czech Republic

CAST:
Tomas Fuk
INFORMATION FROM WILLIAM HIGGINS PRODUCTIONS:
What a handsome guy Tomas Fuk is and he happily agreed to a massage. He looks so good as he lays on the bed, wearing olnly his underwear. The masseur arrives and gets to work on Tomas' back, oiling it and massaging all over. The hands work the back and shoulders, gliding all over. As the hands work to lower back the fingers slide into the underwear too, squeezing the butt cheeks. Then the underwear is pulled down to reveal that sexy ass. The soft, downy hair gets coated in oil as the hands work over the sexy ass. The cheeks are parted, giving a teasing glimpse into the crack. The the underwear is removed and Tomas' legs parted with his cock and balls pulled back between the thighs. Oil is dripped onto the ass and balls and a hand reaches down to rub the cock, with more oil being dripped. The cock stiffens under the expert touch, as it is gently wanked. Then Tomas moves onto his knees, his cheeks parting to expose his hole. The hands rub up and down the ass crack and then take hold of Tomas' cock and wank it, cupping the balls too. That tight hole looks so inviting too as Tomas' cock is wanked. As a hand rubs over the as a finger finds its' way into Tomas' tight hole. It fucks in and out as the cock continues to be wanked. Then two fingers slip into the hole, opening it up real good. His cock is rock hard as he feels the fingers probing his ass. The fingers then come out to be replaced by a toy that slides in so deep. It goes in all the way and stays in place when left alone. Then it is pulled out and Tomas turns over and lays on his back. The hand continue working on his cock, wanking it hard until Tomas shoots his hot cum. That hot cream shoot up his chest and all over his right thigh. The cock is milked dry of all the creamy juice to end a great massage.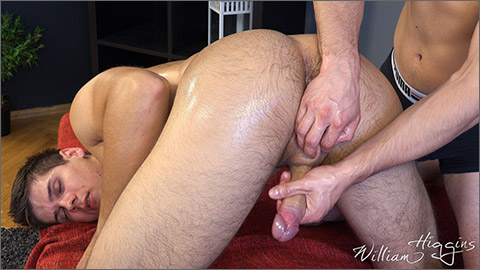 WATCH / DOWNLOAD THE SCENES AND IMAGES AT:
WILLIAM HIGGINS PRODUCTIONS
Members can download the High Definition and other versions of this film. Extensive Photosets are always offered to members as well.