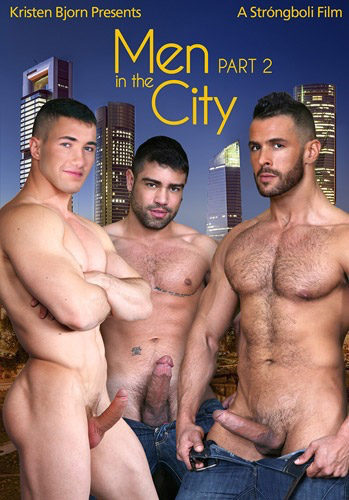 Studio: Kristen Bjorn presents
Directed by:
Year of Production / Release: 2014
Country of Production: Spain

CAST:
William Bravo
Mario Domenech
Darius Ferdynand
Tony Gys
Jalil Jafar
Diego Lauzen
Gorka Martin
Antonio Miracle
Rainer
Julio Rey
John Rodriguez
Robin Sanchez
Denis Vega
Wagner Vittoria


INFORMATION FROM KRISTEN BJORN WEB SITE: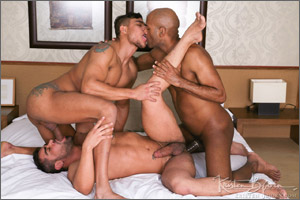 SCENE 1 – URBAN JUNGLE: William Bravo, Diego Lauzen, Wagner Vittoria
Wagner and Diego are enjoying the local arboretum when they notice they are being heavily cruised by William. We find out why William cruises the arboretum when we see his opulent apartment that he has invited Wagner and Diego to. They release the anaconda that has been confined in William's jeans and immediately begin worshiping it with their hungry mouths. Wagner and Diego switch up on servicing William's monster piece of meat as the other services his lover's cock. Wagner and Diego then climb onto William as he tag teams both of their holes with his probing tongue. Wagner is the first to feel the splitting sensation of William's fat cock plunging deep into his tight hole. Diego sucks on Wagner's throbbing cock as he gets fucked. William flips the guys and now goes deep inside of Diego. William then flips Wagner onto his back and drives his cock even deep into his hungry hole while Diego feeds him his cock down his throat. William pounds Wagner so hard that he shoots his thick load and dumps his own load all over Wagner's balls as Diego feeds his load down Wagner's throat.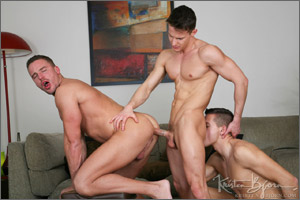 SCENE 2 – A LUCKY DAY: Tony Gys, Darius Ferdynand, Gorka Martin
Darius has invited Tony over and Tony has invited his friend Gorka to join them. After some amorous kissing the guys get right into the pleasures of sucking huge cocks. Darius shows his is a true host and begins by sucking on both of his guests cocks. Tony and Gorka take full advantage of Darius' ravenous appetite and feed him hard and deep into his throat. Tony is the first to give up his ass and Darius rams his huge, uncut cock deep into his tight hole. Tony quickly loosens up and Darius picks up his rhythm and pounds him hard. Gorka steps up and begins eating Darius' ass as he continues to fuck Tony with his pleadings for more. Tony flips Darius and has him squat down on his straining, hard cock. Gorka backs up against Darius and the two begin to tag team Toni's cock in each of their hungry holes. Darius and Gorka flip back and forth on Toni's cock until Darius blows his hot, wet load all over Toni's ripped abs and chest. Gorka then jumps onto Toni's cock and rides it hard until he shoots his creamy load all over Toni's thighs. After having two hot holes milk his cock, Tony is left with no option but to explode a huge load of cum for them both. Surprise guests can be a real treat!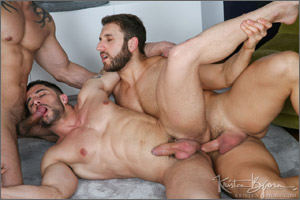 SCENE 3 – CARD SHARKS: Jalil Jafar, Robin Sanchez, Julio Rey
Jalil and Julio are running a street scam that Robin gets caught up in. When Robin plays the game and loses he is coerced into returning to Julio's apartment. Jalil is already waiting for their next guest. Robin is shoved onto his knees where he begins to service both men's huge cocks. Robin's mouth is both fed and stuffed with both cocks before he is stripped and turned upside down. Jalil and Julio begin eating his ass in tandem as well as simultaneously finger fucking his hole. Robin is flipped and Jalil drives his raw cock up his ass as Julio stuffs Robin's mouth with his cock. Julio and Jalil tag team Robin's ass and mouth, making him lube up one cock as the other fucks his ass. Jalil changes things up and slams his ass down onto Julio's hungry cock as Robin feeds him his cock. Jalil then flips Robin again and takes his tight hole from behind until Robin erupts a geyser of a load that goes flying through the air. Jalil pounds out his huge load all over Robin's balls then shoves his dripping cock back into his hole as Julio feeds Robin his load. I guess Robin did win the game in the end.
SCENE 4:
SCENE 5:
SCENE 6:

WATCH / DOWNLOAD THIS NOW AT:
KRISTEN BJORN
Kristen Bjorn Members can watch / download scenes from this Release anytime. Members get discounts on all DVD and other products.