Studio: Lucas Entertainment
Directed by:
Year of Production / Release: 2014
Country of Production: U.S.A.

CAST:
Jed Athens
Blue Bailey
Blake Daniels
Shane Frost
Joe Gunn / Joe Gunner
Michael Lachlan
Michael Lucas
Geoffrey Paine
Seth Santoro


INFORMATION FROM LUCAS ENTERTAINMENT:
It's "Michael Lucas' Bareback Premiere" as he debuts with his first raw fuck on film with Lucas Entertainment's latest and sexiest exclusive model, Michael Lachlan! Lachlan proves to Michael Lucas just how good of a bottom he is before returning again to top Seth Treston with his big, fat, and uncut Aussie cock. Additionally, Jed Athens and Shane show off their stuff by flip fucking long and raw. Joe Gunner and Geoffrey Paine rough-ride some bare dick. And Blue Bailey and Blake Daniels show audiences the intimacy they share when having sex. "Michael Lucas' Bareback Premiere" cannot be missed!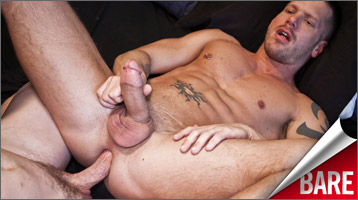 SCENE 1: Michael Lucas Has Bareback Sex with L.E. Newcommer Michael Lachlan
Lucas Entertainment's latest exclusive, Michael Lachlan, is a handsome new Aussie that has the chiseled body of an athlete. He cruises Michael Lucas, who falls for the look of Lachlan right away. They head back to Lachlan's apartment and start kissing each other; with each peck on the lips, another piece of clothing falls off (Lachlan is an incredible sight in his underwear) until Michael takes Lachlan's underwear off completely and shows the massive cock he has between his legs. The two Michaels suck each other for a bit and Lucas eats out Lachlan's hole before Lachlan gets on his hands and knees. And at long last, Michael slides his raw cock into Lachlan's muscular ass. Michael first fucks his new big-dicked bottom doggy style, and the look on Lachlan's face and his moans of pleasure couldn't be better! But the best position is when Lachlan lays back on Michael and takes a ride on the 10 inches of uncut Russian cock; all the while he is stroking his own massive, fat uncut dick! Lucas shoots his load after deep-fucking Lachlan raw on his back!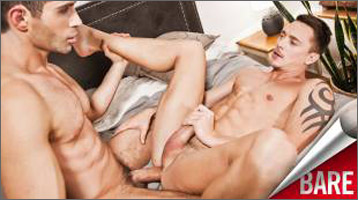 SCENE 2: Raw Bareback Flip-Fucking Starring Shane Frost and Jed Athens
We've seen just how well Jed Athens takes raw cock, but never before have we seen him give it. That's what Shane Frost is for — this Lucas Entertainment favorite is good at sexual versatility, but let's face it: he has a preference to bottom, and Jed takes full advantage of that fact. But what we didn't expect was just how verbally dominant Jed would be with. The lean, fair-skinned guy tells Shane how it's going to be, and even better, talks to him dominantly as he gets his dick sucked and stuffs it raw into Shane's ass. After giving Shane a good raw ride, the two flip positions and Jed assumes the jackhammer — Shane bounces on Jed's ass before he gets on his back for the bareback finale!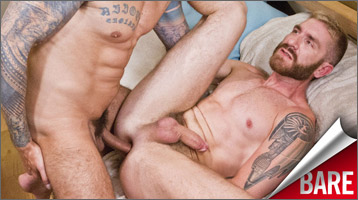 SCENE 3: Rough Bareback Lovemaking Starring Geoffrey Paine and Joe Gunner
Geoffrey Paine and Joe Gunner are two boyfriends who love fucking each other, plain and simple, and when they stick their dicks in each other they insist that it is raw! Geoffrey and Joe are rough with each other — they fuck like champs, and don't ever take it easy. Joe Gunner has the look of a power top with his rough masculine look, and he does give Geoffrey and good and strong fucking. But it's actually Geoffrey who is the power-fucker in the couple, and when you hear Joe moan and groan, he takes dick like a champ until they shoot their loads!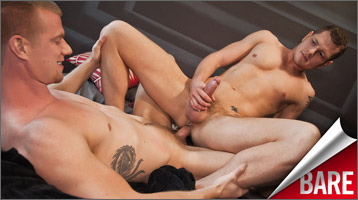 SCENE 4: Gay Bareback Boyfriends: Blue Bailey and Blake Daniels
One thing is for sure — Blake Daniels knows how to rock a Nasty Pig jockstrap. His tall and lean body compliments the bulge in the pouch of the jock — it's no wonder Blue Bailey fell in love with the stud! As two hot boyfriends should, they start making out and grinding their hard packages against one another before Blue can't wait anymore and takes out Blake's hard cock for a sucking. The action turns into a sixty-nine where Blake sucks on Blue while Blue eats out Blake's ass through the jockstrap. Blake is the first to take raw cock — he bends over and braces for Blue to slide in him deep before thrusting his cock like a gay bareback porn star champ! After Blue is done, Blake gets his dick wet. Blue is partial to treating Blake's dick like a pogo stick, and bouncing is a talent he's quite good at! When both reach climax they shoot their loads into each other's asses!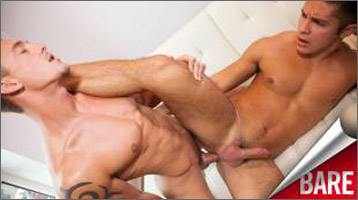 SCENE 5: Raw Bareback Flip-Fucking Featuring Michael Lachlan and Seth Treston
With only one scene under his belt at Lucas Entertainment, Michael Lachlan is already on his way to becoming a fan favorite. He's super handsome, has an incredible body, and most of all, his fat uncut dick is nothing short of drool-worthy. And, at long last, we get to see Michael use it as he should: by fucking a bottom long, hand and raw. The lucky guy to take his cock — it's none other than Seth Treston, and is there's anyone who likes to take a bare ride, it's him! Michael gets his dick serviced by Seth's mouth first, and when he's rock-hard he pumps Seth's ass, who then flips with Michael and fuck him up his ass raw too!

SEE THIS NOW / MORE INFO:
LUCAS ENTERTAINMENT
Scenes Premier online prior to DVD release and are available to view anytime in the Members Area.
Members can watch scenes from all Lucas Entertainment releases anytime online.