Studio: Lucas Entertainment
Directed by: Michael Lucas and Mr. Pam
Year of Production / Release: 2012
Country of Production: U.S.A.

CAST:
Rafael Alencar
Colin Black
Aaron Blake
Rafael Carreras
Damien Crosse
Jimmy Durano
Brandon Jones
Adam Killian
Johnny Venture
SCENE 1: Aaron Blake rides Rafael Carreras' uncut dick
SCENE 2: Damien Crosse and Johnny Venture flip-fuck
SCENE 3: Rafael Alencar fucks Brandon Jones hard
SCENE 4: Power-Top Jimmy Durano fucks Colin Black's sweet ass
SCENE 5: Mathew Mason flip-fucks with Adam Killian

THIS PREVIEW CONTAINS ADULT SEXUAL CONTENT


ADDITIONAL COMMENTS:
Scenes Premier online prior to DVD release and are available to view anytime in the Members Area.
Members can watch scenes from all Lucas Entertainment releases anytime online.
INFORMATION FROM LUCAS ENTERTAINMENT:
Release Date: Jun 08, 2012
Runtime: 151 minutes
Lucas Entertainment's sex-crazed and dick-hungry "Cock Riders" are always horny and ready to go, and the studio's hung power-tops know just how to hit the right spot! Rafael Carreras begins by unleashing his uncut Cuban cock for blond hottie Aaron Blake to suck on and ride. Latin hunk Damien Crosse works on Johnny Venture's beer-can cock until he sprays his load. Brandon Jones swallows Rafael Alencar's thick hot cum after a deep fucking. Brazilian power-top Jimmy Durano pounds Colin Black's ass into submission. And Lucas Exclusive Mathew Mason flip-fucks with Adam Killian. All of the "Cock Riders" moan with pleasure as they satisfy their men!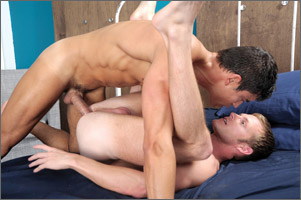 SCENE 1: Aaron Blake rides Rafael Carreras' uncut dick
It's a rainy evening in Manhattan when Rafael Carreras bumps into Aaron Blake as he wanders out of a porn shop. He's looking to get off, and when he and Rafael lock eyes, they both know exactly what they want: each other! Rafael takes Aaron back to his apartment where they simultaneously make out and peel off their jackets and clothes. Aaron's hands won't leave Rafael's cock alone as it grows hard in his white briefs. Aaron gets Rafael out of his clothes save his briefs and white wifebeater top — it's a look that brings out Rafael's rich golden skin, making him all the hotter. As they kiss, Aaron's hand continues to work on Rafael's cock until he drops to his knees and sucks on his stiff uncut meat. As the sexy bottom boy sucks and swallows, Rafael feels up his body. Once Aaron is stripped naked, Rafael lays him down and tastes his cock; all the while he is running his hands along the hottie's lean muscular body! Rafael's lips and tongue move down from Aaron's cock and balls to his hole where he proceeds to eat him out, prepping his hole for Rafael's meat. Aaron is on his back and throws his legs up in the air when Rafael is ready to slide in. All of Rafael's 10 inches of uncut cock are a lot to take at first, but Aaron relaxes himself and lets the Cuban top ease in after awhile. Once Rafael is in Aaron, he rides him rhythmically before totally wrapping his arms around him and lifting him up. Rafael stands tall and thrust into Aaron as he's cradled! Eventually he sets him down and rides his ass doggy style until they shoot their hot cum!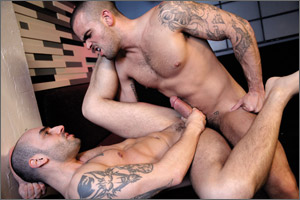 SCENE 2: Damien Crosse and Johnny Venture flip-fuck
Both Johnny Venture and Damien Crosse had too much to drink at a party, where they were left unconscious. Johnny is the first to awaken, where he sees his hot buddy whose pants are partially down and his ass is hanging out. Johnny can't keep away from Damien: he hovers over the hunk, sniffing him and wanting to touch his body badly. And that's exactly what he does — Johnny sinks his hands into Damien's ass and gropes away, waking him up, But Damien isn't upset. Instead, he's turned on and joins in! They quickly rush to strip off their closes and show off their fat uncut cocks. Johnny starts the oral fun by sucking up Damien's cock, who loves every second of his blowjob. When it's Johnny's turn, he's not ready for what Johnny has in store for him. Johnny's cock is as thick as a beer can, and it takes Damien a little while to loosen his jaw up while bobbing up and down on the cock. The guys are really into each other as they switch between blowjobs. Soon their heat is so high they need to fuck. Damien is first, and he isn't prepared to accommodate Johnny's thick penis, but Johnny also isn't giving him much of an option. He fucks him deep and hard, so hard that when it's Damien's turn he doesn't go slow either! But it's all in good fun between these two hot guys, and their loads of hot cum are proof!


SCENE 3: Rafael Alencar fucks Brandon Jones hard
Brandon Jones doesn't know what to focus on first: Rafael Alencar's muscular physique or his massive, thick uncut Brazilian cock. But he has to work off the top's clothes first, and they begin by making out and revving up their sex drive. After they take their clothes off, Rafael is the first to settle down on his knees and suck on Brandon's cock, getting the Canadian bottom rock hard. They hop on the bed and Rafael teases and pokes Brandon's hole, which puckers and dilates with all of the attention. The LucasMen roll into a 69 position and start servicing one another: Rafael continues eating out Brandon's ass while Brandon opens up his mouth and starts sucking on Rafael for the first time. Brandon is experienced, but nothing has come close to preparing him for Rafael's size. He chokes on Rafael's meat before bending over and puckering his hole up for total anal penetration. Brandon starts out burying his face in the mattress on his hands and knees as Rafael squeezes all nine inches of his forearm-sized cock inside Brandon. It's a tight fit, and he moans and squirms as he rides Rafael to keep him pleased and satisfied. They flop around in different positions, including Brandon taking a seat directly on top of Rafael's cock. The Brazilian is a vocal and aggressive top and doesn't take it easy on Brandon as they work toward blowing this loads of cum!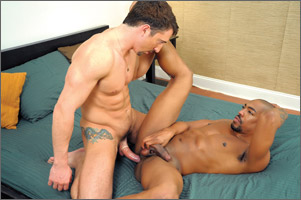 SCENE 4: Power-Top Jimmy Durano fucks Colin Black's sweet ass
Don't let Colin Black's handsome looks fool you: he might have beautiful facial features, but he's constantly lusting for new guys to have sex with, and when Jimmy Durano darkens the doorway of Colin's room, the mocha hunk couldn't be more pleased. Their looks tell each other everything they need to know: Jimmy is ready to fuck, and Colin is more than willing to answer his need. They embrace with kisses and hard, masculine touching before Colin works his way down to the erection growing in Jimmy's pants. He undoes the Latin top's zipper, lays down on his side, and works his wet lips around Jimmy's cock, sucking his thick, curved meat. Jimmy strips down: he peels off his shirt and flexes his amazing torso, showing off every possible muscle who Colin works on his cock. Colin works his way in back and eats out Jimmy's furry hole, getting him excited before the time comes to fuck. Jimmy is any bottom's dream top: he's handsome, muscular, has a huge uncut cock, and knows how to fuck a bottom. Colin is put to the test and flips into several positions — on his back, on all fours — as Jimmy drills and pounds deep into his ass before they both shoot their hot gay cum!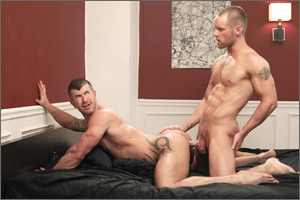 SCENE 5: Mathew Mason flip-fucks with Adam Killian
The minute Adam Killian heard Lucas Entertainment exclusive Mathew Mason's Australian accent, he needed to get his hands all over him. They sneak away together and start making out and touching each other's chests. Adam works Mathew's pants down around his ankles, squats down, and starts sucking on his big, fat cock. Adam is all about eye contact and loves looking up and meeting Mathew's eyes while sucking on Mathew's dick head and shaft. Mathew lies on the bed and throws his legs up in the air, and Adam doesn't waste any time. He digs right in and smothers his hole in a tongue bath, teasing his sphincter with kisses. Adam is beyond hard while servicing Mathew, and he stands up and pulls his pants down so he can get sucked off too! They roll around in a 69 position before Adam totally fixates on Mathew's behind and wants to penetrate. Adam has a thick cock, and it takes Mathew a bit of time before he's able to accommodate the porn star's girth, but he does what he can as Adam slides in and out. A major sweat is worked up on the part of both guys, and as they're perspiring Mathew is moaning and hollering, encouraging Adam to only pound harder! While Mathew is on his side with Adam balls deep inside, in order to keep Mathew quiet Adam kisses him deeply. Mathew gets his turn to pound out Adam: he bends over and shows off his famous bubble butt before Mathew mounts and rides him to completion!

SEE THIS NOW / MORE INFO:
LUCAS ENTERTAINMENT
Scenes Premier online prior to DVD release and are available to view anytime in the Members Area.
Members can watch scenes from all Lucas Entertainment releases anytime online.