Studio: Lucas Entertainment Compilation
Directed by:
Year of Production / Release: 2014
Country of Production: U.S.A.

CAST:
Jonathan Agassi
Jessy Ares
Tony Axel
Micah Brandt
Ben Brown
Adriano Carrasco
Rafael Carreras
Scott Carter
Gabriel Clark
Jessie Colter
Damien Crosse
D.O.
Edji Da Silva
Nick Ford
Woody Fox
Jean Franko
Tiziano Fuentes
Vito Gallo
Kayden Gray
Pavlvs Guell [Paulus Guel]
Leo Helios
Will Helm
Demian Holt
Issac Jones
Brandon Jones
Adam Killian
Kyle King
Diego Lauzen
Adrian Long
Harry Louis
Michael Lucas
Alex Marte
Joseph Mercier
Paddy O'Brian
Derek Parker
Mitchell Rock
Tate Ryder
Billy Santoro
Seth Santoro
Matan Shalev
Rio Silver
Peter Stark
Jake Steel
Tony Rivera
Wagner Vittoria
Tyler Wolf

THIS PREVIEW CONTAINS ADULT SEXUAL CONTENT


INFORMATION FROM LUCAS ENTERTAINMENT:
It's not always about having hardcore sex: sometimes it is the simplicity of a "Masculine Embrace" that connects two men together. Lucas Entertainment has collected together some of the most intimate and erotic romantic encounters featuring the best kissing and cuddling the Lucas Men have ever experienced. Join Vito Gallo, Rafael Carreras, Seth Treston, Ben Brown, Jonathan Agassi, Adam Killian, Harry Louis, Paddy O'Brian, Kyle King, and many more as they share with us the secrets of the perfect "Masculine Embrace."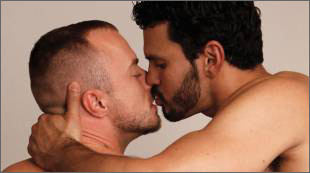 SCENE 1: Jean Franko Tenderly Kisses Jessie Colter
In the premiere scene Jean Franko returns to show Jessie Colter his tender side, which is surprising when considering Jean's size! Jonathan Agassi romances Issac Jones' body long and passionately. And Ben Brown uses his stocky muscle-cub body to pin down and shower Scott Carter in kisses.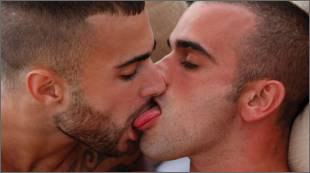 SCENE 2: Will Helm and Damien Crosse Embrace on the Beach
Power-bottom Leo Helios seduces Rafael Carreras his kisses so he gets the uncut cock up his ass later on. Will Helm and Damien Crosse embrace on the beach with hugs and kisses before love-making. Micah Brandt gives his body to Tyler Wolfe. Derek Parker and Jessy Ares make out through their furry lips. And Rafael Alencar and Seth Treston enjoy some romance on the beach.

SCENE 3: Kayden Gray and Woody Fox Work Out Their Lips
Kayden Gray and Woody Fox work out their lips before having sex. Michael Lucas shows Demian Holt the rougher side of romance. Pavlus Guell and Jonathan Agassi kiss and fuck. Tony Rivera offers his body to Adriano Carrasco. Paddy O'Brian and Diego Lauzen romantically embrace in the jungle alongside Tiziano Fuentes and Wagner Vittoria.

SCENE 4: D.O. and Vito Gallo Explore the Rougher Side of Romance
There's more romance to go around — both making out, kissing, hugging, and working up to having hot awesome sex — and there are more guys now than ever before in the movie to express their bodies! Watch D.O., Vito Gallo, Mitchell Rock, Rafael Carreras, Alex Marte, Will Helm, Tony Axel, Jonathan Agassi, Harry Louis, Rio Silver, Rafael Alencar, Joseph Mercier, Brandon Jones, Edji Da Silva, Adrian Long, and Tate Ryder!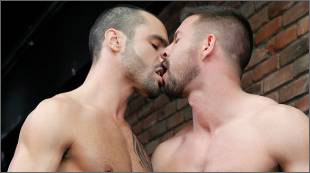 SCENE 5: Kyle King and Issac Jones Make Out in the Bar
Watch the steamy and romantic conclusion of Masculine Embrace — and that includes plent of lead-ups to hardcore gay bareback sex! Featured here are Gabriel Lenfant, Nick Ford, Issac Jones, Kyle King, Michael Lucas, Adam Killian, Matan Shalev, Jonathan Agassi, Billy Santoro, Seth Treston, Jake Steel, Peter Stark, Rafael Carreras, and Scott Carter.

SEE THIS NOW / MORE INFO:
LUCAS ENTERTAINMENT
Scenes Premier online prior to DVD release and are available to view anytime in the Members Area.
Members can watch scenes from all Lucas Entertainment releases anytime online.