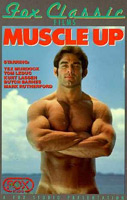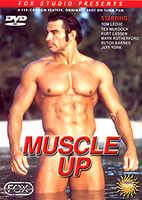 Studio: Fox Studio
Directed by: John Coletti / Bill Harrison
Year of Production / Release: 1981
CAST:
Butch Barnes
Billy
Dennis
Kurt Lassen
Tom LeDuc
Mario
Tex Murdock
Mark Rutherford
Jeff York (not credited in Film Loop as Jeff York)
ADDITIONAL COMMENTS:
Originally released as 16mm / 8mm Film Loops.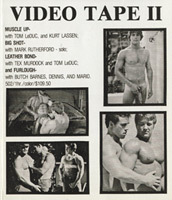 Later all released on VHS as: VIDEO TAPE 2
Retitled and Repacked in 1981 as MUSCLE UP
FROM THE FOX / PACIFIC SUN PRESS NOTES (2006):
From the Fox/Pacific Sun press notes:
MUSCLE UP (402)
Tom Leduc and Kurt Lassen frolic and posing in the sun while at the pool. It soon turns into a passionate, all-embracing, muscle worship love scene.
BIG SHOT Â (301)
Next, handsome and hung Mark Rutherford performs solo in Big Shot, and adds whopping new dimensions to a shower.
LEATHER BOUND Â (???)
Muscular leather hunk Tex Murdock gets adored by equally muscular Tom LeDuc in a sexy body worship – with a leather twist. This hot loop was originally called Leather Bound.
FURLOUGH Â (405)
Butch Barnes (at the time an enlisted Marine) and his muscular Marine lover Jeff York (whom he brought from the base) show us the intensity of their hot rugged love for each other, in a passionate sex scene call Furlough. Truly a classic.

AVAILABLE FROM: TLA VIDEO
WATCH IT NOW AT: MALEFLIXXX
RENT IT FROM: nymMEDIA
GO TO: FOX STUDIO