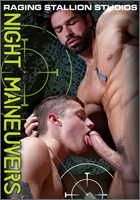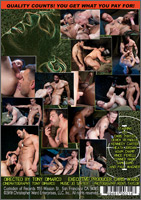 Studio: Raging Stallion
Directed by: Tony DiMarco
Year of Production / Release: 2010
Country of Production: U.S.A.

CAST:
Kennedy Carter
Adam Champ
D.O.
Sami Damo
Vince Ferelli
Conner Habib
Heath Jordan
Chris Porter
Derek Reynolds
Paul Wagner
SCENE 1: Kennedy Carter and Derek Reynolds flip-fuck
SCENE 2: Adam Champ fucks Vince Ferelli
SCENE 3: Heath Jordan and Conner Habib flip-fuck
SCENE 4: Sami Damo fucks Paul Wagner
SCENE 5: D.O. fucks Chris Porter
ADDITIONAL COMMENTS:
Members at RAGING STALLION'S REAR STABLE can watch these scenes and download Photo Content from this production.
INFORMATION FROM RAGING STALLION:
Boys will be boys, and soldiers will be soldiers. There ain't no girls in the barracks, so guys have to help themselves thru the daily grind of army life. Its still the age of Don't Ask Don't Tell, but lets face it—the army is a much more receptive place than it used to be!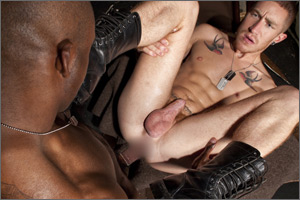 SCENE 1: Kennedy Carter and Derek Reynolds flip-fuck
Kicking back relaxing playing cards, Kennedy Carter and Derek Reynolds talk about sex and fucking girls. Kennedy has not had sex in a long time and Derek's tales of getting laid gets his dick instantly hard. Derek offers to help his buddy out, "you know it's not good to have a fully loaded gun indoors." Derek sucks on Kennedy's hard white cock then Kennedy returns the favor. Derek's tight hole opens nicely for some Kennedy tongue action. Kennedy rewards him by burring his hard pole up Derek's firm ass. After Kennedy rides Derek's ass hard they flip fuck and Derek pounds Kennedy with his thick black cock. Kennedy shoots a huge load all over his chest and Derek follows suit and shoots his thick creamy load all over Kennedy's face. All guns are unloaded before lights out.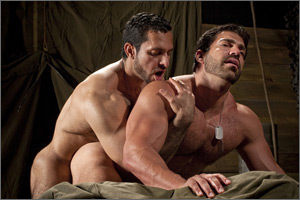 SCENE 2: Adam Champ fucks Vince Ferelli
Hairy muscle hunks Vince Ferelli and Adam Champ share the latest girly magazine. This is Adam Champ's first ever Raging Stallion scene—and one of the reasons he was named as one of our two men of the year! Adam massages Vince's muscles to satisfy his desire to touch some skin. Vince does not mind the touch of another man. Their need for sex is too much to handle and they being caressing and admiring each others masculine hairy bodies. The heat continues to rises between the two. The musty smell of a man never tasted so sweet. Adam bends Vince over and rims his wide muscular ass, licking it wildly to get it ready for his big fat cock. Adam wastes no time and rams his shaft into Vince's wet hole. Vince enjoys being pounded hard and deep so Adam flips Vince onto his back and fucks him some more as he jerks Vince's cock. Adam pounds Vince's hole while jerking Vince's cock until he explodes all over his hairy stomach. Adam pulls out and adds to the pool of cum.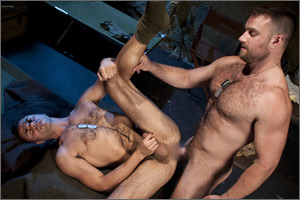 SCENE 3: Heath Jordan and Conner Habib flip-fuck
In the dead of night Heath Jordan is pounding his meat. His bunkmate Conner Habib can't sleep knowing his buddy is jerking his meat just inches away. Conner asks what's happening over there and Heath tells him hes all worked up. The two begin to talk about sex and one thing leads to another. Conner helps his buddy out with a hot blow-job. Heath eats Conner's ass and then fucks him doggie style. It's another switch hit scene, so Conner takes his turn riding Heath's butt. Explosions follow as white hot cum fills the air!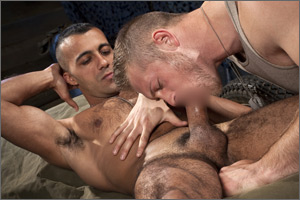 SCENE 4: Sami Damo fucks Paul Wagner
Arabian heart throb Sami Damo has a tight cut body. Paul Wagner is a beefy guy—opposites attract in this next all man set up. Sami is hanging lose, smoking a fag while Paul finishes up some stupid busy work assigned by the sergeant. But Paul is distracted and ends up at Sami's side. From smoking cigarettes to smoking cock is only a small leap for man……Some excellent fucking follows, filmed as only Raging Stallion can!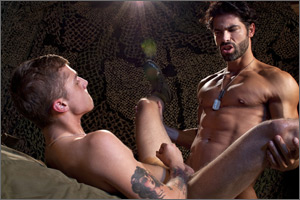 SCENE 5: D.O. fucks Chris Porter
But Wait!! There's more. This is a five scene movie and the grand finale features two of Raging Stallion's top actors—Man of the year D. O. and tattooed young stud Chris Porter. This scene is about as good as it gets. There is great fucking—no one fucks better than D.O.—and lots of great camera angles. We shoot our porn with the viewer in mind—we get the best angles and the best shots so you feel like you are right there in the same room, watching the action and smelling the cum. This scene is the highlight of an excellent movie. Its Raging Stallion at its best, featuring the hottest sex performers on earth.

GO TO: RAGING STALLION'S FILM PAGE FOR THIS RELEASE
GO TO: RAGING STALLION
WATCH THE SCENES NOW AT: RAGING STALLION'S REAR STABLE