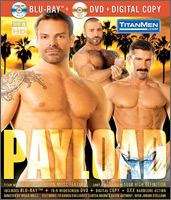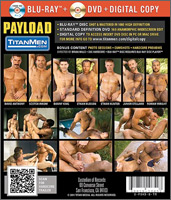 Studio: Titan Media
Directed by: Brian Mills
Year of Production / Release: 2011
Country of Production: U.S.A.

CAST:
David Anthony
Ethan Hudson
Ethan Hunter
Scotch Inkom
Danny King / Dave Stevens
Junior Stellano
Roman Wright
SCENE 1: Danny King and Junior Stellano
SCENE 2: Ethan Hudson and Roman Wright
SCENE 3: David Anthony and Scotch Inkom with Ethan Hunter
FROM TITAN MEDIA WEB SITE:
Tight wad? We know how it is. Times are tough and you've been patiently saving it up, waiting for the right moment to spend it. Well now's the time to cash in and show it off because the Payload is big. Need some help? TitanMen exclusives David Anthony and Scotch Inkom can't wait to see your investment grow. Join them and their friends, who are all here to assist with your needs…
   Sun-bathing stud Junior Stellano shows off his hairy bod and throbbing cock, drawing the attention of smooth and ripped admirer Danny King—who keeps a smile on the bottom's face.
   Deliveryman Ethan Hudson gets more than he bargained for from Roman Wright, a hung and beefy homeowner who unleashes his meat on the eager sub's holes.
   Workers David Anthony, Scotch Inkom and Ethan Hunter take a break to paint each other with cum, their passionate threesome highlighted by a memorable fuck train.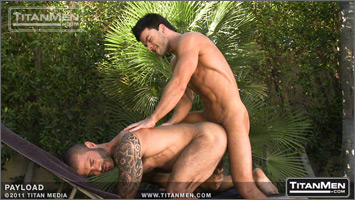 SCENE 1: Danny King and Junior Stellano
Hairy muscle stud Junior Stellano basks in his backyard, his hairy chest shimmering in the sun as he strokes. Working his shaft and sac, he catches the eye of dark-haired Danny King—who flashes a smile as he whips out his boner, a beauty with a big head that bounces below his defined abs. With his cock throbbing, Danny sits his hole on Junior's tongue, the gristly beard rubbing against his smooth cheeks. The two 69, Danny gagging on Junior's cock. Danny stands to feed his bud, rubbing Junior's bod as spit drips from the sucker's mouth. Danny returns the favor before the two squirt. Bent over a lawn chair, Junior gets his hole devoured before Danny slides his uncut slab in deep. Junior sits on Danny, his hairy ass devouring the top's cock. The smiling bottom gets on his back for more, staying stiff as he gets plowed before two more loads coat him.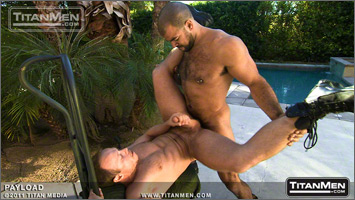 SCENE 2: Ethan Hudson and Roman Wright
Deliveryman Ethan Hudson gets a surprise after knocking on his latest customer's door: tall and beefy Roman Wright wearing nothing but a towel. The towel drops and Ethan gets to work, ravenously feasting on Roman. Ethan slurps, gags and moans, barely coming up for air as he worships Roman's big, thick meat. Roman sucks back, grabbing Ethan's pec as he slurps on the hot throbber. The two fire off their loads, including a gusher from Ethan that flies up and excites Roman. In the backyard, the two passionately kiss before Ethan offers up his ass. "All up and down! Come on, get in there!" he yells as Roman tongue fucks him, warming up the hole as he jacks Ethan. The top shoves his dick in, ramming deep as flesh-smacking sounds and Ethan's breathless moans fill the air. On his back for more, Ethan looks up at Roman's massive chest as the top feeds him his fingers and pounds the bottom's pec . The two shoot again, another geyser from Ethan coating Roman's thigh and bush.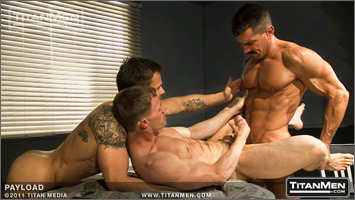 SCENE 3: David Anthony and Scotch Inkom with Ethan Hunter
Left alone, painters David Anthony and Ethan Hunter get distracted. The dark and mustachioed David reaches for Ethan's ass, his co-worker soon on his knees. Ethan masterfully teases David's beast, brushing his face and mouth against it as he sniffs it, his breath warming it up before he grabs hold and sucks like a champ. David then shows off his skills, gagging on smooth-and-ripped Ethan's boner as spit soaks them both. Co-worker Scotch Inkom returns, inserting his tall, tattooed and muscular bod into the action. Ethan orders Scotch to show off his muscle ass, which is soon slurped by David. The three shoot, two white-hot loads landing on David's pecs and sliding down his tan body. Soon between his buds, Ethan gets munched by David while slurping Scotch—who then rams him from behind as David strokes. The voyeur soon slides his dick inside Scotch, a gorgeous fuck train taking over. Scotch moans and arches his back as David enters him and wraps his arm around him.. David sits and strokes in a chair as Scotch continues to fuck Ethan, but the versatile hunk wants more of David's dick. With his stiff-as-steel boner bouncing up and down, the sweaty Scotch rides like a pro, getting rubbed by David as the two lock eyes and lips in an intense sequence. The bottom's load soon lands on David's thigh, the top then fucking Ethan again. The tight-abbed bottom strokes his boner and kisses Scotch as he gets rammed deep—two more loads soon ending the unforgettable threesome.
Bonus Features:
Behind-the-scenes footage includes photo shoots, bursting boners and fluffing. Trailers, cumshots, looks at TitanMen Tools and Lube and instructions for the digital copy round it out.

MORE INFO, PREVIEW OR WATCH RIGHT NOW: TITAN MEDIA
GO TO: TITAN MEDIA STORE