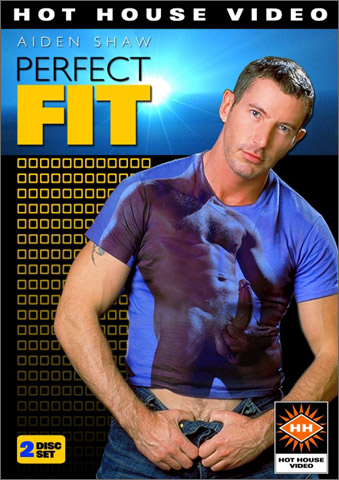 Studio: Hot House
Directed by: Steven Scarborough
Year of Production / Release: 2005
Country of Production: U.S.A.

CAST:
Joshua Adams
Tag Adams
Matt Colmar
Bo Knight
Todd Maxwell
Collin O'Neal
Mario Ortiz
Hal Rodman
Aiden Shaw
Jake Summers
Luis Vega
Dick Wolf
ADDITIONAL COMMENTS:
Hot House Backroom Members can see this film anytime online.
INFORMATION FROM HOT HOUSE: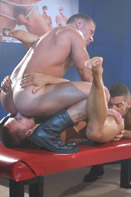 SCENE 1: Aiden Shaw, Mario Ortiz, Bo Knight, Matt Colmar and Jake Summers
We join Aiden Shaw in his mind, furiously pounding his legendary rock-hard cock. As he begins to shoot his load, Shaw suddenly realizes he's in the back of a sleazy video arcade spraying his spunk on cock-hungry Mario Ortiz. Shaw pushes Ortiz away and quickly zips his pants and leaves.
   The other guys in the club descend on the cum-soaked Ortiz and continue the action. Peterbuilt Bo Knight swaps blowjobs with Ortiz until Matt Colmar and Jake Summers join them. Knight teases Summers' ass with his hard cock while Ortiz shoves his fat Latin cock deep down Colmar's throat. The scene turns into a sweaty orgy where all four hedonistic sex pigs kiss, lick, suck, rim, probe and fuck each other down and dirty, covering Colmar's pretty round ass with hot, dripping loads.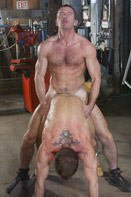 SCENE 2: Aiden Shaw and Tag Adams
As Aiden Shaw leaves the arcade, he passes Hot House Exclusive Dick Wolf leaning against a graffiti-covered bookstore wall. As he turns around to check him out, a bright red truck passes by, hits the brakes and backs up to reveal innocent looking Tag Adams behind the wheel. Shaw jumps into the passenger seat without hesitation and rides off for another hook-up — leaving a disappointed Dick Wolf behind.
   Knowing that he's got plenty of time before his coworkers arrive, Adams takes Shaw to his job site, a huge warehouse South of Market. They barely make it up the stairs before both men are naked and Adams falls to his knees to worship Shaw's giant tool. Adams proves to be anything but innocent as he greedily licks, sucks and deep-throats every inch of Shaw's huge piece. Desperate from the oral servicing, Adams shouts "I want that cock in my ass!" Eager to oblige, Shaw fucks the ever-loving hell out of him! From one end of the warehouse to the other Shaw drills his power tool deeper and deeper into Adams' bottomless hole, leaving him wide-eyed and drenched in sweat and cum. Shaw hurriedly gets dressed to leave, barely stopping long enough to take awestruck Adams' phone number.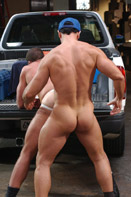 SCENE 3: Todd Maxwell, Hal Rodman and Luis Vega
Meanwhile… downstairs in the warehouse as Adam's humpy coworkers arrive for duty. Todd Maxwell decides to help Luis Vega unload by going down on him, taking his long, fat Latin dick to the base. Built, hung newcomer Hal Rodman gets in on the action, smacking Maxwell in the face with his colossal cock. Being a full-service stud, Maxwell offers both holes to his coworkers for their use. After Vega blows his load, Rodman throws Maxwell onto the bed of his truck and viciously fucks him first in his rugged, hairy face then in his fine huge ass. As he sits on the toolbox in the back of his truck, Rodman works his giant tool until he pumps gallons of hot cum all over Maxwell. You won't believe the load that sprays out of this world-class cock!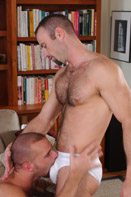 SCENE 4: Collin O'Neal and Joshua Adams
Hot House Exclusive Collin O'Neal and boyfriend Joshua Adams ignite on the screen in scene four. The unreal chemistry between these two will have your tool ready to go in seconds! These two horn-dogs feast on each other's huge tools in a spit-filled cock-sucking warm-up session. Adams has a sexy fucking face, especially when it's stuffed with O'Neal's horse-sized meat.
   When Joshua can't wait any longer, he mounts Collin in a reverse cowboy, treating you to the view of a lifetime. Watch his huge pole bounce up and down as he rides O'Neal's dick all the way to Heaven. Collin then bends him over and nails his tattooed butt to the couch, finally shooting his load up and over Joshua's back!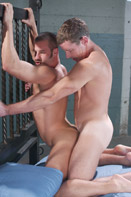 SCENE 5: Aiden Shaw and Dick Wolf
We like happy endings as much as you do — so scene five replays the earlier scene where adorable studpup Dick Wolf cruises Aiden Shaw leaving the bookstore. This time, the Hot House Exclusive snares Aiden and they fuck on the cool blue sheets of a huge dungeon-bed. Shaw's formidable cock is already standing straight up as they kiss passionately. Wolf slowly moves toward Shaw's cock and takes it into his greedy mouth, gradually taking the entire 11+ inches; but Dick's perfect round ass is the final destination. Aiden rides Dick's sweaty butt without mercy; but one look into Dick's face and you know who's in charge. This power-bottom handles everything the superstar has to offer…it's no wonder the Adams Report has named Dick Wolf Newcomer of the Year!
BONUS SCENE: Aiden Shaw Interview and Retrospective
Die-Hard Aiden Shaw Fans (and who isn't?) are in for the treat of a lifetime with the 20-minute special Aiden Shaw Interview and Retrospective. Legendary Hot House Director Steven Scarborough interviews Aiden about everything – his start in the business, the kind of men that turn him on, his near-death auto accident, and even his personal views of today's young people. Intercut with interview footage from ten years ago and tons of sizzling footage from our vaults, this valuable retrospective will help you understand more about Aiden, the star we all love the most.

WATCH IT NOW / MORE INFO AT:
HOT HOUSE & HOT HOUSE BACKROOM
Hot House Backroom Members can see this film anytime online.
With extensive additional photography from every scene.