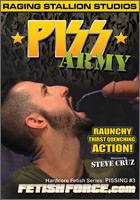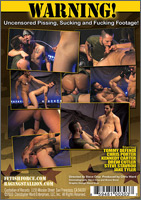 Studio: Raging Stallion / Fetish Force
Directed by: Steve Cruz
Year of Production / Release: 2010
Country of Production: U.S.A.

CAST:
Kennedy Carter
Drew Cutler
Tommy Defendi
Chris Porter
Steve Stavrou
Jake Tyler
ADDITIONAL COMMENTS:
Members at RAGING STALLION'S FETISH FORCE can watch these scenes and download Photo Content from this production.
INFORMATION FROM RAGING STALLION:
PISS ARMY, A rock n' roll military fetish fantasy directed by Steve Cruz… The piss is always streaming and the action is always driving. Put down your mop boys, this ain't the navy! It's time to enlist!
SCENE 1: Tommy Defendi and Steve Stavrou
Steve Stavrou is the perfect submissive, on his knees at the feet of super hung Tommy Defendi and ready to serve. He's a hungry cocksucker but more than hungry he's a thirsty Private! He shows his superior just what he wants. Eagerly and still on his knees sucking his top, he lets out stream of piss all over himself. Tommy responds by unleashing a torrent of piss all over Steve's t-shirt and boxers and down his throat, a torrent that drives him into a cock sucking frenzy. Even when he pisses himself again he just can't stop. And with Tommy Defendi's 10 inches, would you be able to stop?
   Tommy unleashes another torrent of piss all over Steve's back just before he takes dominion over his ass. It's a power fuck all the way with these two, Steve knows just what to say to drive Tommy into high energy turbo-thrust! He flips Steve on his back and fucks him face to face until his bottom blows a huge load, a load he washes away with another fat stream of his warm piss he writhes in like a fish out of water, never wasting a drop!
SCENE 2: Tommy Defendi, Kennedy Carter and Jake Tyler
Tommy sticks around for more piss play with Kennedy Carter and newcomer Jake Tyler. Both have considerable cocksucking skills, but Jake practically unhinges his jaw to swallow every massive inch of Tommy's tool. Like dogs fighting after a bone they both suck and suck until soon Tommy is blowing a juicy white load all over the two soldiers faces. And in mid kiss he washes them clean with a long wet stream of piss… they barely break their embrace only to lap up the bounty mid stream before falling on the floor in each others arms.
   Kennedy and Jake remain… they both know what they want. Kennedy rips open Jakes shorts to reveal the perfect ass! Jake in turn tears into Kennedy's clothes to get a his thick uncut cock. Before he rides his top, Jake unleashes a stream of piss then climbs aboard. We'll say it again, Jake has the perfect ass and he knows how to maneuver it with steady pumps on Kennedy's hard dick. Kennedy tales over and takes Jake on his back so they can look deep into each other, eye to eye, until both men coat each other with cum.
SCENE 3: Tommy Defendi
All alone, Tommy Defendi takes a swig from his canteen before pleasuring himself. Again were reminded what heavy artillery he's packing. Stroke after stroke is mesmerizing to watch for loves of big cock. Soon he's pissing all over his tshirt dousing himself in his own wet warmth. The best view is from below, Tommy stands over us and unleashes another of his generous streams right onto the lens. It makes you wonder just how much piss a man has in him!
SCENE 4: Chris Porter and Drew Cutler
Sargeant Drew is breaking in another soldier in training. He pushes Chris Porter right down to let him know who's in charge. A good subordinate he's goes right to work on Drew throbbing meat. He pulls the boy off him to ask, "You ready for my piss boy?" as if it's a question! And he drenches the boy where he kneels. Chris is eager to please. It's great sex play lots of verbal coaxing and spit play. Drew again gives his trainee a golden shower all over his tight white ass before he gets down into it face first. Its incredible how he can jet streams of piss with precision like spirts of jizz, some reaching across the room at Chris' head!
   Drew is a man that takes control. A strong masterful top that keeps a boy in line. It's a crazy wild scene watching his long fat cock go in and out of young sweet ass. Taunting he asks, "My cock too big for you?" which drives Chris wild. No one looks happier than this young bottom when he finally blows his load… that's the way to throw a fuck!!!

WATCH THE SCENES NOW AT: RAGING STALLION'S FETISH FORCE
GO TO: RAGING STALLION'S FILM PAGE FOR THIS RELEASE
GO TO: RAGING STALLION