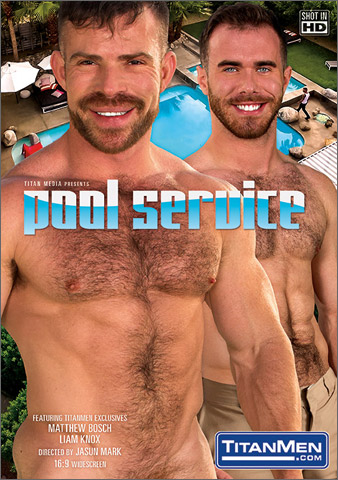 Studio: Titan Media
Directed by: Jasun Mark
Year of Production / Release: 2017
Country of Production: U.S.A.

CAST:
Bennett Anthony
Matthew Bosch
Liam Knox
Adam Ramzi
Jason Vario
Jack Vidra
FROM TITAN MEDIA WEB SITE:
Wanna get wet? Need some help with your pump? Call a special Pool Service that takes customer satisfaction very seriously. TitanMen exclusives Matthew Bosch and Liam Knox are just a few of the clients seeing red when they dive into the deep end.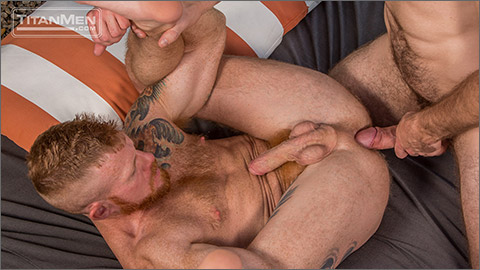 SCENE 1: Jack Vidra & Matthew Bosch flip-fuck
Pool man Jack Vidra delivers the bad news to his client: "You've got a really big pipe. It's too big for the hole." Matthew Bosch smiles back at the blue-collar stud, whose wife beater clings to his toned build: "I'm pretty sure you can make that work." The red head reaches over, grabbing the bulge that's bursting out of Matthew's shorts. "Fuck!" moans Jack as he takes the jock's massive dick out, his beard soon rubbing against Matthew's fuzzy sac in an impressive cock swallowing sequence. Matthew sucks the tattooed moaner back, then gets his furry ass slurped before they swap fucks. Jack's boner bounces off the top's tight abs as his smooth ass swallows the veiny shaft, their loads soon stuck to Matthew's hairy bod as a cum-soaked kiss closes it out.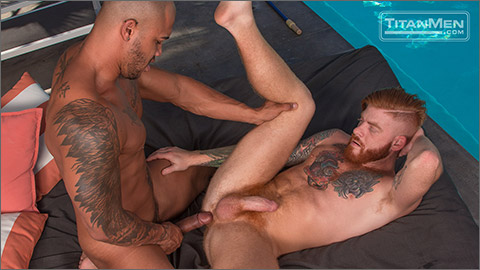 SCENE 2: Jason Vario fucks Bennett Anthony
Sunbather Jason Vario rolls over, his uncut throbber attracting the attention of pool man Bennett Anthony—who darts over to gulp up the muscle man's meat, barking "Woof!" as he comes up for air. Jason grabs the sub's ass and grinds his crank on it, then feeds him again before munching his hole. Jason sucks him back—his nose disappearing into Bennett's bushy fire crotch. The moaning bottom gets on all fours, reaching back for a kiss as he gets pounded from behind ("Fuck me!")—then gets on his back as Jason grinds into him, his ginger fur soon splashed.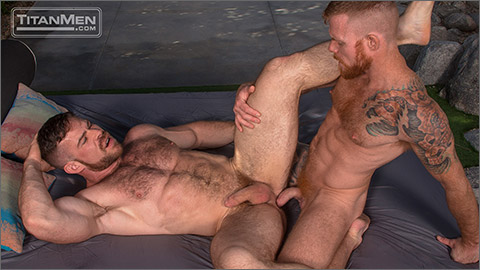 SCENE 3: Jack Vidra & Liam Knox flip-fuck
Jack Vidra returns to work, finding Matthew's slumbering (and naked) husband Liam Knox — who catches a glimpse of Jack's ass peeking out of his jeans. "Is there anything else I can help you with?" asks Jack. Liam drops his towel, his boner popping up in Jack's smiling face. He engulfs it as a verbal Liam encourages him ("Swallow it!"), then silences the alpha with a mouthful of cock. They take turns fucking each other's breathless faces, Jack soon burying his beard in Liam's hole before fucking him. Liam then rams him doggie style, the bottom's tight ass rippling as his low hangers sway. Jack turns over for more, then rides Liam's dick—the two shaking as they squirt.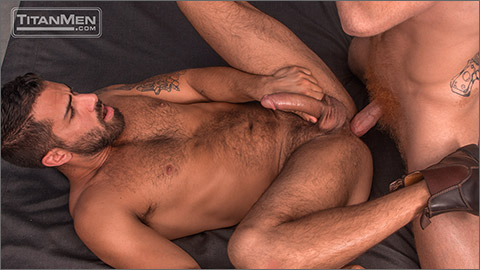 SCENE 4: Adam Ramzi & Bennett Anthony flip-fuck
Tree trimmer Adam Ramzi has some wood he can't cut down thanks to pool man Bennett Anthony. They take a break, passionately kissing as their hands roam. Adam gets his handsome face fucked by Bennett's boner—then stuffs the red beard, gripping the back of his neck as he shoves it in. Adam's uncut cock pulses as he sucks him back again, his lips brushing Bennett's bush. They take turns planting their scruff in each other's holes, a moaning Adam then propping up his boner as he gets fucked fast ("Take that dick!"). Bennett gives up his ass—his boner bouncing as he takes it. He rubs Adam's abs, the top stroking him before pounding the cum out.

MORE INFO, PREVIEW OR WATCH RIGHT NOW:
TITAN MEDIA
Scenes Premier online prior to DVD release and are available to view anytime in the Member's Area.
Members can watch scenes from almost all Titan Media releases anytime online.