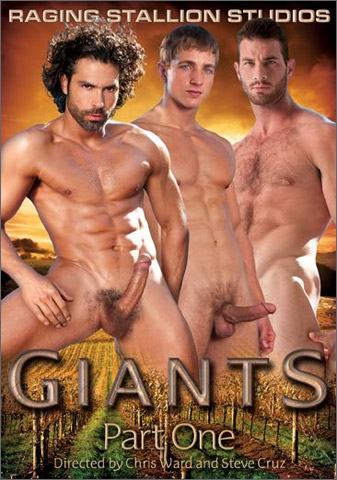 Studio: Raging Stallion
Directed by: Steve Cruz, Chris Ward
Year of Production / Release: 2011
Country of Production: U.S.A.

CAST:
Aybars / Aybars Turker
D.O.
Francesco D'Macho
David V.
Wilfried Knight
Logan McCree
Marcus Mojo
Rusty Stevens
SCENE 1: Rusty Stevens fucks Marcus Mojo
SCENE 2: D.O. fucks Francesco D'Macho
SCENE 3: Logan McCree and Wilfried Knight flip-fuck
SCENE 4: Aybars and D.O. fuck David V. (Hugo Alexander)
SCENE 5: Aybars fucks Logan McCree
INFORMATION FROM STEVE CRUZ:
My next big feature, co directed with Chris Ward, streets in March! 'GIANTS' is a two part film shot on location in Sonoma California. It stars some of this industries Giant talents like GAYVN Performers of the Year Logan McCree and Wilfried Knight! Stag Entrepreneurs and international stars Damien Crosse and Francesco D'Macho! …and Man of the Year D.O. to name a few. It was very exciting to actually co-direct this time with my mentor, Chris Ward. Its a special film with some of the best action I've seen happen before my eyes— let alone filmed. We were so inspired by the beautiful wine country in late summer, and by these amazing stars that always had us captivated. Its a honor to work with each one of these guys, almost effortless – almost!
INFORMATION FROM RAGING STALLION:
Directors Chris Ward and Steve Cruz team up to present Giants Part 1, a major two part release shot on location in Sonoma California with some of the biggest stars of the Gay Porn industry.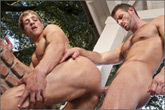 SCENE 1: Rusty Stevens fucks Marcus Mojo
Looking ripe and sweaty, shirtless hunk Rusty Stevens ambles down the road, past the seemingly endless rows of grapevines. He comes upon Marcus Mojo who's been hungrily watching him and without any feeble conversation, the men fall into each other's hot embrace. Marcus starts kissing Rusty's big-muscled body, working his mouth down his fuzzy torso and into his crotch. He pulls Rusty's cock out and starts to deepthroat it, gagging and drooling with the effort. Rusty wants more and cranks up the action. He plunges his cock deep into Marcus' asshole, grinding in at a slow easy rhythm before the pumping accelerates. Marcus gasps, moans, groans and pleads for more as Rusty pummels his ass. He lays back with Rusty between his legs, still fucking his hole. Marcus grabs hold of his dick and jacks himself off until he cums; and Rusty, after pulling out, showers his buddy with his creamy load.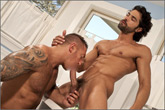 SCENE 2: D.O. fucks Francesco D'Macho
D.O. soaks in his bath looking over at Francesco D'Macho shaving. Once he's finished, Francesco walks over to his lover. They start to make-out, both of them savoring the feel, the smell, the taste of each other's flesh. Francesco then aims his uncut cock at his man's face and D.O. sniffs the foreskin, nibbles on it teasingly, then swallows the big pole all the way down to its base. Francesco grunts with pleasure, enjoying his partner's work. Then D.O. emerges from the tub, his cock looming hard and majestic; all Francesco can do is kneel and open wide. He sucks it down his throat, lathering it with his spit to help it slide in and out easily. D.O. then targets Francesco's butt, spreading the plump asscheeks apart and digging in deep with his tongue. Francesco is putty in D.O.'s hands and happily surrenders his ass for a more invasive assault. D.O. fucks his ass and the big man grimaces with pained pleasure; his panting grows louder and more labored as the action intensifies. D.O. fucks, then rims, then fucks Francesco's manhole some more until, one after the other, the two men jack themselves off and cum.


SCENE 3: Logan McCree and Wilfried Knight flip-fuck
Logan McCree and Wilfried Knight are so busy feeding on each other's kisses and embraces that nothing will stop them. After some tit-tweaking and groping, Wilfried fishes Logan's uncut cock out and sucks it down. He works his mouth and tongue all around his tattooed warrior's body, exploring all the secrets Logan's manflesh offers. Then Logan takes his turn and sinks to his knees to gobble up Wilfried's big unclipped dick. He savors the big man's meaty foreskin, nipping at the fleshy hood before he swallows the entire slab of meat down with gusto. Logan then gets behind Wilfried, holds onto his waist and churns his cock in and out of his ass. Wilfried can barely take it but doesn't cry uncle. Instead he takes his turn with Logan's ass, juicing it up with spit and poking it with his tongue and a finger. Then he plunges his dick inside and fucks the younger man. Every thrust has Logan crying out, his face contorted with pleasure as he jerks himself off and cums. Wilfried fucks Logan some more, until he finally pulls out, grabs his cock and squeezes every precious drop of jism outta his dick.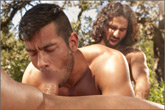 SCENE 4: Aybars and D.O. fuck David V. [Hugo Alexander]
Aybars and D.O. find themselves kissing, groping, taking turns tweaking and nibbling each other's tits. Hungry for more manaction, Aybars swallows D.O.'s cock down, letting it slide in and out of his mouth. Then D.O. gets his chance to lap up his doppleganger's dick, enjoying its salty sweetness. David V has been in the back, watching with envy as the two wildmen are at each other. Anxious to invade their tryst, he jumps right in and gets busy fellating both Aybars and D.O., gulping up one dick after the other. The men then position themselves with David V in the middle sucking off Aybars' cock while D.O. is behind him fucking his hole. D.O. and Aybars soon trade places, both of them still plugging David, but from different ends. David soon mounts D.O. and rides his cock, bouncing up and down the stiff staff. All three men are working up a sweat with all this energized frenzy. Aybars fucks David up the ass again and finally cums all across him. And D.O. jacks himself off, quickly adding his load to the mix.


SCENE 5: Aybars fucks Logan McCree
With the late afternoon light fading into darkness, Aybars and Logan McCree finally get the chance to trade off sucking and fucking. Logan goes first, freeing Aybars' big cock from his jeans to nurse on it. After awhile the men trade places so Aybar can now give as good as he got. But Logan wants some more and gets down on his knees to suck Aybar off again. With the fireplace all ablaze behind them, Aybar starts fucking Logan's ass. The two men move into different positions, working hard to glean as much pleasure and satisfaction from the relentless, contorted fucking. Logan squats over Aybar's cock and skewers himself onto it. He rides the engorged meatpole until he pops. And Aybar responds by jacking himself off until he blows his wad.

WATCH THE SCENES AT:
RAGING STALLION'S MEMBERS SITE
Members at RAGING STALLION'S MEMBERS SITE can watch these scenes and download extensive Photo Content from this production.