Studio: Raging Stallion
Directed by: Chris Ward
Year of Production / Release: 2010
Country of Production: U.S.A.

CAST:
Girth Brooks
Kennedy Carter
Andreas Cavalli
D.O.
Tommy Defendi
Angelo Marconi
Chris Porter
Rusty Stevens
Jake Tyler
SCENE 1: Tommy Defendi fucks Rusty Stevens
SCENE 2: Girth Brooks fucks Jake Tyler
SCENE 3: Kennedy Carter fucks Chris Porter
SCENE 4: D.O. fucks Angelo Marconi
DVD BONUS SCENE: Andreas Cavalli Solo
DVD BONUS SCENE: Kennedy Carter Solo with Dildo
ADDITIONAL COMMENTS:
Members at RAGING STALLION'S REAR STABLE can watch these scenes and download Photo Content from this production.
INFORMATION FROM RAGING STALLION:
DON'T ASK JUST FUCK is a major release for Raging Stallion's Monster Bang Studios — a Tony Dimarco event, this army themed movie offers a first look at our new batch of exclusive big-dicked superstars! These hung men are going to be the face of Raging Stallion Studios for the next year, and this is a chance for you to meet them for the first time. You will be amazed by D.O. who reigns supreme as one of the finest porn actors of all time! Watch as Tommy Defendi turns into a MAN right before your eyes! Be astounded at how hot Rusty Stevens actually is! Get to know Chris Porter–everyone's favorite private! New Exclusive Jake Tyler shows off his perfect, hairy chest! And don't miss red headed Kennedy Carter in his first role as an RSS exclusive. All of these men so impressed us on this shoot that we immediately signed them to valuable exclusive contracts! Add RSS superstar Angelo Marconi to the cast and you have 7 exclusive stars in this one production. This is a major movie event with the best porn actors on earth. Don't Ask Just Fuck is a MUST own DVD for all Raging Stallion fans.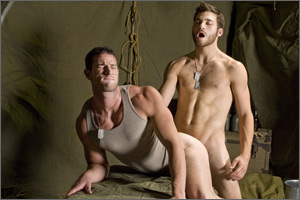 SCENE 1: Rusty Stevens & Tommy Defendi
Tommy Defendi is alone stroking his thick meat to a girly magazine, or at least he thinks he is alone. But Rusty Stevens is watching, salivating over Tommy's thick meaty cock. This is a new Tommy Defendi–the twink is gone and the man has arrived! Watch as he strokes his HUGE cock and flexes his hairy chest. And that face!!!! Soon Tommy is deep in Rusty's eager throat. Tommy returns the favor sucking Rusty's fat dick before he bends him over to lick his tight quivering pink hole. With Rusty bent over artillery shells, Tommy drives his tool deep into Rusty's hole in a barrage of friendly fire! Rusty takes it like a man. Tommy flips his bottom over. Rusty's pecs and abs flex and ripple as he takes a good pounding, both men explode their juices all over camp. This is a first class scene!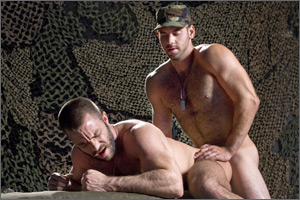 SCENE 2: Jake Tyler & Girth Brooks
Jake wakes up in the middle of the night to take a leak at an outside urinal. His Sergeant has to take a leak as well. With dicks in hand and horned up they start talking about getting laid. Both men look great–hairy, just like you expect your RSS men to be! The Sergeant baits the private to suck his cock. Jake obliges Girth. It's a hugely thick cock but Jake makes it look easy, he deep throats that big fucker- a task not many could accomplish. As good as it feels, its just not enough… so Girth bends Jake over and fuck his perfect round ass, doggy style. Jake then takes control sitting on Girths fat cock he rides it long and hard. Girth wants to ride him! So he moves him on his back and fucks the cum out of him before finally pulling out and spraying his dark chest hair with his own jizz. Jake is left in a collective pool of seed.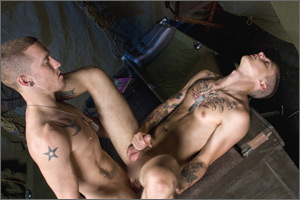 SCENE 3: Chris Porter & Kennedy Carter
Chris is keeping Kennedy in military form with a clean haircut. Who knew haircuts could be so sexy! The guys talk about their tattoos and what they all mean. Chris reaches down to ask about the tattoo across his lower abdomen. He reaches lower and their eyes connect, soon Chris is going down on Kennedy's thick uncut cock and juicy foreskin. Kennedy and Chris are hot young men, and we all knows what happens when you mix guys like this together! Chris is the bottom and Kennedy takes command, fucking his partner in three or four amazing positions. When you see this scene you will know why we signed both men to contract on the spot!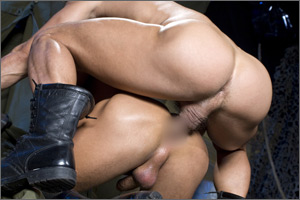 SCENE 4: D.O. & Angelo Marconi
We don't want to say that we saved the best for last… Before you watch this scene you need to sit down and take a breath. Get ready for one of those moments in your porn watching career that will stay with you forever. This is the first scene D.O. has shot for Raging Stallion. D.O. had been a major star over at sister studio Black Scorpion before joining team Raging Stallion. This is a new D.O., more mature–with a nice thick beard and a dusting of hair all over his ripped body. He is perhaps the greatest porn actor on earth and this scene is a perfect display of why this man is a sex god. He rivals Francois Sagat, Damien Crosse, Logan McCree, and many others as a contender for the greatest Raging Stallion stud of all time. We knew this was going to be an important scene–and that guys would watch this for years to come, so we selected our best bottom–Angelo Marconi–to costar with D.O. for his initial RSS scene. Rather than explain the details of this scene, suffice it to say that this is some of the best fucking we have ever filmed. This scene alone is the porn event of the year. It's Monster Bang at its best!!!!

GO TO: RAGING STALLION'S FILM PAGE FOR THIS RELEASE
GO TO: RAGING STALLION
GO TO: THE FILM PREVIEW
WATCH THE SCENES NOW AT: RAGING STALLION'S REAR STABLE