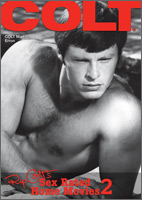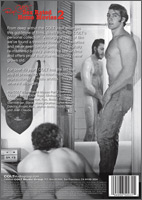 Studio: COLT Studio
Directed by: Rip Colt
Year of Production / Release: 2008
Country of Production: U.S.A.

CAST:
Buddy
Grafton Burke
The Carpenter
Dakota
Michael David
Chris Dickerson
Erron
Hank
Jon Iverson
Jean-Claude
Ken
Matt
Martin Matz
Rex
Rocky
Roger
Richard Sternberger
Steve
Dick Trask
FILM LOOPS:
AFTERNOON ALONE
Erron
DOUBLE FEATURE
Grafton Burke
Hank
Steve
WHAT THE CARPENTER SAW
Buddy
The Carpenter
Richard Sternberger
POOL SERVICE
Michael David
Dick Trask
ALL STARS
Rex
Jon Iverson
Chris Dickerson
ROOMMATES
Dakota
Ken
Roger
FROM COLT STUDIO:
From deep within the COLT Vault emerges this goldmine of films, direct from Rip COLT's personal collection. Among the reels of film and videotape we've found a treasure trove of lost favorites and never before seen gems. This digitally re-mastered bounty stands the test of time and offers proof that true masculinity never grows old.
   For over 40 years COLT has the led the way in presenting the most masculine expression of all male erotica. This is where it all began.
   Rip COLT's Sex Rated Movies Part 2 features COLT Legends Dick Trask, Michael David, Chris Dickerson, Jon Iverson, Rex, Buddy, Richard Sternberger, Steve, Hank, Grafton Burke, Erron,Dakota, Roger, Ken, Martin Matz, Rocky, Matt and Jean Claude.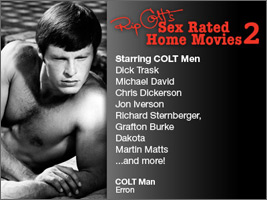 WATCH IT NOW AT: COLT STUDIO