Studio: Lucas Entertainment
Directed by:
Year of Production / Release: 2015
Country of Production: U.S.A.

CAST:
Leo Alexander
Alejandro Alvarez
Tomas Brand
Zander Craze
Craig Daniel
Dolf Dietrich
Raul Korso
Dmitry Osten
Joey Pele
Max Schutler
Drew Sebastian
Rocco Steele
Max Toro
INFORMATION FROM LUCAS ENTERTAINMENT:
"ROCCO STEELE'S BREEDING PARTY" is a gay-porn event by invitation only, and some of the sexiest men in the industry got in on the action. Joining Rocco Steele are Pedro Andreas, Alejandro Alvarez, Drew Sebastian, Dolf Dietrich, Raul Korso, Zander Craze, Max Toro, Craig Daniel, Leo Alexander, Max Schutler, Joey Pele, Dmitry Osten, and Tomas Brand!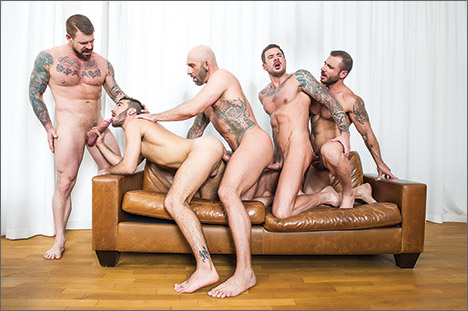 SCENE 1: Jump Into Rocco Steele's Breeding Party
Rocco Steele, the gay porn industry's reigning daddy top, stars in a bareback orgy of epic proportions. And who better to open the scene with Rocco than Alejandro Alvarez, a champion cock whore and power bottom who unrepentantly loves sex. Joining Rocco and Alejandro are Drew Sebastian and Dolf Dietrich and the always-studly Pedro Andreas. This five-way begins their breeding party by chowing down on each other's cocks, and judging by how focused Alejandro is, I'd say he's enjoying the task of blowing Rocco. I've made the point in the past that I'm a huge fan of Dolf and Drew, and their bearish presence combined with Rocco and Pedro makes for an incredible first installment… and it's Alejandro who has to withstand the appetites of these three men. He's just one example: around 6:15 Dolf bends Alejandro over and fucks him, only to pull out for Dolf to suck on him and lube up a bit for more fucking!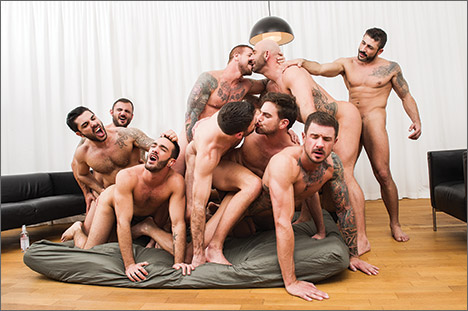 SCENE 2: Rocco Steele's Bareback Sex Party Grows To A Nine-Man Orgy
The select invitations to Rocco Steele's breeding party netted a few more guys to join the party, increasing the current number to nine total! Zander Craze, Raul Korso, Max Toro, and Craig Daniel jump into the action, and they waste no time getting started. And like Alejandro Alvarez before him, Zander Craze strips down, takes a seat next to Rocco Steele, and swallows his fat 10 inches of cock. Among the action that takes place is Raul and Zander sharing a double-headed dildo and a rampant amount of ass-to-mouth action!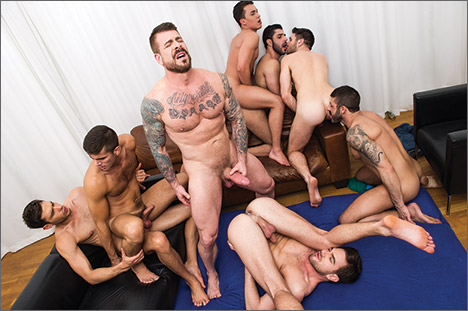 SCENE 3: Max Schutler Returns To Gay Porn In An Eight-Man Bareback Orgy
It's been years since Max Schutler has appear in a Lucas Entertainment film, so what better way to make a return than at Rocco Steele's breeding party' Rocco's gathering aside from him and Max currently consists of Leo Alexander, Raul Korso, Joey Pele, Zander Craze, Max Toro, and Craig Daniel. Max has his sights set on Rocco from the onset: around 3:20 he starts sucking on Rocco's 10 inches of thick daddy meat. And a note on Joey Pele: this guy has bulked up quite a bit, and with his increased muscle mass so too has his sex drive blown up. Zander Craze gets him started by swallowing his uncut cock, and for a while Joey gives into his submissive side by sharing Rocco Steele's daddy cock with Raul Korso. But be sure to make note of the action around 32:45, as Joey hops from hole to hole: he fucks Craig Daniel, moves to Raul Korso, and then back to Craig. Meanwhile, Rocco can't get enough of Max: Rocco focuses on Max by fucking the returning performer slowly and deeply on his back. Admittedly, it's hard keeping up with all of the incredible action, and clocking in at over 50 minutes, this is a bareback orgy of astounding quality you do not want to miss out on!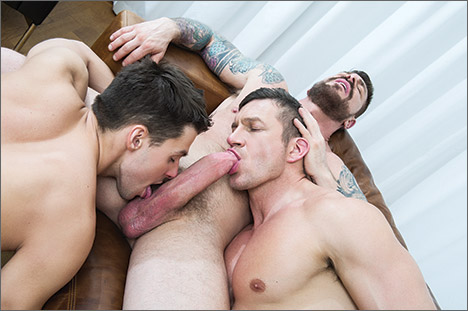 SCENE 4: Rocco Steele And Tomas Brand Take Turns Breeding Dmitry
Two muscle daddies breeding a young gay porn newcomer' Count me in! After everyone from Rocco Steele's breeding party cum, clean up, and vacate the premises, Rocco decides to cap off the night with his international pal Tomas Brand and a new kid on the scene: Dmitry Osten. I don't want to give away all of the delicious details, but if you check out portions of the scene, such as 28:50 and 30:20, and you'll see why Rocco Steele and Tomas Brand are two of my favorite performers. Dmitry is a lucky bottom getting to take care of them both at the same time!

SEE THIS NOW / MORE INFO:
LUCAS ENTERTAINMENT
Scenes Premier online prior to DVD release and are available to view anytime in the Members Area.
Members can watch scenes from all Lucas Entertainment releases anytime online.