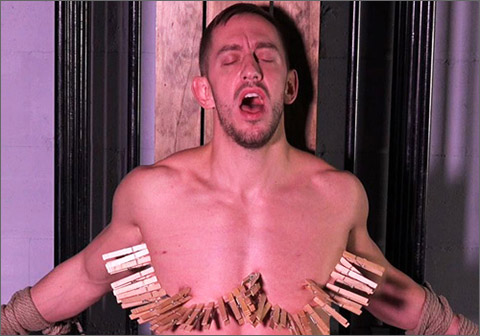 Studio: Roped Studs / Kenneth Benjamin Media
Directed by: Kenneth Benjamin
Year of Production / Release: 2016
Country of Production: U.S.A.

CAST:
Bryan Cole
INFORMATION FROM
KENNETH BENJAMIN / ROPED STUDS:
Age: 24
Height: 6′ (1.8 m)
Weight: 185 lbs (83.9 kg)
Waist: 32.5″ (82.6 cm)
Chest: 42″ (107 cm)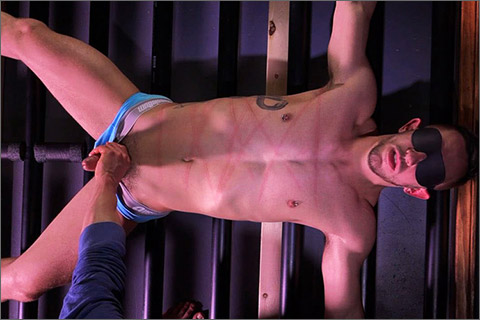 PART 1
Bryan is all man: big and muscular, bearded and tattooed, with a juicy ass and a huge cock. J.J., as we know, loves the boys, but he also loves a nice hunk of man meat. The stud is roped down, spread-eagled and blindfolded. He's still wearing his T-shirt, but all the squirming has moved in half way up his rock-hard stomach. J.J. rips the shirt open, revealing a great bod, big navel and two pierced nipples. With his muscles rippling and his cock bulging in his tight AussieBums, the stud is a sight to behold. The only thing that would make him even more beautiful is a dozen lash marks across his gleaming torso. And, damn, let's get a look at that cock.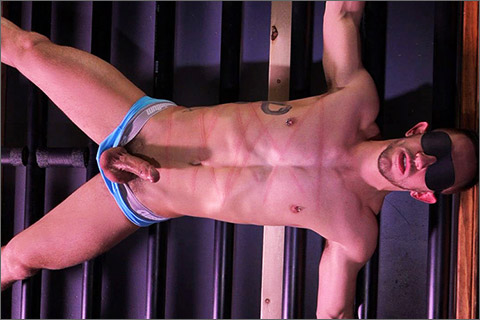 PART 2
College jock Bryan is roped on his back to the bed frame, blindfolded, his chest and stomach covered with whip marks. Rope man J.J., his tormentor, has Bryan's cock pulled out of his Aussiebum briefs and is working it expertly, making the dude gasp with pleasure as he gets rock hard. Soon the undies are gone completely. J.J. is surprised to discover such a straight-laced jock with the shaft of his penis pierced, as well as both nipples. Guess that means he must really love pain. So how about a few more lashes.

PART 3
Muscle stud Bryan is roped – and we mean roped – on his back, with 100 feet of hemp, blindfolded and helpless, struggling against tight bonds, muscles flexing, stomach quivering. We especially like the way the hemp rope digs into his sexy pecs and tight abs. His moans of agony intensify when rope man J.J. attaches nipple clips to his pierced nips. Then J.J. puts a big old nasty clamp on the jock's cock, just before removing his blindfold. He wants Bryan to see what is coming next: electrodes on his cock!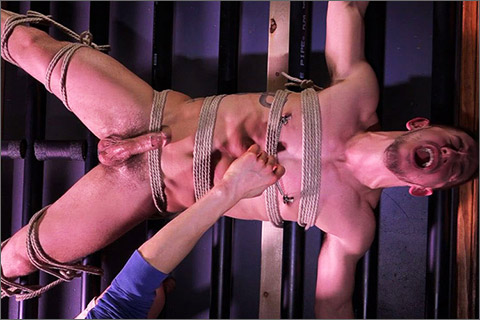 PART 4
Big, brawny muscle boy Bryan is really suffering, roped down on his back at his ankles, calves, thighs, waist, abs, chest and wrists to a bed frame, the platform's braces digging into his body. But that's just the beginning of his pain: His nipples throb from the tit-clips that have been clamped on them for hours. Even worse, his tormentors have electrodes attached to the base of his cock and the middle of his shaft and keep on sending surges of electricity into him. They love watching his muscular body flex against his bounds each time his cock is shocked. Those boyish moans are pretty fucking hot too. Better yet: He delivers the best cum shot while roped we've seen in a long time. This stud is a performer!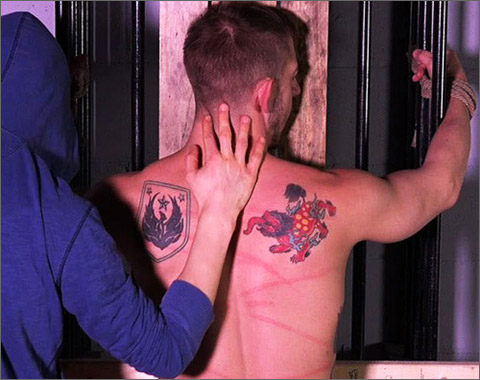 PART 5
Bryan is roped face-first to the boy cage, his hard abs pressed tight against a wooden platform pressed tight against the cage. Rope man Anthony's simple, elegant ties at Bryan's wrists and ankles hold him perfectly, allowing him just enough movement to flex and show off his amazing muscles. Rope man J.J. has first dibs on the stud, grabbing his rock-hard ass cheeks, then getting out his horse whip. Soon Bryan's V-shaped back is crisscrossed with gorgeous, red stripes.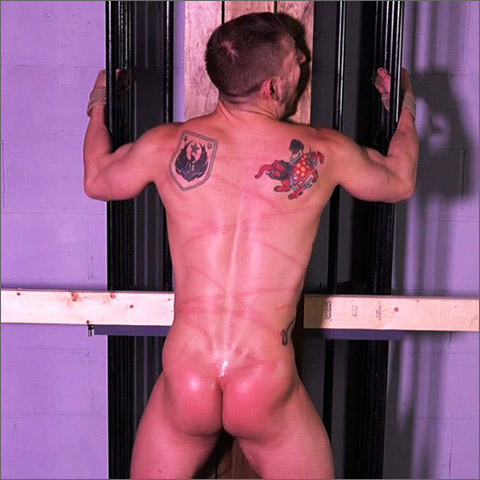 PART 6
BDSM porn god Bryan Cole stands hugging the cage, roped by his wrists and ankles hard against a wood plank, his broad back crisscrossed with nasty whip scars. It's a rope bondage fantasy come true – and it's about to get a lot better: Rope man J.J. shoves a finger deep up Bryan's ass, making the stud moan and his dick start to harden, but Bryan is in for a lot more than a finger. The massive, wedge shaped dildo J.J. rams up his ass is a lot more painful. So is the electrified dildo he shoves in next. God, Bryan's ass looks great clenching when electric current zaps his anal cavity.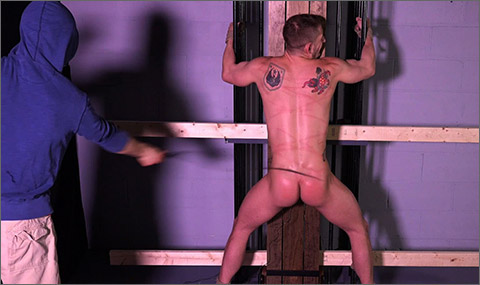 PART 7
What a site to behold: BDSM porn god Bryan Cole gets the full RopedStuds treatment, tied expertly against the steel cage, his amazing body covered with beautiful whip marks, every muscle flexing and contorting as electric current flows into the steel plug shoved up his ass. Then rope man J.J. whips him some more while he gyrates, his asshole burning. And, as if that wasn't good enough, we flip Bryan around and bind him against the cage again so you can see his gorgeous abs, pecs and cock. Get your lube out.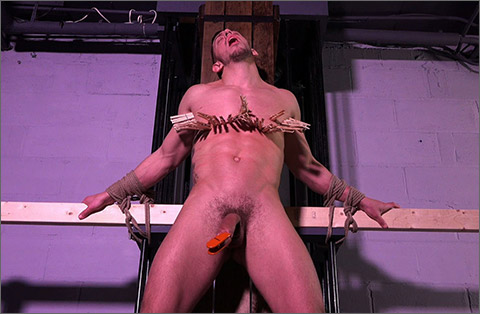 PART 8
There is nothing more beautiful than a muscle stud stripped naked and roped with his legs and arms spread wide, his body striped with whip marks, his huge, semi-erect cock dangling between his legs. Actually, that's not completely true: He's even more beautiful moaning and squirming in pain.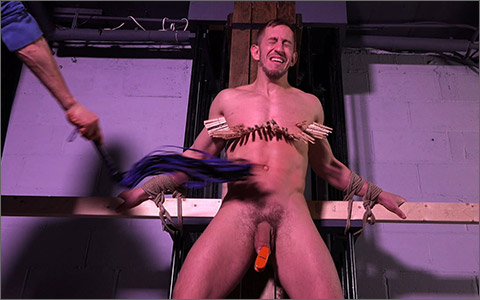 PART 9
Bryan squirms and moans in pain. A plastic "glue clip" with an extra-strong spring and sharp teeth digs into the tip of his cock. Dozens of clothespins dig into the underside of his pecs and pinch his nipples. He is so beautiful standing there, rope and displayed, in long-term pain. Even with his cock clipped, he gets semi-erect when rope man J.J. strokes his cock. Then J.J. gets out his black and blue flogger.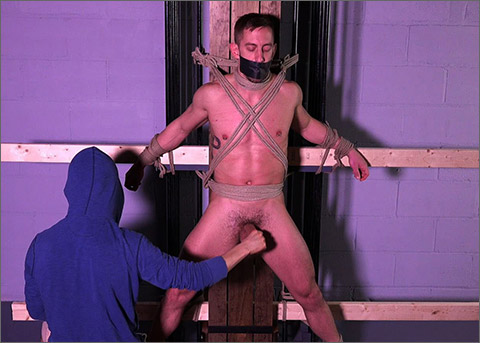 PART 10
Bryan is roped in a criss-cross pattern back against the cage as a beautiful display, still in slow moans of pain, but for some reason his cock is always semi-erect! And what a cock it is. Let's play with it! Rope man Anthony ropes a weight to Bryan's cock and balls, providing a nice, painful stretch toward the floor. Stud Bryan squirms and moans, his cock thick from the locked-in bloodflow. What could make it hotter? Jared comes in to appreciate his piece of art, 'massaging' Bryan's nipples, cock and balls. Let's see if that cock still works. J.J. removes the weights and works that beautiful cock rock hard.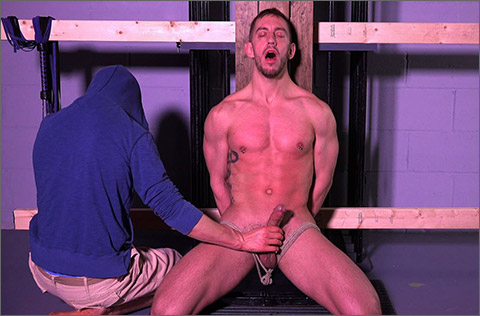 PART 11
Muscle stud Bryan is roped back against the cage, ass hovering above the boy seat in anticipation, waiting for his Master to return. Rope man J.J. moves in to get a piece of his stud. Bryan has a choice: get that thick metal ball in his ass, or get whipped! Bryan is 'forced' over and over to fit that thick metal ball in his ass, all the while J.J. whipping him relentlessly each time Bryan rises to seek relief. Up … Down … Up … Down … Finally, the muscle stud is tied down tight, ball in ass, attempting to move and twist to 'get comfortable'. He can't, but J.J. has an idea to make him more 'comfortable'; he works Bryan's already semi-engorged cock until it spits a thick load of cum. It doesn't get much better!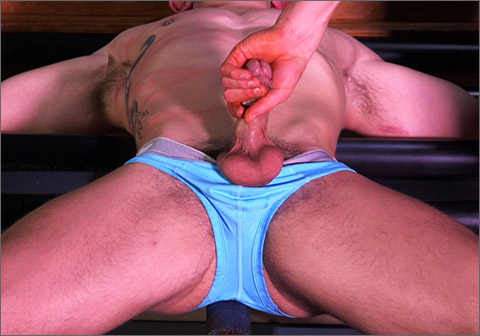 WATCH OR DOWNLOAD IT NOW AT:
ROPED STUDS
On-Line Presentation, Members can Download.
Extensive photography of most scenes and models.