Studio: Hot House
Directed by: Steven Scarborough
Year of Production / Release: 2004
Country of Production: U.S.A.

CAST:
Tag Adams
Diego De LaHoya
Adam Faust
Rick Gonzales
Owen Hawk
Kent Larson
Clay Maverick
Fernando Montana
Carlos Morales
Collin O'Neal
Zackary Pierce
Troy Punk
Dason Reed
Tony Serrano
ADDITIONAL COMMENTS:
Hot House Members can see this watch the scenes from this film anytime online.
INFORMATION FROM HOT HOUSE:
Director Steven Scarobough cuts to the chase in Screw 2, part two of this year's most talked about scorching sex-filled hit series from Hot House Video. Starring Hot House Exclusive Collin O'Neal, Fernando Montana, Tag Adams and Kent Larson, Screw 2 is packed from beginning to end with non-stop action and no filler. This Hardcore Director's Cut Two-Disc Set has 6 scorching scenes with 14 unbelievably sexy studs and is only available at HotHouse.com. So, fuck your remote! You won't need it when you get Screw 2: Cut to the chase!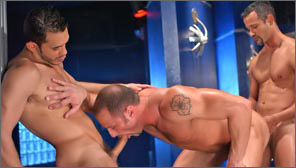 SCENE #1: Fernando Montana, Kent Larson, Tony Serrano
Horse-dicked Latin sensation Tony Serrano walks right up to coverman Fernando Montana, drops to his knees and pulls out the huge – we're talking HUGE – uncut piece from his jeans. Tony just gets started slobbering on Montana's meat but he's soon interrupted by the entrance of Kent Larson, the tower of power coverman from Screw: Right to the point. Tony immediately calls him over and orders him to show his hole. Serrano pulls apart the two huge butt cheeks and reveals Kent's hot, sweaty moist pink hole and dives in with his tongue. Larson's primed now and ready for the tag team session that quickly follows. Wait 'till you get a load of that big hoss bent over with his butt hiked up and waiting to receive! The camera work gets you right into the action, so close you can practically see the steam rising out of his overheating screw hole. A sweaty fuckathon ensues as Tony and Fernando gang up on the stud who tries to push back the monster dicks from getting too far up in his gut; but it's no use. Tony and Fernando mercilessly fuck this stud DOWN!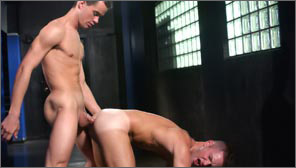 SCENE #2: Tag Adams, Zachary Pierce
Zachary Pierce, the hot boy in coat check you always wanted to fuck, hops over the counter and grabs Tag Adams after he forgets to tip him. Tag immediately invites him to work on his dick for a tip. Zachary shows off some expert cocksmanship as he slobbers up and down on Tag's cock; but he also has a big surprise in store for the cocky club kid. Bending Tag over, he buries his face into Tag's pink hole in preparation for his nine-inch Italian dick that promptly gets stuck up Tag's waiting fuck chute. This is the kind of screw you always dream about: old-fashioned, fast-slamming, no-mercy butt-slaying. Then Zachary does the unthinkable and uses Tag's mouth for some unbelievably filthy ass-to-mouth action! He pulls his cock out of Tag's hole and sticks it straight into Tag's hungry mouth. Tag is only too happy to eat the meat that's dripping with his own butt juice. Then he dunks it back into Tag's ass to coat it again before plunging it right into the back of his tonsils. Hey! Don't cum just yet…you've got four more scorching scenes to get through first!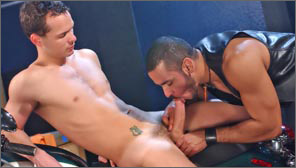 SCENE #3: Diego De La Hoya, Owen Hawk
Owen Hawk is perched on a motorcycle, daydreaming of riding down the streets of San Francisco like the tough guys he's always fantasized about shagging. Problem is he's on Diego De La Hoya's bike who's none to happy to find him on his property. Diego immediately thrusts the stud onto his knees to suck his juicy Puerto Rican dick. Owen can't help but gag on the brown meat stuffed into his mouth (while Diego orders him around in the hottest Spanglish that'll have you in a full-on fever!) The sight of Owen's pretty 8 1/2 incher soon has Diego on his knees returning the favor. Next Diego bends the boy over his bike, dick splayed backwards, and inspects the big round butt he's about to use. His dick slams right in the boy's ass, teaching Hawk a lesson about staying off other people's property. Diego decides Owen's big stiff prick would best be used up his own butt and he soon spins around to take it. Hawk looks sexy as fuck stuffing our beefy Latin stud with his long straight pole. After the two fuck each other to exhaustion, Owen sticks a huge dildo to the floor, mounts it and waits to be showered with Diego's huge load. After Owen cums, the greedy boy scrapes the cum off the floor and sticks it into his filthy mouth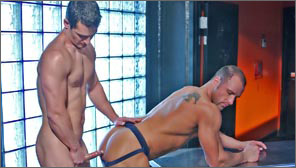 SCENE #4: Clay Maverick, Kent Larson
Kent Larson reappears in scene 4 to take on uberstud Clay Maverick who stands waiting for someone to suck the cock peeking out from his extra-tight white briefs. Kent greedily drops to his knees and begins to service the stud, spinning him around to eat out his perfectly round lily-white ass; but Maverick has bigger plans for his other hole. After all, this movie isn't subtitled 'Cut to the chase' for nothing. Clay moves behind him and pounces on the big mound of muscle butt framed in a black jockstrap. After drilling him on all fours, Clay moves him onto his back and makes the muscle-stud hold his legs back, giving him free clearance to get way up in his fuck hole. Despite the ferocious fucking by Maverick, Larson begs for his hole to be truly screwed hard and deep. Clay obliges by pumping a 12-inch dildo in and out of his sloppy butt hole, sending Kent – and his gobs of hot spunk – flying.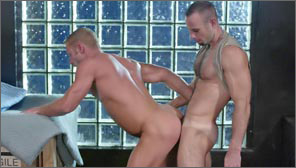 SCENE #5: Collin O'Neal, Dason Reed, Troy Punk
Club custodian Dason Reed needs some dick and corners Troy Punk for the goods. After some mutual cocksucking, the two get caught in the act by Collin O'Neal who orders Dason to get lost. Troy's completely cock-crazed now and Collin has to quickly whip his stiff cock out of his jeans for the boy to feast on. After a wet, spit-filled slobber session on Collin's trophy cock, Troy offers up his prized possession – his perfectly tan, perfectly round bubble butt. It's a match made in Hot House Heaven as Collin sticks it to this pup like it's the last piece of ass he's gonna see for a long time. After fucking Punk's butt out of commission, Collin stuffs him mouth one last time for one of his famous cumshots straight over his head.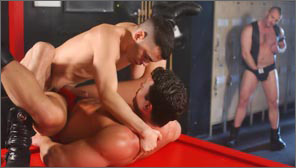 SCENE #6: Adam Faust, Carlos Morales, Rick Gonzalez
A full-length 20 minute fisting scene starring Carlos Morales, Rick Gonzales and Adam Faust will leave you astonished that guys this hot could be this filthy!

WATCH IT NOW / MORE INFO AT: HOT HOUSE