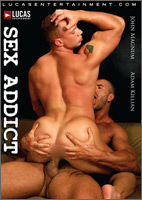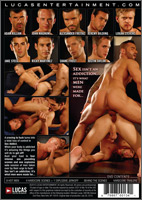 Studio: Lucas Entertainment
Directed by: Michael Lucas and Mr. Pam
Year of Production / Release: 2010
Country of Production: U.S.A.

CAST:
Jeremy Bilding
Alexsander Freitas
Shane Frost
Adam Killian
John Magnum
Ricky Martinez
Jake Steel
Logan Stevens
Justin Taylor
SCENE 1: Adam Killian fucks John Magnum
SCENE 2: Jeremy Bilding fucks Ricky Martinez
SCENE 3: Alexsander Freitas fucks Jake Steel
SCENE 4: Shane Frost and Justin Taylor flip-fuck
ADDITIONAL COMMENTS:
Most Scenes Premier online prior to DVD release and are available to view anytime in the Members Area.
Members can watch scenes from all Lucas Entertainment releases anytime online.
FROM LUCAS ENTERTAINMENT:
Official Release Date: October 22, 2010
A craving to fuck turns into a total loss of control in Sex Addict. When your body is addicted it's amazing the things you will do to get off! Bust your load to four intense ass pounding scenes and one explosive solo session, starring men are taken over by their urge to fuck! Sex isn't an addiction, it's what we were made for.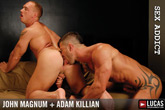 SCENE 1: Adam Killian fucks John Magnum
New meat coming through! When Adam Killian cruises New York City import John Magnum in Grand Central Station, the sparks fly faster than he can rip out his iPod earbuds. The two retreat to a private living room to strip the shirts off each other's sculpted, muscular backs. Adam dives into John's armpit and devours the blond, blue-eyed newbie's beaming face with equal appetite. John swallows Adam's rock hard cock, and spanks his tribal-tattooed ass with excitement. Adam returns the favor and plays with John's bouncy bubble butt, enhancing his boner. He rims the daylights out of him before mounting him like a predator. John sits on top of Adam's upward-bound tower of flesh, and Adam flips him onto his back to get him nice and deep. John sits on Adam's lap and Adam bucks his cock into John's tight hole until John is screaming in ecstasy! In an unexpected twist, John puts Adam onto his back and fucks him back proving his versatility. He fucks Adam until he cums, and then shoots a load across Adam's hairy, sculpted chest.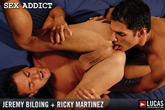 SCENE 2: Jeremy Bilding fucks Ricky Martinez
Hot newcomer, Latin heartthrob Ricky Martinez gets cruised in Times Square by the devilishly handsome Jeremy Bilding. The next thing he knows, he's been whisked away to a secret lair for a hardcore rendezvous with his newfound friend. The two studs make out and strip, showing off their ultra-tan torsos. Ricky unleashes Jeremy's jerking, jumping cock from his tight blue jeans and moistens it with his hot and hungry mouth. He pumps Jeremy in and out of his mouth like a pro, paying special attention to his balls while he's at it! After rimming Jeremy's hairy little hole, Ricky gets his turn at being pleasured as Jeremy strips off his tighty-whiteys to slurp his rod and finger his warm hole. Ricky sits atop Jeremy's towering erection and Jeremy probes his pretty little ass, penetrating his partner until he cries out in ecstasy. Jeremy pounds the adorable Ricky until Ricky cums across his stomach, and Jeremy finishes up with a gushing load right into Ricky's mouth!

SCENE 3: Alexsander Freitas and Jake Steel
Jake Steel is diligently working at his desk when he can't help noticing the buff and brutally hot Alexsander Freitas making eyes at him from an adult DVD store across the street. The tattooed stud shows off his washboard abs and soon Jake's come hither stare results in an office visitor. Alexsander strips his white collar prey at his company board room table and Jake immediately shoves the bodybuilder's big bulge in his hungry mouth. He deep throats Alexsander's beefy cock, unconcerned about who might walk in and see! Next he rims Alex's masculine and muscular ass and lays him out on the table like a huge Brazilian feast. He perches his boyish white ass over the hulking top, who rises up and penetrates him in one hot thrust. Alex bangs his bottom boy like a man, bending over him doggy style and slamming his ass until he screams. He pounds the twinkish Jake until Jake shoots a creamy load across his abs!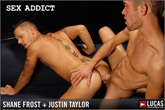 SCENE 4: Shane Frost and Justin Taylor flip-fuck
Shane Frost cruises Justin Taylor on the street and the two hot dirty blond boys can't wait to go somewhere private to unleash their sex-crazed addiction on one another! Justin strips Shane's t-shirt off and feasts on his armpit before ripping off his blue jeans for some intense cocksucking heat. Shane face fucks the adorable Justin right in the kisser, and drops to his knees to deep throat his newfound friend. Justin can't resist Shane's impeccable ass, and gives his clean hole all of the probing and attention that it deserves. Shane gets excited over Justin's cute little ass and gets right to fucking him straight away! He pounds the toned and trim little guy from behind, showing off his skills as a dominant and forceful top! Shane fucks Justin's brains out on the sofa until the bottom boy shoots all over his chest and Shane joins in at the same time!

SEE THIS NOW / MORE INFO: LUCAS ENTERTAINMENT