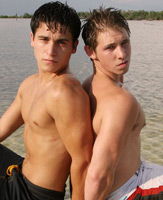 Studio: AmateurCollegeMen.com
Directed by: Corbin Fisher
Year of Production / Release: 2006
Country of Production: U.S.A.

CAST:
Nick
Spencer
ADDITIONAL COMMENTS:
On-Line Only Presentation with Full Photography Galleries. Members Can Download.
INFORMATION FROM CORBIN FISHER:
I'd already shot this video when, a few short days before today's posting of it, I got a few e-mails from some of you guys saying "Corbin! We have to see Nick and Spencer paired up!!". I couldn't help but chuckle to myself knowing that, come today, these members would be extremely happy! Not just them, though! Both Nick and Spencer inspired an incredible amount of excited feedback when they were introduced. Nick, with his hot chest, smooth bod, incredible eyes and sexy Southern accent was an extremely welcome addition to the site! Same goes for Spencer, with his baby face, hot muscles, hairy chest, and uncut cock. In fact, both of these guys have almost too many wonderful features to count!
   So, when Nick agreed to let a guy blow him, I was eager to have Spencer back to do the honors. Straight stud Nick has never done anything with a guy before, and quite proudly shared just how many ladies have had the good fortune to spend some quality time with him in the sack! Actually, despite as long as I've done this, I wasn't really expecting much when I'd asked Nick if he'd be up for getting it on with another guy for us. Trust me… I always ask! But sometimes, I'm just not expecting the response we all want. Nick didn't get back to me with an answer right away, and in fact it wasn't until several days after his solo video that he shot me an e-mail saying he was up for giving it a go. Yes!
   Nick shared having been with dozens of girls before, and so Spencer had quite the task ahead of him showing this straight Southern stud that a bj from a guy is too good to pass up! And Spencer most certainly didn't disappoint! You can tell at the outset of this video that Nick is quite nervous and not too sure what to make of what's about to happen, but it isn't long before Spencer, with Nick's big, thick dick between his lips, has Nick panting, moaning "Yeah!" and writhing on the couch. With Spencer masterfully going to work on his cock, Nick even starts running his hands through Spencer's hair and holding his head on his cock as he moves his hips back and forth. Whatever Spencer's mouth was up to, Nick was digging it! Plus, in what is always a sign things have gone extremely well with a straight stud's intro to being pleasured by a guy, Spencer brings Nick over the top with an expert handjob!
   For you long time fans of the site, you'll recognize Pete's as he's the one off camera, interviewing the guys and eventually asking them how it was, and asking Nick how it felt. And Nick's answer to Pete's last question should be extremely well received by all of Nick's new fans out there!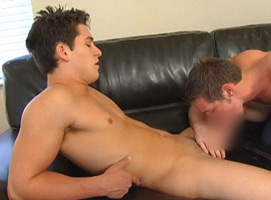 TO VIEW THIS NOW… GO TO: CORBIN FISHER