Studio: Kristen Bjorn presents
Directed by: Kristen Bjorn
Year of Production / Release: 2014
Country of Production: Czech Republic / Spain

CAST:
Mirek Ceslar
Jan Faust
Tomas Friedel
David Kadera
Diego Lauzen
Marco Rubi
Wagner Vittoria
Rado Zuska
INFORMATION FROM KRISTEN BJORN WEB SITE: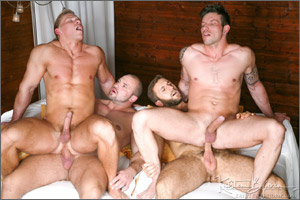 SCENE 1: Jalil Jafar, Rado Zuska, David Kadera, Tomas Fridel
Prague is the place to be if you want to stroll along the beautiful streets and meet the world's hottest guys. Tomas and Rado are regular fuck buddies and today Tomas is entertaining a new guy, David. David is hungrily sucking on Tomas' cock when he receives a call from Rado with a pic of a hot guy that he just met on the street, Jalil. Tomas and David both agree that Jalil looks like a hot time, so Rado and Jalil head over to Tomas' place. Upon arrival Tomas and David strip down Jalil and Rado and the cock sucking begins. David and Tomas trade up the huge, uncut cocks they are sucking on, much to the delight of Jalil and Rado. Tomas then bends David over for Jalil to ram his long raw shaft deep into his ravenous ass. Jalil and Rado tag team David's ass with their naked cocks as Tomas feeds him his cock down his throat. It is time for Tomas to have a piece of ass as well and he and Jalil lie down as David and Rado squat down over their cocks and swallow them up deep inside their hot canals. Rado and David ride the hot raw cocks as their hard cocks flop around filling with an abundance of cum. Tomas and Jalil pound away at David and Rado until Jalil pops his cock out and shoots his never ending streams of cum then Rado sits back down on his dripping cock to suck it clean with his ass. Tomas also pops his cock and spews his hot streams of cum all over David's thighs then sticks his wet cock back into David's ass and begins fucking him again. David has been on the verge for some time and rides Tomas as hard as he can trying to get every bit of that cock deep into his ass as he explodes his creamy load. Rado has been riding Jalil deep and hard as well and strokes his cock to an eruption of cum that flows and covers Jalil's balls in warm comfort. Has your fuck buddy shared with you lately?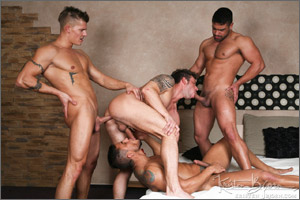 SCENE 2: Rado Zuska, Mirek Ceslar, Wagner Vittoria, Diego Lauzen
Prague remains the hot bed for wild sex with the hottest men in the world. Wagner and Diego spot a couple of hot guys on the street and invite them up to their hotel room. At first Wagner and Rado strip each other and release their huge, hard cocks as Mirek and Diego do the same. Rado begins by sucking on Wagner's meaty cock and Diego goes down on Mirek's huge uncut cock. Mirek is really getting into Diego's oral talents and takes his head into his hands and begins force feeding Diego his cock. Switching up, Wagner takes Rado's rigid cock into his throat while Mirek spits and sucks away at Diego. Rado then takes to center stage and spreads his ass open for Mirek's raw cock to penetrate him deep and hard. Wagner feeds Rado his fat cock while Diego lies under Rado and sucks on his raging hard cock. Rado then flips over and lies on the bed and Mirek continues to pummel his ass as hard and deep as he can. Mirek pounds away at Rado's ass before pulling out and spraying his balls with his hot load then pounds his ass some more. Wagner then decides that it is his turn on stage and Diego spreads him open and penetrates his lover completely. Rado feeds his cock to Wagner as Mirek feeds his cum drenched cock to Diego. Diego loves the sensation of his cock in Wagner's wet hole and Mirek's cock in his mouth that he explodes his hot load all over Wagner. Wagner strokes his cock as Diego continues to fuck him until he erupts his creamy load and Rado shoots his thick load into Wagner's mouth. Have you made your travel plans yet?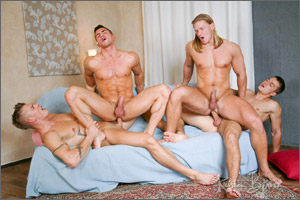 SCENE 3: Jan Faust, Mirek Ceslar, David Kadera, Marco Rubi
Out for a walk on a beautiful fall day, Marco spots some guys in a window that invite him up. Always horny and always adventurous, Marco accepts the invitation. At first Marco and Mirek pair up as Marco's head is taken into Mirek's hands and is face fucked. Jan has taken the same position and is forcing his cock down David's hungry throat. Mirek and Jan switch up and the oral exhilaration continues. David's tongue drives Mirek wild with pleasure that he sprays his hot load all over David's face and hungry mouth. Jan continues to fuck away at Marco's mouth until he shoots his thick creamy load onto his chin. Marco takes Jan's throbbing cock into his mouth to savor the thick cum that is dripping from his swollen head as the thick cum globs off of Marco's chin. As Marco and David are kissing each other Jan and Mirek are pounding their raw cocks into their asses. David and Marco open their muscular mounds so they can feel the full depth of the hard cocks fucking them. Jan and Mirek pull out to show us there huge, uncut throbbing cocks before driving them deep inside of the hungry holes in front of them. The guys then flip positions as well as partners as David squats over Jan and Marco over Mirek. David and Marco love a hot cock in their asses and take these two cocks for a wild ride. David and Marco's balls have drawn up tight and swollen to capacity as they continue to ride Jan and Mirek's huge cocks. Releasing himself to the pleasures, David explodes his huge load as Jan continues to plow his ass. Marco's cock has become so engorged that he is left with no other choice but to blow his load. Mirek's pounding assists Marco's cum to fully empty from his balls.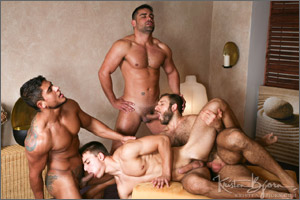 SCENE 4: Jalil Jafar, Wagner Vittoria, Diego Lauzen, Jan Faust
The streets of Prague continue to prove to be the hottest place in the world to meet the world's hottest men. Wagner and Diego head out for the day when they run into Jalil and agree to hook up. On their way to Jalil's they encounter a hot, muscular stud, Jan. Jan invites the guys up for an absolutely amazing afternoon. Wagner and Jan pair up and strip each other as Diego and Jalil follow suit. Huge, hard cocks are set free as hungry mouths begin to water and tongues dart in and out of the others mouths, the juices are flowing. Diego works to take the full length of Jalil's huge cock in his mouth and throat as Wagner does his best to swallow Jan's huge cock. Jalil slaps Diego's cock to attention as he fucks Diego's throat. The guys switch it up and Jalil begins sucking away at Diego's cock while Wagner fucks Jan's face with his cock of girth. After some hot cock sucking every cock is welled lubed and Jalil opens his hairy hole up for Jan to go skin on skin in his ass. With Jan's huge cock plowing his ass, Jalil is busy sucking on Wagner and Diego's huge cocks. Jalil flips Jan and goes raw on his ass while both men are sucking on Wagner and Diego's throbbing cocks. The guys switch up again and Diego squats down raw on Wagner's fat cock as Jalil feeds his cock to Wagner and Jan feeds his hard cock to Diego. Riding Wagner's cock hard and deep, Diego is no longer able to hold back and shoots his load as Wagner continues to pound his ass. Jalil is turned on by all this hot action that he shoots his never ending streams of cum onto Wagner's mouth, tongue and chin. The warmth of Jalil's cum on his tongue pushes Wagner over the edge as he blows his hot load. Diego continues sucking on Jan's cock until he shoots a thick, creamy load. Let's hit the streets of Prague!

SCENE 5: Wagner Vittoria, Diego Lauzen, Marco Rubi, Tomas Friedel
Tomas spots the guys walking down the street and decides to entice them into his place. The guys are intrigued and join him. Diego and Friedel pair up as do Wagner and Marco to swap some hot cock sucking. Each being challenged by the other's huge, fat cocks, which then leads to a hot suck chain with Wagner eating Marco's perfect pink hole. Tomas bends Marco over and shoves his big, raw cock deep into his tight ass, while Diego squats down on Wagner's cock and go skin on skin with each other. Diego flips Wagner and plows his raw cock deep into Wagner's ass as Tomas flips Marco over, spreads him open and plunges deep inside that amazing ass. Diego is the first to shoot his hot load all over Wagner's balls before re-inserting his cum slicked cock back into his lover then felches his load from Wagner. Tomas showers Marco with his hot load and then continues to fuck Marco as he squeezes out his thick creamy load. The streets of Prague continued to prove to be the hottest place on the planet to meet men.

WATCH IT / DOWNLOAD THIS NOW AT:
KRISTEN BJORN
Kristen Bjorn Members can watch scenes from this Release anytime online.