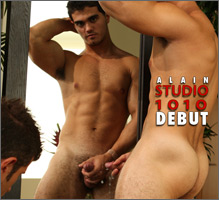 Studio: Manifest Media
Directed by: Vin Marco & Alex Sulaco
Year of Production / Release: 2008
Country of Production: U.S.A.

CAST:
Alain Lamas
FROM MANIFEST MEN:
Aggressively sexual young muscle stud Alain makes his debut in an explosively powerful extra-length video that has to heard as well as seen. You've never seen anyone use his entire body like a weapon of seduction as Alain does. The Manifest Men loft becomes a sex den when Alain goes from gyrating and showing off his body to gripping his hardening cock through his baggy shorts and practically ripping them off to get naked and reveal his thick hairy legs and muscle butt. Looking at himself in the mirror as he jacks his thick cock revs Alain up even more. He pushes himself on verbally. He plays with his furry and thick muscle butt. He thrusts his ass as though fucking an unseen partner and prolongs his show as long as possible.
   While lying back on the couch, Alain fingers his tight hole and gets even more verbally nasty. He flexes, he licks his biceps and gets himself so worked up he can hold back anymore. He goes back to the mirror and furiously jacks and milks a heavy load that hits the floor and the mirror itself. And Alain STILL isn't done, finishing up with more trash talk still hard as a rock and ready for more.

WATCH IT NOW OR DOWNLOAD IT AT: MANIFEST MEN