Studio: Hot House / Club Inferno
Directed by: Robert Drake
Year of Production / Release: 2008
Country of Production: U.S.A.

CAST:
Peter Dutch
Adam Faust
Jackson Lawless
Evan Matthews
Dominic Pacifico
Danny Parker
Ryan Raz
Jason Sparks
ADDITIONAL COMMENTS:
Hot House Club Inferno Dungeon Members can see this film anytime online.
INFORMATION FROM HOT HOUSE: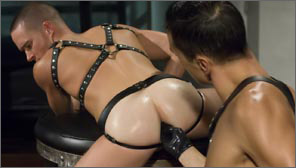 SCENE 1: Evan Matthews and Jackson Lawless in flip flop fisting action!
Experienced fist-pig Evan Matthews has won fans around the world for his incredible anal capacity. In Scene 1 he breaks in (and open) newcomer Jackson Lawless to help him discover his Sweet Spot! Lawless, a hung young stud with an eager-to-please attitude, soon discovers the nuances of fist-play. Before you know it, Lawless turns the table on his expert co-star for some incredible flip-flop-fisting action!

SCENE 2: Dominic Pacifico fucks and fists Ryan Raz
DOMINIC PACIFICO LOVES LOOKING DEEP INSIDE RYAN RAZ!
Ryan Raz meets his match when he barks at the wrong top man, Dominic Pacifico. Despite his big green eyes and tasseled blond hair Raz proves to be a resilient pig- bottom who takes every inch Pacifico's angry cock. Finally nothing but a table full of black anal intruding toys and Pacifico's fists satisfy both men's sexual desires. Catch the entire butt wrenching scene exclusively in the Club Inferno Dungeon.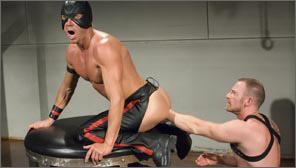 SCENE 3: Adam Faust dildo-fucks and fists Peter Dutch
Hairy top-stud Adam Faust discovers masked-man Peter Dutch craves anal attention, and sets out to push the willing bottom to the limit. No matter what Faust chooses to pry open Dutch's hole – a beer bottle, a selection of monster-size didlos, even his own two bare fists – Dutch opens wide to accommodate. Both men prove to so aggressive their butt-play becomes an athletic competition. Who will win in the race to find the Sweet Spot? Watch the full XXX scene live now in the Club Inferno Dungeon and find out.

THIS PREVIEW CONTAINS ADULT SEXUAL CONTENT

SCENE 4 :Jason Sparks dildo-fucks and fists Danny Parker
Danny Parker, a young horndog selects a heavy bullet-shaped butt plug and pulls out his long cock – already dripping pre-cum in anticipation of experimenting with his newfound treasures at a deserted sex club. Luckily experienced fist-pig Jason Sparks enters the club in time to show young Parker the 'ins and outs" of buttplay! Sparks throws Parker in a sling and works his pristine hole with a barrage of anal weapons until he eventually fists the piss out of him (literally)!

WATCH IT NOW / MORE INFO AT:
HOT HOUSE & HOT HOUSE BACKROOM
Hot House Backroom Members can see this film anytime online.
With extensive additional photography from every scene.