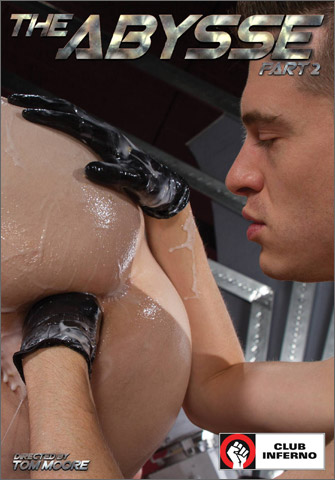 Studio: Hot House Entertainment / Club Inferno
Directed by: Tom Moore
Year of Production / Release: 2016
Country of Production: U.S.A.

CAST:
Axel Abysse
Bruce Bang
Aiden Woods
INFORMATION FROM HOT HOUSE:
Deep inside 'THE ABYSSE' lies an endless supply of hefty fists and hungry holes just begging to be wrecked. Director Tom Moore takes three, fist-in-hole crazed studs through the rosebud-filled unknown on the pathway to the ultimate fetish finale in 'THE ABYSSE, PART 2'. Axel Abysse is eager, and loves to have his piggy hole wrecked by Aiden Woods. Axel Abysse returns to destroy Bruce Bang's smooth, hungry hole with toys and handballs. Take the final venture into 'THE ABYSSE', where your fantasies are fulfilled with total anal stretching and powerful poundings from some of the hottest, anything-goes studs in the fisting game!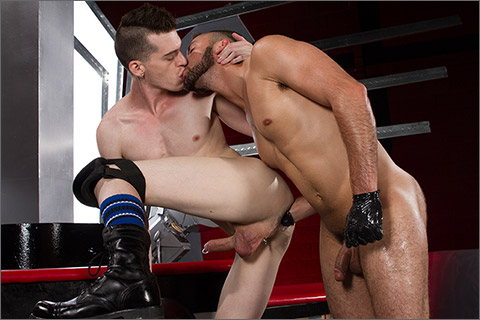 SCENE 1: Axel Abysse & Aiden Woods
Sub sex pig, Axel Abysse crawls on hands and knees over to dominating Aiden Woods' boots. Starting from the bottom of Aiden's boot, Axel licks his way up to Aiden's stiff, enticing dick. Swift, smooth gulps put Aiden's cock at the back of Axel's warm throat. Wanting more, Aiden bends Axel over and pummels his cock into Axel's more-than-willing hole. Things heat up when Aiden replaces his cock with his entire hand, stretching Axel to the limit. Twisting and turning his hefty fists in and out of Axel's insatiable ass, Aiden gives Axel a handballing he won't ever forget.
   Next, Aiden Woods is on his back and yells to Axel Abysse, "fuck my mouth, fuck all of my holes". Axel responds by shoving his uncut, pierced cock in Aiden's mouth. Mounted on a lazy-Suzan, Axel spins Aiden around and gives his succulent hole a slobbery tongue bath. Aiden returns the favor bending Axel over to swirl his tongue into his swollen hole. Switching positions, Axel lays back and jerks his pierced, uncut cock while Aiden continues to fist punch his bare hole. Aiden continues to rearrange Axel's insides until they stand and jerk their loads into the air.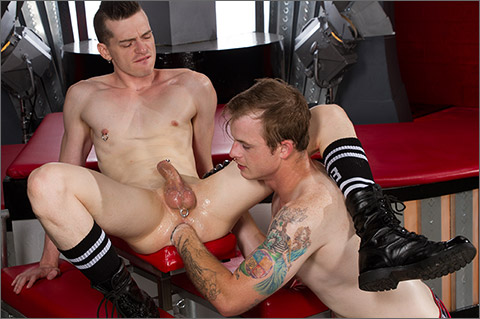 SCENE 2: Axel Abysse & Bruce Bang
Tatted hottie Bruce Bang spots Axel Abysse pawing himself and pounces at the opportunity to join him. After some heavy tongue swapping and stroking each other's bulges, Axel bends over and Bruce hits his knees to get a taste of Axel's rosebud. With his hole stimulated, Axel needs to fill it, so he plunges his own fist as deep as it will go. Axel's hole winks, signaling Bruce to dig in as well. Bruce lubes up his fists and goes to town, switching fists back and fourth, opening up Axel more and more with each stroke. Axel takes Bruce's hefty fist doggy style and on his back spread eagle. Just as a true pig would, Axel reaches into his hole and spreads it apart to bloom his ruby red rosebud for Bruce. Tongues turn into fists when Axel glides his hand deep into Bruce's gaping ass. Bruce screams and moans, as Axel handball's his eager hole with abandon.
   In an acrobatic 69, Axel Abysse stuffs his hand into Bruce Bang as Bruce drills Axel's hole with his fist from behind. Switching positions, Axel bends over and lets Bruce rearrange his insides as he bounces on his fist. Axel returns the favor and mounts Bruce's hole switching from fist to fist leaving his hole wide open. The hunks reach climax when they lay back and jerk out their loads onto each other.

WATCH IT NOW / MORE INFO AT:
HOT HOUSE CLUB INFERNO DUNGEON
Hot House Club Inferno Dungeon Members can see this film anytime online.
With extensive additional photography from every scene.