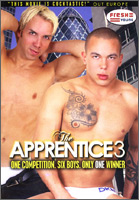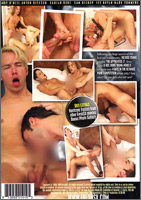 Studio: FreshSX
Directed by: Rex King
Year of Production / Release: 2009
Country of Production: Great Britain

CAST:
Sam Bishop
Lee Bryan
Anton Dickson
Damian Duke
Mark Summers [Mark Given]
Andy O'Neill
SCENE 1: Anton Dickson fucks Andy O'Neill (winner)
SCENE 2: Lee Bryan (winner) fucks Mark Summers
SCENE 3: Damian Duke (winner) fucks Sam Bishop
SCENE 4: Damian Duke and Lee Bryan DP (double penetrate) Andy O'Neill
SCENE 5: Andy O'Neill (winner) showers with a dildo
INFORMATION FROM FRESH SX:
Following the huge success of the first two instalments, Fresh SX Young present 'The Apprentice 3′. Once again six hot hung young models compete over four days in the ultimate porn competition where only one boy wins! Can you pick the winner?
SCENE 1: Anton Dickson fucks Andy O'Neill (winner)
We meet cute Andy from Brazil getting ready for his shoot in the shower and stud Anton in the model preparation area. In the interview room they find out that in their scene they will have to use a piece of rope. Eyeing this, Andy already has some ideas and you can see in his eyes he wants to win!
   The sex scene starts with a huge amount of energy, Anton naked and hard within minutes. Both guys kiss with deep passion and Anton works his tongue over Andy's body moving down to his hard cock. Switching over it is now Andy's turn to try out Anton's huge cock. Anton dives into Andy's ass with his tongue rimming him just the way he loves it.
   Andy takes the rope, Anton snatches it and begins to tie Andy's hands pinning him down and playing with his ass. Andy grabs the rope and uses it as a cockring on Anton's cock. Now it is Anton's turn again, tying Andy's legs together and starting to put his huge piece of meat into Andy's tight ass. These guys work their way round loads of horny positions before Andy can't wait any longer and shoots his load. Anton pulls out and shoots over Andy's chest.
SCENE 2: Lee Bryan (winner) fucks Mark Summers
Next we meet sexy Lee Bryan from Manchester who explains that he is strictly a 'top' and tattooed stud Mark Summers from London who knows he is going to win! The task for these 2 studs is to perform a sex scene using handcuffs and Mark seems to have a few ideas on how he is going to use it as they make their way to the bedroom.
   As we join the sex scene the two lads are naked and rock hard. Mark makes his way down onto Lee's cock loving its thickness. Lee then tries out Mark's cock for size in his mouth and isn't disappointed either. Moving into a 69 both give each other deep oral satisfaction. Lee moves up and starts to work on his partner's bubble butt with his tongue and later easing his fingers inside getting Mark ready for later. Placing the handcuffs on Mark's tattooed wrists Lee now has him in control and works his tongue all over his muscled body. Laying face up on the bed Mark manoeuvres on top of Lee sitting down on his huge cock. Moving into doggie Mark can really feel Lee's cock going to work on his tight ass before they both start fucking standing on the bed giving us a perfect view of the fuck action. Mark slumps down into the bed again and Lee, still standing over him, shoots his load all over Mark, before Mark shoots his thick load over his chiselled six pack.
SCENE 3: Damian Duke (winner) fucks Sam Bishop
Sam is a young guy from London and Damian is a 21 year old from Wales and we meet them both in the model prep area before finding out that they are going to be using a blindfold in their shoot.
   Starting off making out on the bed within seconds their cocks are out of their tight white undies both rock hard and ready for action. Damian starts by taking Sam's cock deep in his mouth and playing with his huge balls. Moving into a 69 they both work on each other's hard cocks. Sam takes the blindfold and they both laugh as it is put on Damian and the real fun can begin! Sam works his way all over Damian's body before switching the blindfold so that it is now Damian's turn for the fun. Moving Sam over with his ass in the air he can now get his tongue deep inside his butt cheeks. Sam sits on top of Damian's hard cock and starts to feel how good it feels having him deep inside. Changing blindfolds again and switching to doggy style Damian really thrusts his cock into Sam as he groans in ecstasy. As Damian fucks him harder and harder, Sam shoots his white creamy load on his chest, Damian then pulls out and shoots his load over Sam.
SCENE 4: Damian Duke and Lee Bryan DP (double penetrate) Andy O'Neill
When Andy, Damian and Lee perform their scene together they are fighting hard to make sure they win but know that 2 of them will be eliminated after this. With no sex object this time it is up to themselves to be the best!
   The guys start on the bed, naked and already rock hard working their way over each other's bodies kissing, tonguing and sucking. Lee spends some time in the middle, sucking Damian's cock and having Andy working hard with his mouth on his thick dick, obviously in seventh heaven! Damian moves him tongue down to start rimming Andy's ass and it is not long before Andy is feeling the full force of Damain's cock inside him while Andy with a look of total enjoyment sucks on Lee's thick juicy cock. Next Andy rides on top of Lee with Damian standing over him so he can suck on his cock at the same time. Moving down Damian starts to fuck Andy at the same time as Lee and as Andy feels these two cocks inside him at the same time he starts to groan in total ecstasy. You can see from Andy's face that this is the experience of a lifetime as he gets ploughed by both guys together. Lee then fucks Andy while standing off the bed, Andy cums, Lee then pulls out and shoots over Andy with Damian shooting over Andy's chest. With all the action over and done with, it only remains to find out who was the hottest guy and who will be FreshSX's next 'Apprentice'!

AVAILABLE FROM: MOVIE MOUNTAIN
GO TO: FRESH SX