Studio: Falcon Studios
Directed by: John Rutherford
Year of Production / Release: 1995
Country of Production: U.S.A.

CAST:
Steve Alden
Jake Andrews
Ray Butler
Andrew Cole
Kevin Dean
Rick Drake
Carl Erik
Johnny Hanson
Chad Knight
Cliff Parker
Hal Rockland
Danny Sommers
Tom Steele
Cort Stevens
ADDITIONAL COMMENTS:
Falcon Members can watch scenes from this Release anytime online.
aka: THE OTHER SIDE OF ASPEN 3: SNOWBOUND
FROM THE FALCON WEB SITE:
A new legend is born on the slopes of Aspen. Troubled lovers Chad Knight and ski instructor Johnny Hanson await a new crop of Falcon stars, who keep the legend alive. The action revolves around their romance…will it survive?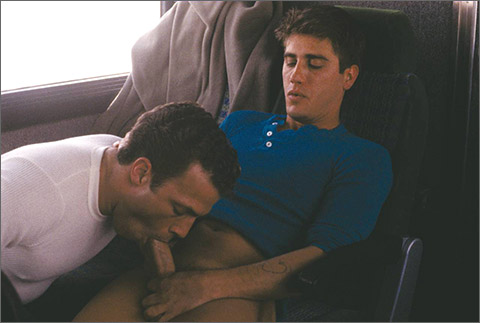 SCENE 1A:
A bus brings in a horny group of skiers, who can't wait for the action to start. In a full bus, Jake Andrews decides to start slurping on Tom Steele, while Steve Alden keeps the bathroom busy as his dick gets hard riding a dildo.
SCENE 1B:
Johnny Hanson starts his cheating ways by giving Cort Stevens a private lesson. Stevens deep throats Hanson's thick piece, then gets a hot pounding.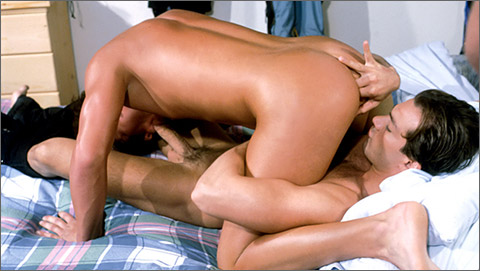 SCENE 2A:
Director's Cut Edit: includes Fisting Footage
Johnny Hanson and Cliff Parker warm the winter air through a steamy encounter in the front seat of Johnny's truck.
SCENE 2B:
Director's Cut Edit: includes Fisting Footage
Cliff Parker returns home after an erotic interlude only to discover that Andrew Cole and Ray Butler have been rifling through his bag…discovering a hefty larder of dildos and other toys. "What the hell are YOU doing with all this?" asks Ray Butler…and Cliff is eager to show the two men EXACTLY what he does. Ray gets between Andrew and Cliff…swallowing Andrew's cock deep while Cliff buries his cock deep in Ray's jockstrapped ass. Ray wants more and Cliff is eager to share his toys…sliding a monster dildo deep in Ray's hungry hole. Andrew pulls out an electrified butt plug and slides it into Ray's ass…allowing Ray to control the current. Before long Ray is responding vigorously to the power…his ass clenching rhymically with each jolt of current…Cliff and Andrew enjoy the view as Ray fucks himself hands free with the toy. Finally Andrew gloves up and fists Ray…stretching his hungry hole wide and sliding his hands in deep until Ray unleashes his load. Andrew follows suit and Ray massages Cliff's balls as Cliff's cock spurts thick streams of cum.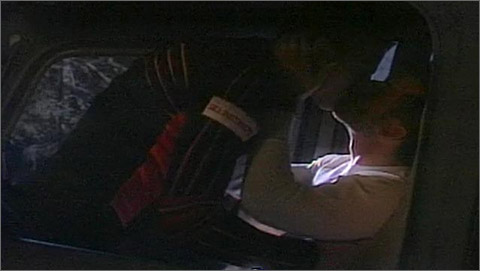 SCENE 3:
Johnny Hanson's back home in bed (non-sexual role) but just won't warm up to lover Chad Knight's advances…leaving the bedroom as Chad tries to warm him up. Alone and enlarged, Chad services his own cock with a prolonged stroking.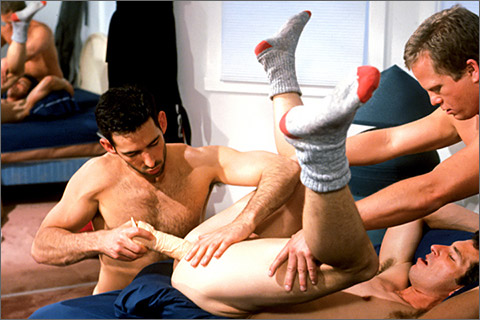 SCENE 4:
Director's Cut Edit: includes Enema Footage
Rick Drake heads to the shower. He is soon joined by two of the biggest cocks the industry has seen: Carl Eric and Kevin Dean, who fill both of his holes after a water enema cleans him up.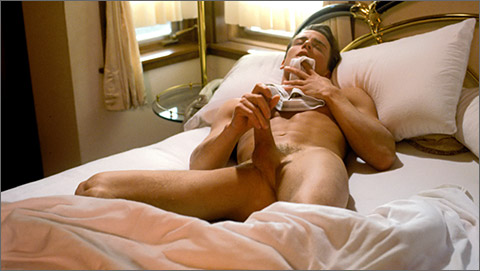 SCENE 5:
After Chad Knight warns skiers Hal Rockland and Danny Somers of a potential avalanche, the two head inside to warm up. Somers sucks his uncut bud in a chair before sitting on Rockland's fingers, then takes a huge dick up his ass in a scene that pairs two star veteran performers.

WATCH IT NOW AT: FALCON STUDIOS