Studio: Falcon Studios
Directed by: John Rutherford
Year of Production / Release: 1995
Country of Production: U.S.A.

CAST:
Matt Bradshaw
Joe Kent
Chris Ramsey
Trent Reed
Hal Rockland
Ken Ryker
Todd Stevens
Kevin Wolf [Kevin Wolfe]
FROM THE FALCON WEB SITE:
The double-billing you've been waiting for! Falcon Superstars Ken Ryker and Hal Rockland on a wild motorcycle ride along the rugged California coast! Join Trent Reed, Chris Ramsey, Matt Bradshaw, Todd Stevens, Kevin Wolf, and Joe Kent on a climax-filled journey that will leave you wanting more!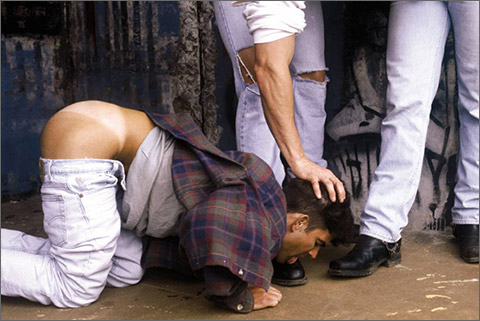 SCENE 1: Ken Ryker and Hal Rockland face-fuck Joe Kent
A desolate cliffside road… the rumble of a Harley Davidson echoes across the rugged hillside. Ken Ryker and Hal Rockland are looking for some hot action. Stopping to take a piss by an abandoned bunker, the two renegades are spotted by Joe Kent, a handsome young hitch-hiker willing to do anything for a ride. First Ken, then Hal, take turns with his slurping willing mouth, ramming their cocks down his gaping throat. They force their young sex slave to the floor, fingering and slapping Joe's sweet white ass as he licks their boots. Hal can hold back no longer, shooting gobs of hot cum into the cold mountain air. Ken soon erupts, spurting thick streams of cum.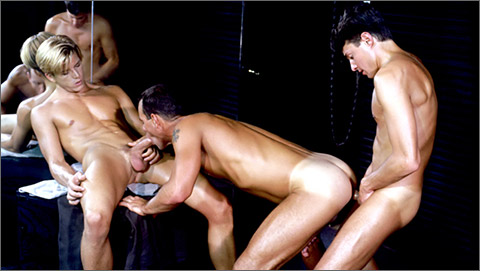 SCENE 2: Kevin Wolf fucks Matt Bradshaw who later fucks Todd Stevens
After Ken Ryer takes his bike in for some repair work, he and Hal Rockland wander into a nearby bar where Hal spies a three-way going on. Sexy Matt Bradshaw squirms with pleasure as he wriggles over Kevin Wolf's face, feeling the blond's gifted tongue probe his tight hole. Todd Stevens groans lusftully as the velvety muscles of Matt's cocksucking throat ripple up and down his meaty rock-hard cockshaft. As Kevin shoves a fat buttplug into Matt's freshly lubed hole, the asslips stretch wide to accommodate the plunging sextool. The powerful intrusion turns into rhythmic pleasure as Matt fucks himself with the buttplug, sucking it deep into his hole. Todd and Kevin take turns slamming their big cock's into Matt's sex-starved holes, filling him at both ends. They take on one another's sweat-glistened forms in every combination, fucking and sucking themselves to multiple cum-drenching orgasms.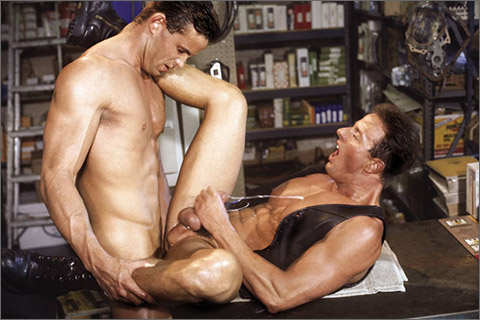 SCENE 3: Ken Ryker fucks Trent Reed
Hunky mechanic Trent Reed has been servicing Ken's bike, but after sniffing the sweaty leather vest Ken's left behind, servicing Ken sounds hotter. Pulling his cockmeat out of his tight jeans, Trent starts stroking his thick cut meat until blast after blast shoots all over his smooth muscled torso… Ken walks in and fucks the muscular mechanic's mouth relentlessly uintil he shoots his load all over Trent's chest. The feel of Ken's load drives Trent over the edge and he shoots his second load. Then Ken bends Trent over the workbench and pounds his tight ass slow and hard. When the blindingly powerful orgasm finally hits trent, it is as if a bolt of loigtning went coursing up his spine from the base of his balls to explode in a wave of pleasure. As Trent collapses after his third ball-draining orgasm, Ken slowly drags his massive fuckpole out of the mechanic's ravaged ass.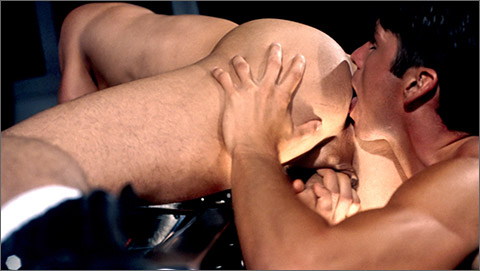 SCENE 4: Hal Rockland fucks Chris Ramsey
Bartender Chris Ramsey runs his hot wet tongue up into the sweaty crack between Hal Rockland's asscheeks. Hal's slick hole and hard fuck-ready tool make Chris rock hard and hornier than ever. Hal throws Chris onto the pinball machine and shoves his cock into the bartender's hot young ass. Over and over, Hal bangs away, jamming Chris against the cool metal surface until his rampaging cock shoots. As Hall grinds his satisfied groin into the bartender's asscheeks, Chris blasts his load all over the the pinball machine…"tilt!"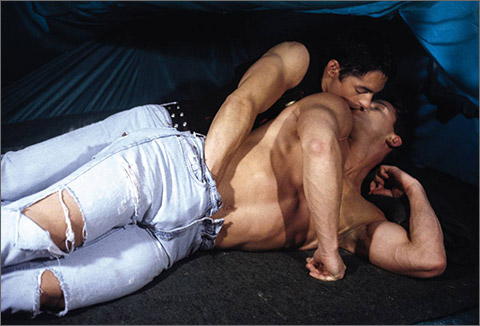 SCENE 5: Hal Rockland and Ken Ryker
Next to the campfire, the sexual tension between Ken Ryker and biker buddy Hal Rockland cracles electrically. Hal is the first to reach out and say with a touch what cannot be siad with words. Tentatively at first, Ken's trembling hands pull Hal to him… their lips meet in a searing tongue-tangling kiss that bonds these two hot men together in a way they never dared to believe. Passion flares and gives way to raw energy as the two men suck and squeeze each other's rock-hard cocks. Soon Hal and Ken are entangled in a winner-takes-all sixty-nine, each one trying to stuff as much of the other's cocks down their throat as possible. Grunts and moans of desire echo in the still night air as the two horsehung young men revel in each other's virile bodies, each one satifying the other; each one satisfying himself. After an eternity of frenzied man-to-man sex, Hal and Ken bring each other off, spraying the inside of their tent with gushers of cum.

WATCH IT NOW AT: FALCON STUDIOS