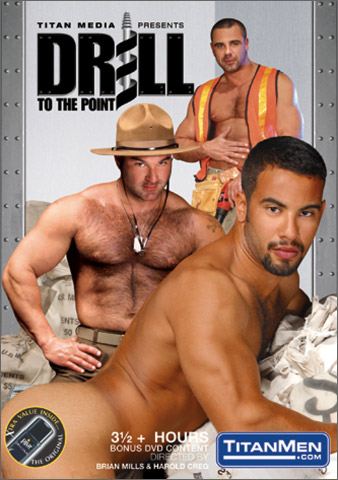 Studio: Titan Media
Directed by: Brian Mills, Harold Creg
Year of Production / Release: 2005
Country of Production: U.S.A.

CAST:
Tyler Boots
Tim Bruno
Matthieu Costa
Joey Dino
P.J. Dixon
Bo Knight
Miguel Leonn
Todd Maxwell
Victor Rios
Joey Russo
FROM TITAN MEDIA WEB SITE:
A man's always dreaming up new ways to use his favorite power tool.
   Drill will mine the very core of your fantasies, as 10 big, hairy and spectacularly built TitanMen throw their weight behind the big reamer itself during two and a half hours of non-stop, hot and sweaty man-on-man sex.
   The exceptional cast assembles some of the most popular men in the TitanMen stable.
Encoring their forceful performances in Horse: Fallen Angel 5 are Joey Russo, Joey Dino, and Matthieu Costa. Tyler Boots and Todd Maxwell were in Back to Barstow, and the brute force known as Bo Knight was in Five Star. Massively built PJ Dixon was first seen in Packers. Finally, handsome Victor Rios and boyish Tim Bruno are making their first TitanMen feature.
   The four settings of Drill are loosely imagined, as they would be in a fantasy. But can you be daydreaming when the action's this real?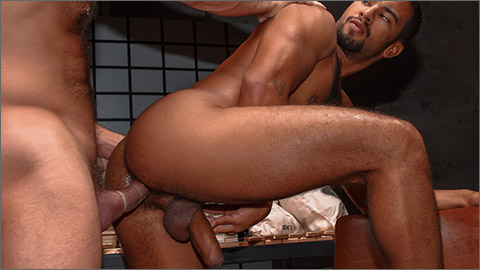 SCENE 1 – A VAULT: Tyler Boots and Victor Rios (flip-flop)
Here's a fantasy of role reversal that has stiff surprises with every well-lubricated turnabout of the action. Safecracker Tyler Boots drills his way into the vault and finds the guard already there—tied up and gagged, with a gold ingot hanging from his strangled balls and his uncut, dark chocolate hard-on sprouting up from his steamy crotch. Boots sucks it with a force that could have opened the vault's door, and his own cock twitches when the newly freed Rios pushes his moist asshole onto Boot's eager tongue. Rios' cocoa cheeks are forcibly split by the double wide mandrill that Boots bangs up his butt, and the overheated pair's hot manjuice is suddenly vaulting into the air. Suddenly, Rios spins Boots over, and rams his cock passionately up Boot's tight hole until another searing round of cum flies from the bottomedout burglar.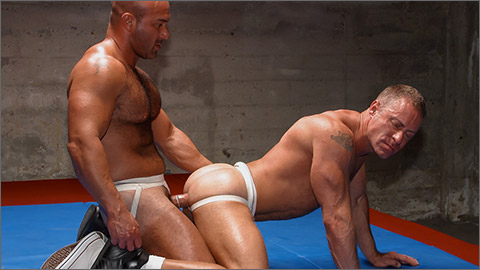 SCENE 2 – THE TAKEDOWN: Joey Dino (top) and Bo Knight (bottom)
It's brawny versus the beast when gigantically built and jock-clad drill sergeants Bo Knight and Joey Dino take their gripe to the wrestling mat. Fierce and burly as Bo is, he's overpowered by Dino, who makes the contest his conquest. It's fucking' humiliating, and Bo retaliates by clamping his steely muscle-butt onto Dino's face. Dino tongues that tight hole, slickin' it up and then sliding his monster cock into the crazed bodybuilder's blistering hot hole for a brutal fucking. His pile-driver plunges push the cum outta Bo's cock, and Dino soon sprays his own load onto his belly's thick and sweat-matted fur.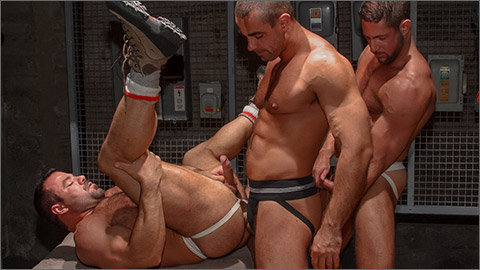 SCENE 3 – THE SHOP: Todd Maxwell and Matthieu Costa (top and bottom) and PJ Dixon (bottom)
Coffee break is almost over. Carpenter PJ Dixon has fallen asleep, leaving him prey to his trickster buddies Todd Maxwell (the husky, gym-toned American in the blue t-shirt) and Matthieu Costa (the handsome, and, as you'll soon see, huge-nippled and uncut Frenchman in the green t-shirt). Trapping Dixon inside a packing crate, they use their hole saw to core a couple of glory holes through its side, and Dixon eagerly power sucks two loads out of the overheated guys. Then they throw the hairy-chested studbottom across the crate, lube up his furry buttcrack with probing tongues, and fuck his brains out. Costa's plowing pushes Dixon over the brink, and as he's kissing the contented bottom, Maxwell rams his cock up the Frenchman's ass. With Dixon sucking his uncut meat and Maxwell screwing his tight ass, Costa can't keep from blasting out his balls, and the men collapse in a three-way kiss.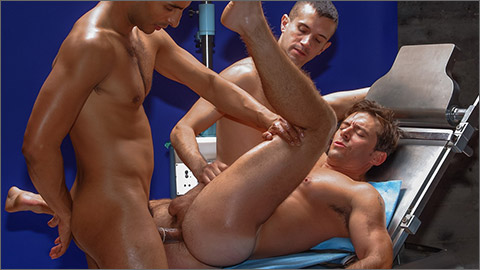 SCENE 4 – MEDICAL OFFICE: Miguel Leonn (top), Joey Russo (top and bottom), Tim Bruno (bottom)
Maybe it's the painkillers, or maybe it's just his imagination, but as Tim Bruno lies in the dentist's chair, he finds Dr. Leonn and technician Russo making out right across him! Their cocks thrust over and then into his eager mouth. Bruno offers up his boyish butt and takes on both men in a nasty team-fuck that makes their loads fly. Then, as Russo once again plows Bruno, Leonn slams his chocolaty, uncut cock up Russo's wet tunnel for a chain fuck that churns up their jizz once again. Nobody has to say, "Open wide" in this office. As always, the bonus content created by TitanMen.com is exceptional. An hour and ten minutes delivers not only the expected Cumshot Review, but Photoshoot session with each of the men, broken down by scenes and giving glimpses of the guys "being real" as they're captured in Brian Mills' glorifying photos. There's a revealing Behind the Scenes segment, a Music Image Gallery where the music's as good as the images, and finally, a generous eight additional minutes of Fluffing amongst the stars—to you and me, that's cocksucking. The quality and amount of this bonus content is unique to TitanMen.com features. So. You think you can take this kinda action and not come unscrewed? You know what they always say. If the drill fits—wear it.

MORE INFO, PREVIEW OR WATCH RIGHT NOW:
TITAN MEDIA
Scenes Premier online prior to DVD release and are available to view anytime in the Member"s Area.
Members can watch scenes from almost all Titan Media releases anytime online.