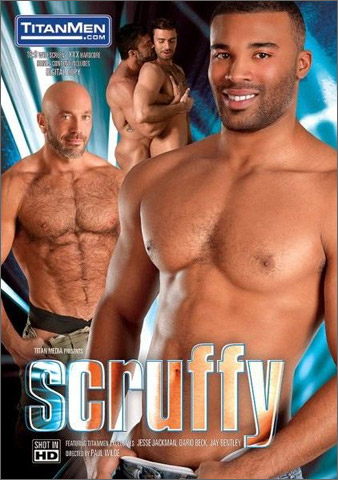 Studio: Titan Media
Directed by: Paul Wilde
Year of Production / Release: 2013
Country of Production: U.S.A.

CAST:
Dario Beck
Jay Bentley
Dirk Caber
Jesse Jackman
Anthony London
Rogan Richards
FROM TITAN MEDIA WEB SITE:
His whiskers scrape your chin as his chest hair tickles your pecs, a jolt of excitement pulsing through your body. You have a thing for Scruf, and so do TitanMen exclusives Dario Beck, Jay Bentley and Jesse Jackman, who lead a series of hair-raising adventures.
   Their bodies melded into one, Jay Bentley and Dirk Caber kiss and suck each other before Jay spreads his jock ass for a passionate plowing.
   Lounging by the pool, Dario Beck admires muscular swimmer Rogan Richards—whose thick, uncut beauty is soon deep inside both of his holes.
   Looking for his missing dog in the woods, Jesse Jackman gets his wish—and then some—with the arrival of handsome bottom Anthony London, who gets a grunt-filled fuck.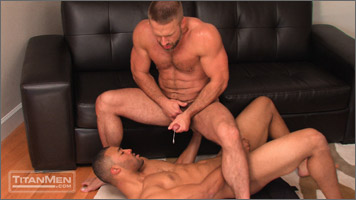 SCENE 1: Dirk Caber fucks Jay Bentley
Lying on top of Dirk Caber, smooth Jay Bentley kisses him before working his lips down the stud's muscular body. Jay's chin scruff grazes Dirk's pulsing dick head, which is soon engulfed in his mouth. Jay wraps his lips tightly around the shaft, rubbing Dirk's leg as he delivers a sultry suck. The two kiss, their stubbly chins grazing each other. Dirk then returns the favor—rubbing Jay's thick dick all over his scruffy head and face before teasing it. Jay shoves his cock in the sucker's face, Dirk's leaking dick pressed against the couch. Jay turns around and offers his jock ass, Dirk tonguing it as his beard scrapes Jay's cheeks. Jay moans, biting his lower lip as he gets pleased. Dirk fingers and fucks him from behind, the bottom arching back to rub Dirk's bod. They kiss, the two gripping each other's arm. Jay sits down and rides Dirk, who soon lifts him up and lays him on the floor for more. Jay releases a thick white wad, Dirk coming on the bottom's chest.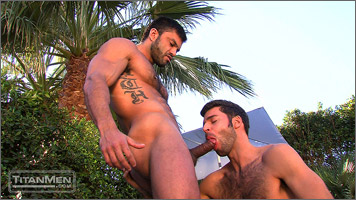 SCENE 2: Rogan Richards fucks Dario Beck
Lounging by the pool, Dario Beck watches Rogan Richards swim. The muscle man surfaces—water cascading down his huge muscles as he lifts himself out. Dario's eyes dart to the massive boner that greets him. The swimmer towels off, his smile drawing Dario closer. The two kiss, Rogan guiding his tall, lean admirer down to his knees. Dario opens wide to take the thick beast in his mouth, the gulp sounds getting louder as Rogan fucks his face. Moving inside by the couch, Rogan jacks his throbber as he sucks Dario back—nibbling on the foreskin before tonguing the shaft. Rogan eats out Dario's hairy hole before shoving his cock inside, his beast disappearing as he goes balls-deep. Rogan's abs tighten as he fucks, the bottom moaning. On his back, Dario jacks his boner as he gets fucked, his ass hair wet with sweat. Rogan works it in slow before picking up the pace, his body gyrating and grinding with hypnotic rhythm. Dario stops jacking, his big load released in a hot, stroke-free stream before the two kiss.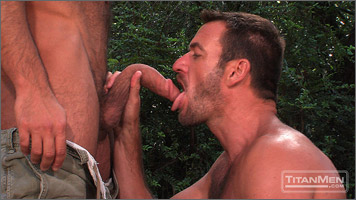 SCENE 3: Jesse Jackman fucks Anthony London
Wandering through the woods looking for his lost dog, Jesse Jackman is grateful when his pet arrives with tall, dark and handsome stranger Anthony London—who leans in for a kiss. The two stare into each other's eyes as they make out, their 5 o'clock shadows rubbing. They shed their shirts, their hairy chests tickling each other. Jesse drops down to suck Anthony, who sucks him right back: "That's huge, man!" Jesse smiles as he looks down at the sucker, flicking his own nips as his curvy cock gets worshipped. Jesse eats Anthony, then fucks him doggie style as he grips the bottom's waist. "Yeah, fuck my ass!" Anthony moans. "Bury that cock in there!" Jesse breathes faster and grunts louder as he fucks, smiling as his eyes roll up in his head. On his back, Anthony gets plowed atop a picnic table, his boots in the air. The two stand and kiss, stroking out their loads—a hot strand of cum growing as it drips from Jesse's big, dangling dick.

MORE INFO, PREVIEW OR WATCH RIGHT NOW: TITAN MEDIA
GO TO: TITAN MEDIA STORE