Studio: Titan Media
Directed by: Brian Mills
Year of Production / Release: 2009
Country of Production: U.S.A.

CAST:
David Anthony
Charly Diaz
Dean Flynn
JR Matthews
Will Parker
Jay Roberts
Ryan Russell
Fabio Stallone
SCENE 1: Dean Flynn fucks Jay Roberts
SCENE 2: Charly Diaz fucks Will Parker
SCENE 3: JR Matthews and Ryan Russell dildo-fuck themselves
SCENE 4: David Anthony fucks Fabio Stallone
FROM TITAN MEDIA WEB SITE:
Need a stud finder? Just open up Toolbox, where the hottest handymen—led by TitanMen exclusives David Anthony, Dean Flynn, JR Matthews and Will Parker— screw their steel in tight, nail their nuts down deep and hammer their wood hard as they put on a dynamic display of homo improvement.
   Wandering through the woods, smooth Jay Roberts is chased by a horned Dean Flynn, who pins his prey to a tree—and then the kitchen counter—with his cock and a dildo.
   Distracted by a bag of sex toys in the garage, Will Parker is soon spotted by auto repairman Charly Diaz—who offers another tool for his bud's pleasure.
   Stroking in an outdoor shower, JR Matthews and Ryan Russell soon plug each other's holes with tongues, fingers and TitanMen Tools—ending with a memorable double-fuck on a dildo.
   Under the spell of handsome carpenter David Anthony, assistant Fabio Stallone offers his eager holes to the super-hung top for a deep outdoor fuck.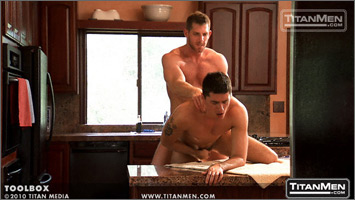 SCENE 1: Dean Flynn with Jay Roberts
Smooth and toned Jay Roberts walks through the woods unaware that Dean Flynn is ready to pounce. The two are soon smiling and kissing as Jay gets pinned by a tree—soon falling to his knees to feast on Dean's boner, gasping for air as he sucks deep. Dean guides the sucker using his strong hands, delivering a face fuck and slapping his meat on Jay's face. Dean then drops down, firing gobs of spit onto Jay's uncut slab. The two squirt before heading inside, where Jay hops on the kitchen counter with his ass in the air. Dean slides his tongue and fingers inside, warming up Jay's ass before fucking him. The two kiss as the top gets to work, with Jay reaching back to rub the handsome fucker's chest. Dean starts to pound faster, wrapping his arm around the bottom in a steamy display. Dean then uses a dildo on the bottom, alternating thrusts with his cock before plugging his own hole as he fucks. Now on his back, Jay shows off his big boner as he gets plowed — with two more loads soon soaking the bottom to end the passionate pairing.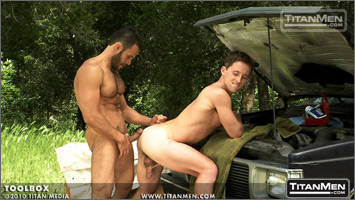 SCENE 2: Will Parker with Charly Diaz
While working on a car, Charly Diaz sends youthful Will Parker to the garage for some tools. But the assistant is soon distracted by tools of a different variety—and sheds his clothes to sit down on a dildo as his big cock bobs in excitement. After a lengthy self-fuck, Will blows up a Rough Riderz ball for more fun. Bouncing up and down like a pro, the cutie is soon joined by Charly—who stuffs his meaty slab inside Will's hungry mouth. Charly strips down, revealing a stunning chest and stomach that bursts off the screen. Will dumps his load on the ball, then gets his chest soaked. Now bent over the car's hood, Will offers his ass for the taking. Charly buries his beard inside, munching away before he shoves his meat in for a heated fuck that gets faster and more forceful. The bottom then puts one leg on the workbench, balancing himself mid-air as he shows off his flexibility. Soon on his back, Will jacks his boner as he gets more balls-deep thrusts from Charly. The two soon squirt again, coating Will in white-hot juice.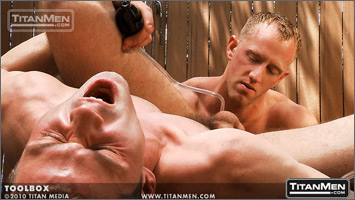 SCENE 3: JR Matthews, Ryan Russell
As water cascades down his body in an outdoor shower, JR Matthews rubs his chiseled chest and strokes his cock, snapping it up and whipping it around. He's being watched by Ryan Russell, whose own boner sways in the breeze as his sexy grin intensifies the excitement. JR walks over to work on Ryan's hole, tonguing and fingering it before slowly fucking the bottom with a big dildo. Ryan's dick twitches as JR hits the spot, fucking his bud deep with the long tool. JR then slides an inflatable butt plug inside, with Ryan using the air tube as a makeshift cock ring. The bottom pumps it up, the big balloon soon released from his ass before JR shoves it in again. JR then gets on his back as the enthusiastic, verbal Ryan takes over. The limber JR rolls his legs up and over, sucking his own dick as Ryan plows him with a dildo. The two are soon on their backs, sliding up and down a double-headed dildo in a stunning shot—ending with an unforgettable squirt from JR, one guaranteed to have you hitting the "rewind" button.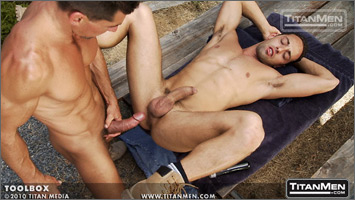 SCENE 4: David Anthony, Fabio Stallone
While hammering outside, handsome David Anthony has a request for eager helper Fabio Stallone: "Go get me a crowbar, boy!" But as Fabio bends down and follows orders, David gets another idea—pulling down his jeans to reveal his massive meat. "You like big cocks?" asks David as a mesmerized Fabio stares. After teasing his assistant and making him beg for it, David allows Fabio to feast, the impressive suck highlighted by some deep-throat action. Spit drips down David's beast, which Fabio takes to the root. David also plays with his big pre-cum strands as they dangle and glisten in a hot sequence. He soon drops down to return the oral favor, the vein on his neck bulging as he repeatedly deep-throats Fabio's big, uncut cock. David gags as spit soaks his goatee, the two soon squirting. Now bent over a picnic table, Fabio takes a dildo up his ass before getting the real thing. David's muscular shoulders and chest clench as he pounds away in a beautiful visual. After more dildo fucking, Fabio gets on his back and strokes his boner as David fucks him again, with two more loads soon coating the bottom's hot bod.
MORE INFO, PREVIEW OR WATCH RIGHT NOW:
TITAN MEDIA
TO PURCHASE THIS, GO TO: TITAN MEDIA STORE