Studio: Titan Media
Directed by: Brian Mills
Year of Production / Release: 2010
Country of Production: U.S.A.

CAST:
David Anthony
Aymeric DeVille
Jim Ferro
JR Matthews
Daniel Michael
Spencer Reed
Alessio Romero
Tibor Wolfe
SCENE 1: David Anthony and Spencer Reed abuse, fuck and fist Tibor Wolfe
SCENE 2: Jim Ferro pisses on and fucks JR Matthews
SCENE 3: Alessio Romero fucks Daniel Michael and Aymeric DeVille
FROM TITAN MEDIA:
In the depths of a mysterious warehouse hidden from the outside world, an extreme experience awaits. TitanMen exclusives David Anthony, Aymeric DeVille, JR Matthews and Tibor Wolfe headline a muscular cast bursting through its latex and restraints in a sexually charged effort filled with sucking, fucking, fisting and pissing. What other secrets await in the Stockroom? Find out as directors Brian Mills and Paul Wilde play with shadows and light in this dark yet visually striking entry.
   Tibor Wolfe doesn't stand a chance with masters David Anthony and Spencer Reed, who feed, fuck, piss and fist the hairy hunk into submission.
   Muscle man Jim Ferro gets a special delivery—a caged JR Matthews, bound and gagged for his owner's pleasure.
   Brought in on a forklift, Daniel Michael is driven wild by bearded captors Aymeric DeVille and Alessio Romero, who tops both of them.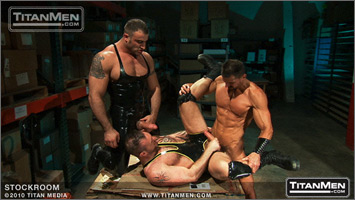 SCENE 1: David Anthony and Tibor Wolfe with Spencer Reed
Hanging upside down in his latex singlet, tattooed Tibor Wolfe is at the mercy of chiseled David Anthony and beefy Spencer Reed, whose massive muscles are hugged by latex. The duo spits on Tibor as they slap him around, quickly shoving their cocks in his mouth. Soon on his knees, Tibor growls as he sucks his verbal dominators—who hold onto his head as they fuck his face before the three squirt. The two get Tibor on all fours over a pile of wooden skids in the stockroom. Spencer grinds his boner on Tibor's ass as David pisses on the bottom. David then spits on him as he gets fucked, soon stuffing his monster cock in Tibor's mouth. "Fucking give it to me!" demands the bottom, his hard cock caught in a hot low shot that also shows off Spencer's deep thrusts. The two alpha males switch positions, continuing to stuff both of Tibor's holes. As the multiple muscles in David's body flex while he fucks, Spencer shoves Tibor's head down on his cock: "Fucking pig! Suck that cock! Dirty little slut!" Soon on his back, Tibor pisses into his own mouth as he gets fucked by David, with Spencer soon getting another crack at the bottom's hole. David shows remarkable piss control, unleashing a few fountains over the bottom's increasingly wet and hairy chest. Soon in a sling, Tibor gets his hole fisted by David in a steady punch fuck. Spencer pisses on the bottom, then fucks him before David gets a final fist inside— the there squirting again before Tibor is shackled to the ground, a dildo shoved up his ass.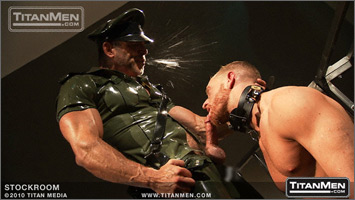 SCENE 2: JR Matthews with Jim Ferro
Handsome Jim Ferro sits patiently as his desk as his shipment is prepped in the stockroom. The special delivery soon arrives in a cage: muscular JR Matthews is bound, blindfolded and gagged, drool already coating his beard. "Come here, boy!" says Jim, his biceps and pecs practically bursting out of his tight latex uniform. Forceful and gentle at the same time, Jim follows a kiss with a wad of spit before opening the cage and fingering JR's stretched mouth. Whipping out his pierced cock, Jim pisses on the sub before freeing his mouth and feeding him. "Suck my cock!" demands Jim as he spits down on JR, whose chin is already dripping with saliva and piss. JR uses his tongue to tug the top's piercing, pulling the dick as he teases it. On his back, JR gets plowed deep and fast by the salt-and-pepper stud. "Play with your dick, boy!" yells Jim, his hairy abs beautifully clenching as he slams the jacking JR. Jim then heads to the shower, showing off his bod and pissing cock as a bound JR watches from the bed. Jim soon feeds his slave again before plowing him pubes-deep. JR jacks to come as he's fucked, then gets tied to the bed after Jim squirts and kisses the bottom, their beards bristling in a hot display of masculine lust.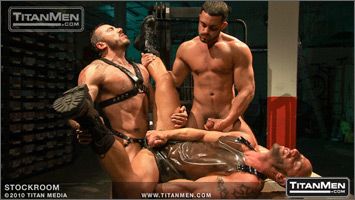 SCENE 3: Aymeric DeVille with Daniel Michael and Alessio Romero
After getting kidnapped in the woods, shoved in a trunk and taken to the mysterious stockroom, smooth, dark and handsome Daniel Michael is bound to a forklift and driven to a dark room. Waiting for him are latex aproned Aymeric DeVille and hairy Alessio Romero, two bearded studs. The duo fingers Daniel's bearded mouth and punch his bod, then suck the stud's gorgeous cock in an unforgettable display. With Daniel's big, thick shaft filling the screen, Aymeric and Alessio take turns shoving it in their mouths, feeding each other, spitting on it and whipping each other's faces with it. Daniel gets on his knees to deep throat the duo as they kiss above. Alessio pisses on Daniel, dousing his face and chest—which is soon covered in cum as the trio shoots. Now bent over a raised skid, Daniel is eaten by Alessio while sucking Aymeric's uncut beauty. Aymeric then stands over Daniel to feed Alessio, who gasps for air. At the same time, the top shoves his cock in Daniel's ass in a memorable side shot. With his face planted on the skid, Daniel and his hot tongue beg for more of Aymeric's rod. The verbal Alessio plows away as Daniel's big dick grinds against the covered wood. Alessio mounts the skid and plunge fucks the bottom, then fucks Aymeric on his back as the bottom's leather boots are raised in the air. Aymeric grabs hold of Alessio's harness as he's fucked, pulling him closer. The three shoot their loads again, Daniel's smile lighting up the screen before he shares a heated kiss with his captors.
BONUS FEATURES:
Behind-the-scenes footage is filled with nasty direction, boners and fluffing, while a cumshot compilation, trailers and looks at TitanMen Tools and Lube are also included.

MORE INFO, PREVIEW OR WATCH RIGHT NOW:
TITAN MEDIA
Scenes Premier online prior to DVD release and are available to view anytime in the Member's Area.
Members can watch scenes from almost all Titan Media releases anytime online.
=