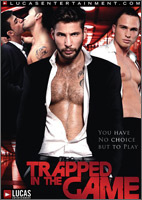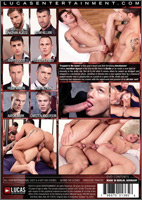 Studio: Lucas Entertainment
Directed by: Michael Lucas and Mr. Pam
Year of Production / Release: 2010
Country of Production: U.S.A.

CAST:
Jonathan Agassi
Carsten Andersson
Adam Killian
Harry Louis
Aaron Mark
Hugo Martin
Rob Nelson
Giuseppe Pardi
SCENE 1: Jonathan Agassi and Adam Killian flip-fuck
SCENE 2: Aaron Mark and Carsten Andersson flip-fuck
SCENE 3: Harry Louis and Hugo Martin flip-fuck
SCENE 4: Jonathan Agassi and Rob Nelson fuck Giuseppe Pardi
ADDITIONAL COMMENTS:
Most Scenes Premier online prior to DVD release and are available to view anytime in the Members Area.
Members can watch scenes from all Lucas Entertainment releases anytime online.
INFORMATION FROM LUCAS ENTERTAINMENT:
TRAPPED IN THE GAME is this year's heart and dick throbbing blockbuster! Follow Jonathan Agassi in his true-to-life move to Berlin as he is seeks a new type of intensity in the gritty city. But all is not what it seems when he wakes up drugged and stripped in a downtown plaza. Jonathan is thrown into a race against time by a maniacal puppet master who is playing him as a pawn in a game of life, death and sex! Featuring four explosive sex scenes with the aggression and passion of an all-star cast! Starring: Lucas Exclusive Jonathan Agassi, Adam Killian, Harry Louis, Giuseppe Pardi, Hugo Martin, Rob Nelson, Aaron Mark, and Carsten Anderson.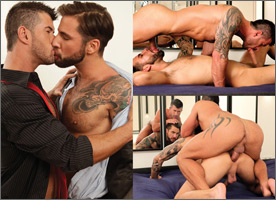 SCENE 1: Jonathan Agassi and Adam Killian
Gay adult superstar Jonathan Agassi decides to give it all up to move to Berlin and see what sort of trouble he can get into. When he wakes up stripped and shivering next to a fountain, he realizes quickly he might be getting more than he bargained for! He finds a mysterious package filled with clothing and a note with an address. He arrives to find the strapping Adam Killian on all fours with a special message. "We're going to fuck." Adam pins Jonathan to the bed and force feeds him his armpit. They strip and go at it like wild animals! Jonathan spits on Adam's big strong cock and deep throats it with abandon. Adam spits in Jonathan's face and Jonathan grunts and oinks like the pig that he is, and then goes on a rimjob rampage in Adam's Adonis-like ass! The studs 69 and enjoy each other's cocks and holes until it's time to put both to use. Jonathan mounts Adam and pounds his big muscle jock ass until he cries like a bitch! Adam flips Jonathan over and Jonathan shakes his booty until Adam has no choice but to plunge inside! He fucks him like a bucking bronco and Jonathan explodes like a geyser of cum…before taking Adam's to the face. One question remains… how did Jonathan get here?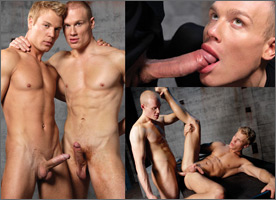 SCENE 2: Aaron Mark and Carsten Andersson
When Killian cryptically refuses to answer Jonathan's questions, he instead gives him a set of keys and sends him into the building's parking garage, where Jonathan gets chased down by two knife-wielding blonds. He narrowly escapes, leaving his two German predators with some time on their hands. They retreat to an isolated cinder block room and immediately pounce on one another. Carsten descends to his knees to inhale Aaron's engorged member and the two begin to strip off their black suits. Fair-skinned Carsten can't get enough of Aaron's tan torso and big cock. He spits on Aaron's face and Aaron sucks Carsten until he's face down in the strawberry blond's ginger pubes. Aaron dives into Carsten's freckled ass like a scuba diver and has a party with his tongue! He enters Carsten from behind, and plows him diggy style, spanking Carsten's cheeks with his hips. The flip back to some oral and Aaron takes charge again, fucking Carsten on top of a table until his cohort is cumming across his chest! Aaron finishes the day's botched job with a big load over Carsten's chest.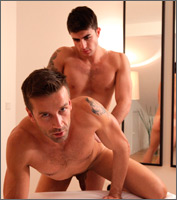 SCENE 3: Harry Louis and Hugo Martin flip-fuck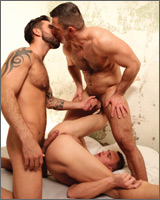 SCENE 4: Jonathan Agassi and Rob Nelson fuck Giuseppe Pardi

SEE THIS NOW / MORE INFO: LUCAS ENTERTAINMENT