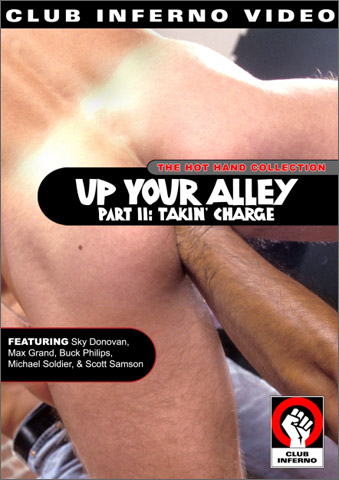 Studio: Hot House Entertainment / Hot Hand / Club Inferno
Directed by: Chris Ward
Year of Production / Release: 2002
Country of Production: U.S.A.

CAST:
Sky Donovan
Max Grand
Buck Philips
Bryce Pierce
Scott Samson
Michael Soldier
Matthias von Fistenberg
INFORMATION FROM HOT HOUSE:
The Dore Alley Street Fair may be over, but the hot action keeps going in this continuation of UP YOUR ALLEY – PART I. The action is so hot that no footage was left on the cutting room floor and everyone gets off in front, and behind the camera. This is true 'reality porn' at it's best.
SCENE 1: Aaron Tanner, Jeff Allen, Matthew Green, Michael Soldier, Rik Jammer, Sky Donovan
UP YOUR ALLEY – PART 2 brings you back to the after-the-street-fair-sex-party and picks up with more fist-fucking-frenzy. Jeff Allen pries open Aaron Tanner's ass for Leif Gobo's camera, Michael Soldier fists Rik Jammer in the corner and Matthew Green puts down his camera to fist Sky Donovan on a fuck bench. Donovan writhes at the end of Green's fist, jerking off until he shoots a huge load all over himself and the floor behind him. Then Donovan turns the tables by throwing Green down and fucking him hard in the ass. But it isn't until Donovan puts his fist in his ass that Green comes. Next to pop is Jeff Allen who pulls out of Aaron Tanner and shoots his load across the room! Donovan and Green jump into the action while Allen fists Tanner until he gets his nut.
SCENE 2: Aaron Tanner, Bryce Pierce, Buck Philips, Jeff Allen, Leif Gobo, Max Grand, Michael Soldier, Rik Jammer, Scott Samson, Sky Donovan
All of the guests are back up on the fuck benches, asses in the air. Leif Gobo puts his camera down and lubes up his fists, doing the line of guys, two at a time. He's a great fisting top and very verbal, telling Rik Jammer 'Yeah, wink your hole.' and ordering Aaron Tanner to 'Back up on it!.' Bryce Pierce stands on the other side of the fuck bench getting his multi-pierced cock sucked by the line of hungry mouths.
SCENE 3: Aaron Tanner, Bryce Pierce, Buck Philips, Jeff Allen, Max Grand, Michael Soldier, Rik Jammer, Scott Samson, Sky Donovan
In the next scene new arrivals Max Grand and Buck Phillips take turns fisting Sky Donovan. Donovan's hot, turned-out hole pushes further down Grand's arm as he jacks off, shooting a hot, creamy load up on his chest. Scott Samson gets on all fours on the corner of a fuck bench and prepares to be worked over by the whole group. Max Grand steps up first and shoves his fist deep in his ass and sucks Michael Soldier's cock. Donovan reaches over to put his hands inside Samson only to be joined by Grand! Samson's gaping cunt opens wide and takes both of the studs hands deep up his hot gash.
SCENE 4: Aaron Tanner, Buck Philips, Jeff Allen, Michael Soldier, Scott Samson, Sky Donovan
Next, Soldier and Phillips punch fuck Samson while Donovan jacks off unto his chest. Soilder stands over Samson and jacks off while Samson tweaks his nipples, finally blowing a thick white load all over Samson's upper body. Donovan steps up to bat with a huge dildo that he shoves in and out of Samson's ass until Samson blows his load four feet into the air.

WATCH IT NOW / MORE INFO AT:
HOT HOUSE CLUB INFERNO DUNGEON
Hot House Club Inferno Dungeon Members can see this film anytime online.
With extensive additional photography from every scene.